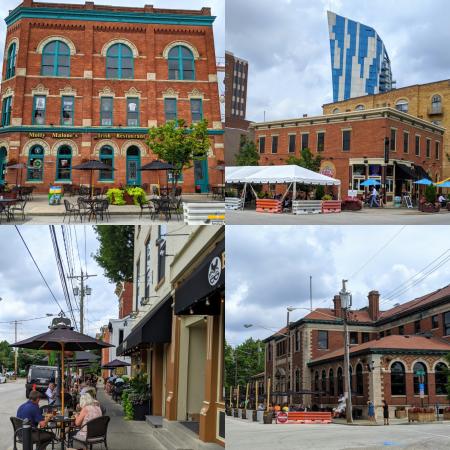 With the current coronavirus pandemic, many people aren't quite ready to take the leap to dine indoors and are gravitating to outdoor dining. Don't worry, we have a few more months of amazing weather and some of Northern Kentucky's best restaurants offer expanded outdoor dining options!
We hope y'all have been enjoying local patio dining from our master list of NKY outdoor dining spots, but we also decided to break it down a bit by geographic area to make the list a little more manageable.  This blog will dive into the great outdoor dining options in Covington and Ludlow.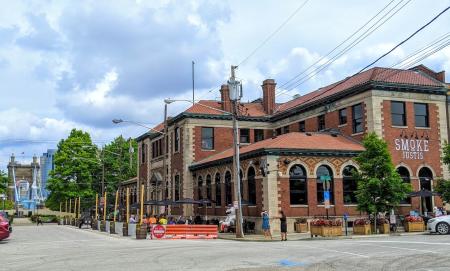 Named after the opening day pitcher for the 1913 Covington Blue Sox, Smoke Justis is a sports bar in Covington that smokes their meat on site, making for great barbeque, wings, brisket, and more.  Check out their bourbon bar while you're there!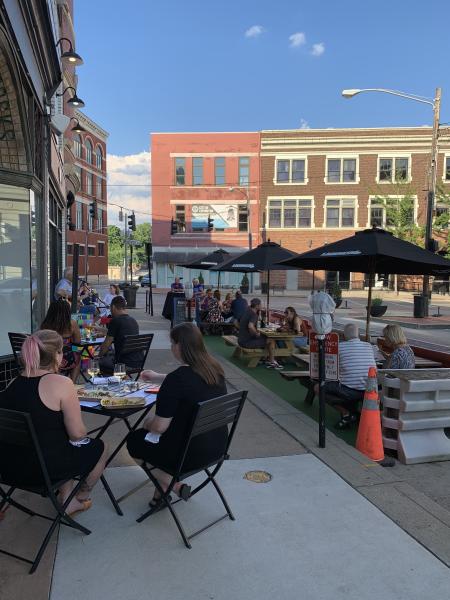 You don't want to miss this stylish wine bar in Covington, pouring more than 40 varieties of wines by the glass. Ripple also offers a seasonally inspired menu, cocktails and beer.  Their newly expanded patio gives you plenty of space to spread out and enjoy while taking in the sights of the city core.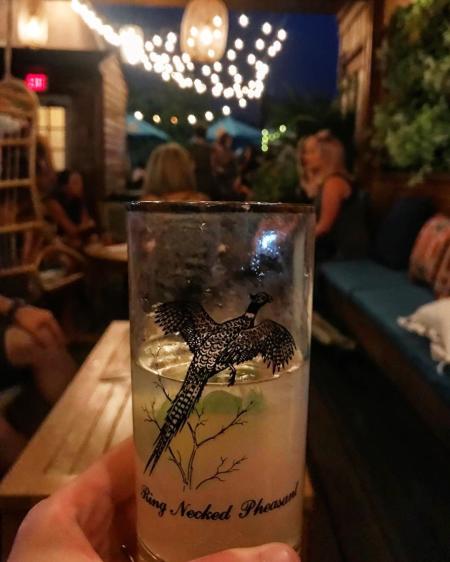 Yonder
Yonder by Commonwealth is a unique rooftop bar inspired by the Commonwealth Bistro owners' love of Kentucky State Parks. With a food menu that rotates weekly, you'll always have new options to choose from!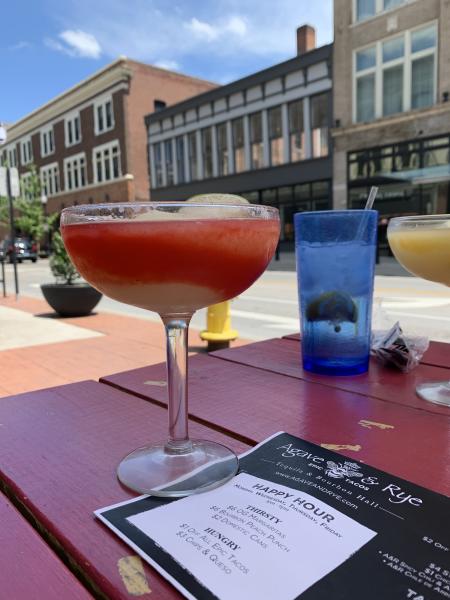 If you want epic tacos (kangaroo anyone?) and delicious margaritas, check out Agave & Rye in Covington.  They have outdoor service at picnic tables down both sidewalks of their corner location.  Don't forget their sister restaurant and neighbor serving up Meixcan street dogs, Papi Jocho's Street Dogs & Cantina.

Goodfellas Pizzeria has tables out front and two levels of patio dining in the back where you can enjoy a yummy slice of New York-style pizza.  Don't forget about Wiseguy Lounge upstairs--a great place to grab a cocktail and it's also on our B-Line bourbon tour.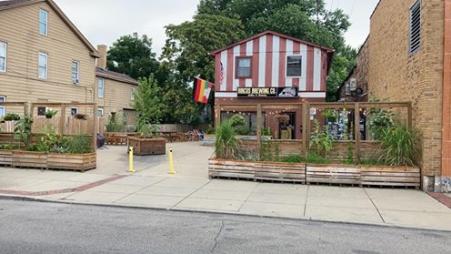 Guys, this place is so cool.  The world of circus acts lives in harmony with love of craft beer and you have Bircus.  The beer is brewed right here in Ludlow, the patio has expanded recently, and they have food trucks rotating throughout the week.  Don't miss the Taco Tuesday truck!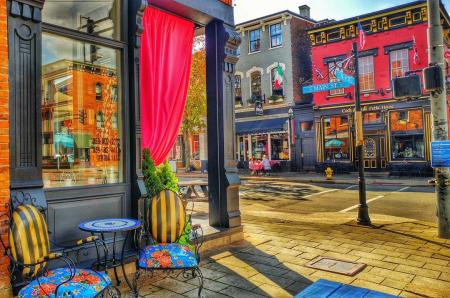 Frida 602, named in honor of the famous artist Frida Kahlo, is a Mainstrasse favorite and serves some of the best tacos in the NKY and Cincy region. You have to try their Brussels Sprouts taco!  I also personally recommend the queso, served in a hot skillet and some of the best I've ever tasted!

Located at the foot of the Roebling Bridge, The Gruff is inspired by the fairy tale "Three Billy Goats Gruff." With a full bar, brick oven pizzas, sandwiches, soups, and a great view of the bridge you won't be able to get enough of their patio!  If you opt to dine inside, they have a cool kids area, which you can read more about in our kid-friendly dining blog.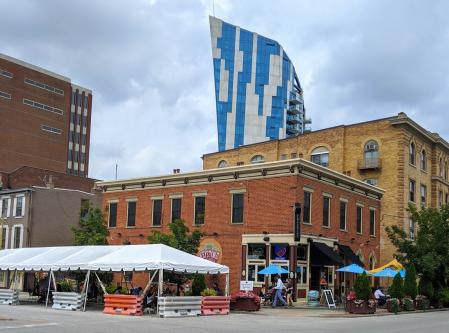 If you like mac & cheese, then you will love Keystone Bar & Grill because they have eight different mac & cheese dishes for you to enjoy in their outdoor dining space! Don't worry, though, if you're not the biggest fan of mac & cheese, they have other great options like quesadillas, burgers, sandwiches, and more.  I also recommend the kettle chips with house BBQ sauce!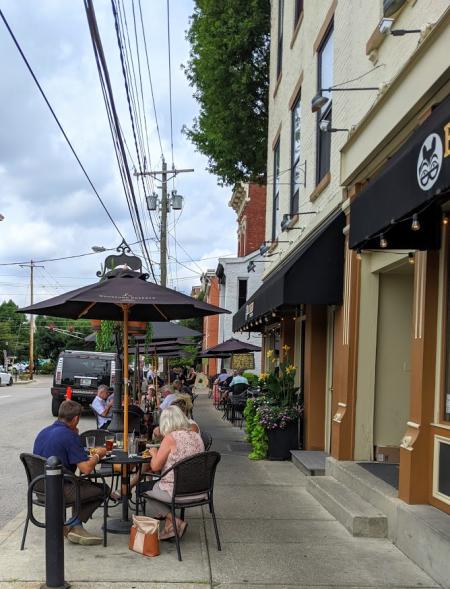 Blinkers Tavern that has not one but TWO outdoor dining areas and has been voted "Best Steak" in Northern Kentucky six years running!  Check their daily specials, which are an excellent deal, and don't miss their burgers or salmon.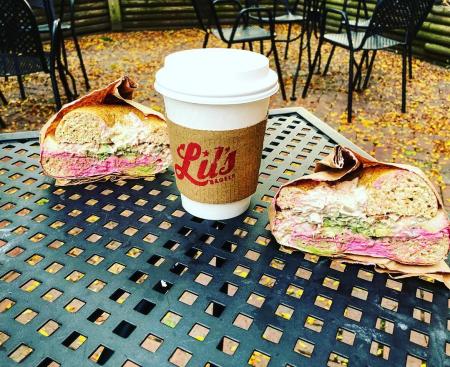 Lil's Bagels
Lil's Bagels has some of the best bagels in the NKY and Cincinnati area, so good that many say they're the best you can get outside of NYC!  They also sell sandwiches, salads, and cocktails. Don't miss the carryout "windough" to grab some bagels on the go!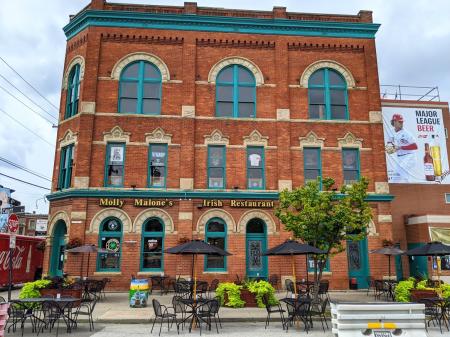 Molly Malone's is an authentic Irish pub owned and operated by a native of The Emerald Isle. Grab a pint of Guinness and enjoy the view of the Roebling Bridge from their patio. They also host lots of live music, and have one of the best St. Patrick's Day parties in town.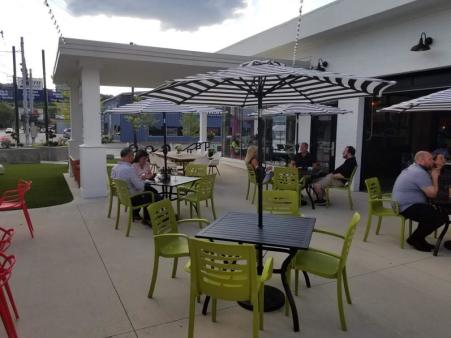 An old mechanic's auto garage has been turned into a hip, new restaurant.  While I haven't had the pleasure of dining here quite yet, I have complete faith that it will be as amazing as everyone says simply because its owner also owns Otto's and Frida 602, which both get thumbs up from me.

One of our readers told us to check out the patio at Divine Waffles & Weck in Bromley and we can't wait!  The menu looks amazing and that patio... wow!  What a hidden gem!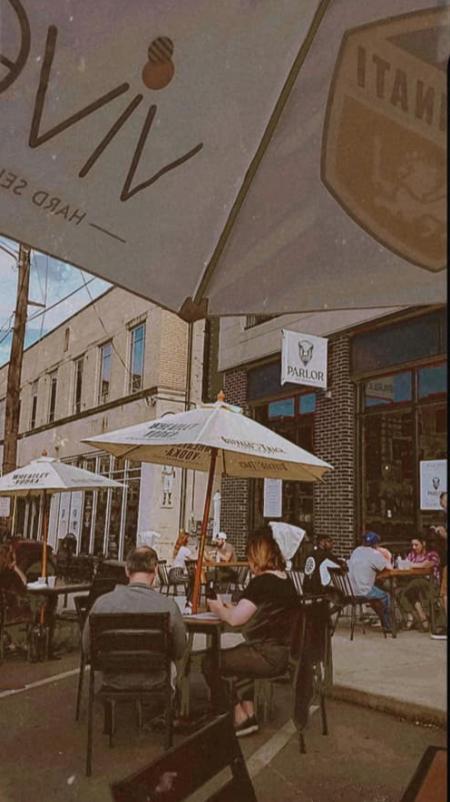 Parlor on Seventh
Parlor on Seventh has recently expanded their outdoor dining area so there's plenty of seating and room to ensure social distancing.  You won't be sorry you chose to dine here--everything on the menu is delicious!  And pro tip: you can order food from Parlor on Seventh from Braxton Brewing Co. next door!

Lift one to life at the Rooftop at Braxton Brewing Company in Covington.  Incredible views, lots of green space, beautiful lighting, and a living wall for the perfect photo opps.  In case you didn't read above, you can order food from Parlor on Seventh while you're sipping on your cold one at Braxton.

We've been enjoying food from AmerAsia for years, so you can imagine how excited we were when they added socially distanced picnic tables in the alley for an outdoor dining option!  If you're new to AmerAsia, everything's delicious, but be careful with the spice level--it sneaks up on you!

Rich's prides themselves on their oysters and southern menu offerings.  They're also a member of The B-Line and one of the country's top 100 bourbon bars.  So grab a seat at one of the socially distant patio tables.  You won't regret it!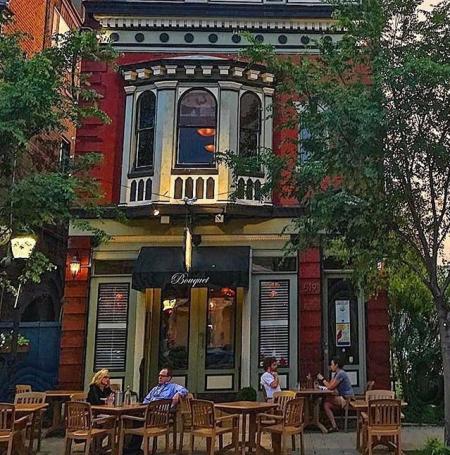 Bouquet Restaurant & Wine Bar is a stop on The B-Line and is a farm-to-table bistro known for their support of local and sustainable farming.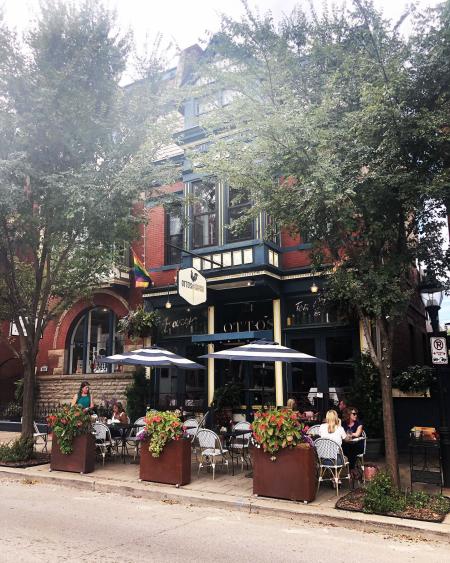 Otto's Restaurant serves American and Southern style food and is known for their classic Southern dish, fried green tomatoes.  I'm personally a fan of their sweet potato fries and tomato dill soup.  They also serve an amazing brunch on weekends--be sure to make a reservation! 

Transformed from the original Coppin's Department Store, Coppin's is infused with history and offers curated cocktails and locally sourced food like their yummy Buffalo Cauliflower Sandwich. Coppin's is also a stop on The B-Line and is dog friendly so bring your furry four-legged friend with you to experience their outdoor patio!
With a new covering for their already amazing patio, Libby's has a strong outdoor dining game!  You can't go wrong with their fried chicken, burgers, or bourbon slushees (we've taste-tested both the Cheerwine and Ale8One bourbon slush!)!  Read more in our blog about Libby's here.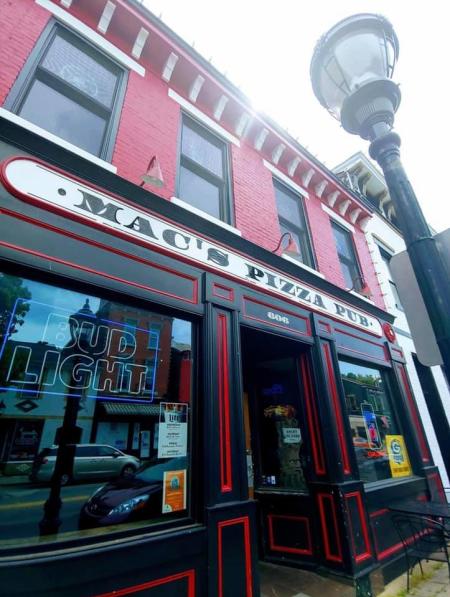 With locations in Cold Spring and Covington, Mac's is a great choice for pizza (or sandwiches, wings, and more than 100 different beers) on a patio!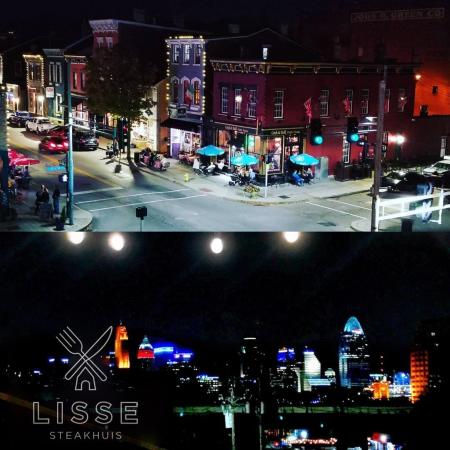 Lisse has an amazing rooftop area for dining with views of Mainstrasse Village as well as the Cincinnati skyline.  Lisse is an excellent choice for a special occasion meal or date night happy hour.  Go ahead and splurge and get the bone-in ribeye!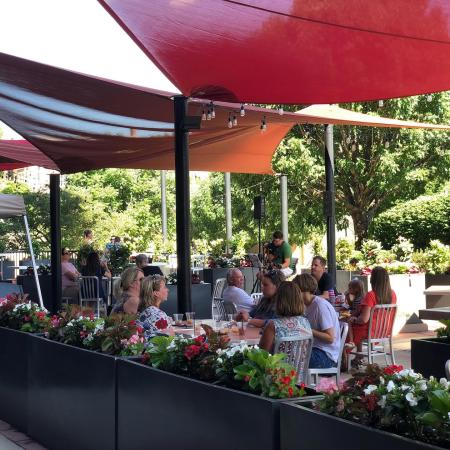 Butler's Pantry Cafe
With a newly revamped menu, Butler's Pantry Cafe is a great option for breakfast, lunch, or early afternoon dinner.  They have ample patio dining with some nice shade.  Their burger is delicious, but don't miss their other sandwiches, salads, soups, plus bakery items, coffee, ice cream, smoothies, and marketplace options such as dips, cheese, deli items, produce, wine & beer, and more.