Celebrate Black History Year-Round in the NKY and Cincy Region
February is Black History Month, dedicated to paying tribute to the "generations of African Americans who struggled with adversity to achieve full citizenship in American society," per blackhistorymonth.gov. In the Cincy/NKY area you can celebrate Black history — and the city's current-day Black changemakers — all year with these local attractions, experiences and businesses.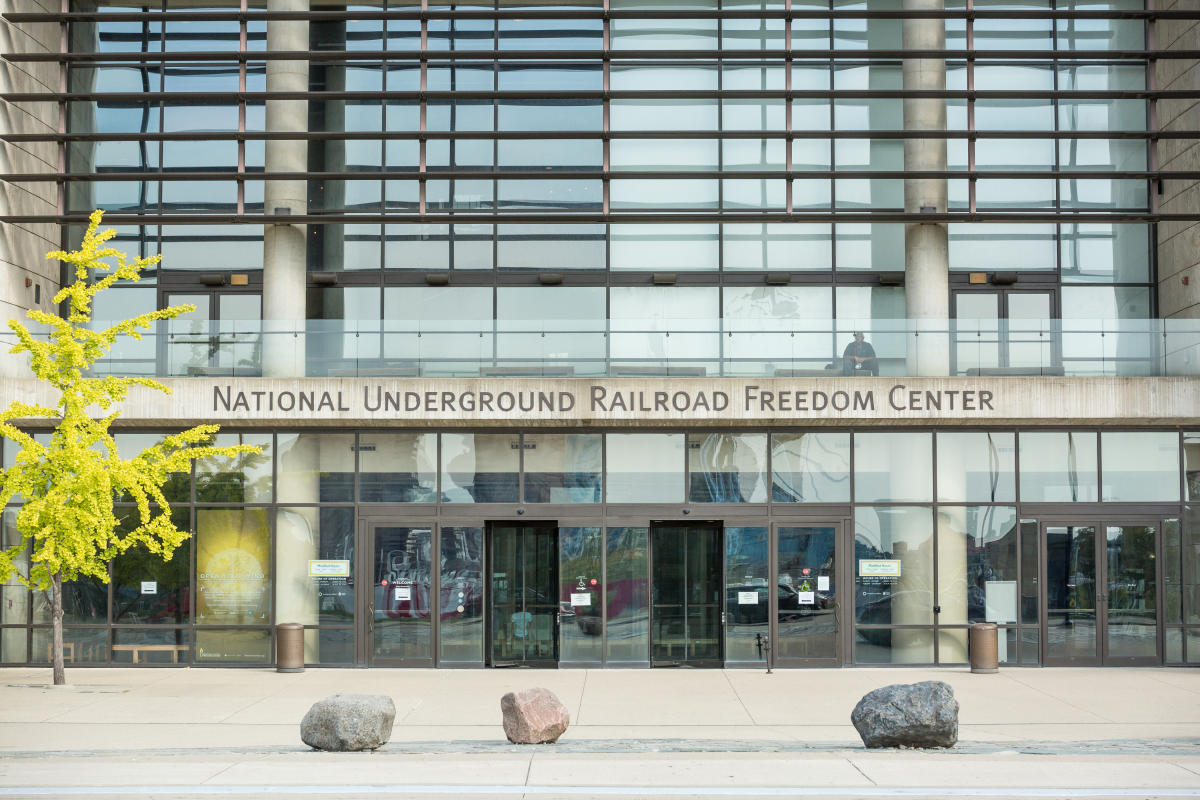 Since 2004, the Freedom Center has been enacting its stated mission to "pursue inclusive freedom by promoting social justice for all, building on the principles of the Underground Railroad." Situated along the banks of the Ohio River — a one-time divider between the free states of the North and the slave states of the South — it achieves this through education, events and rotating and permanent exhibits, including a rebuilt 1800s slave pen from Kentucky and a learning lab dedicated to understanding implicit bias. 50 E. Freedom Way, Cincinnati, Ohio 45202. freedomcenter.org.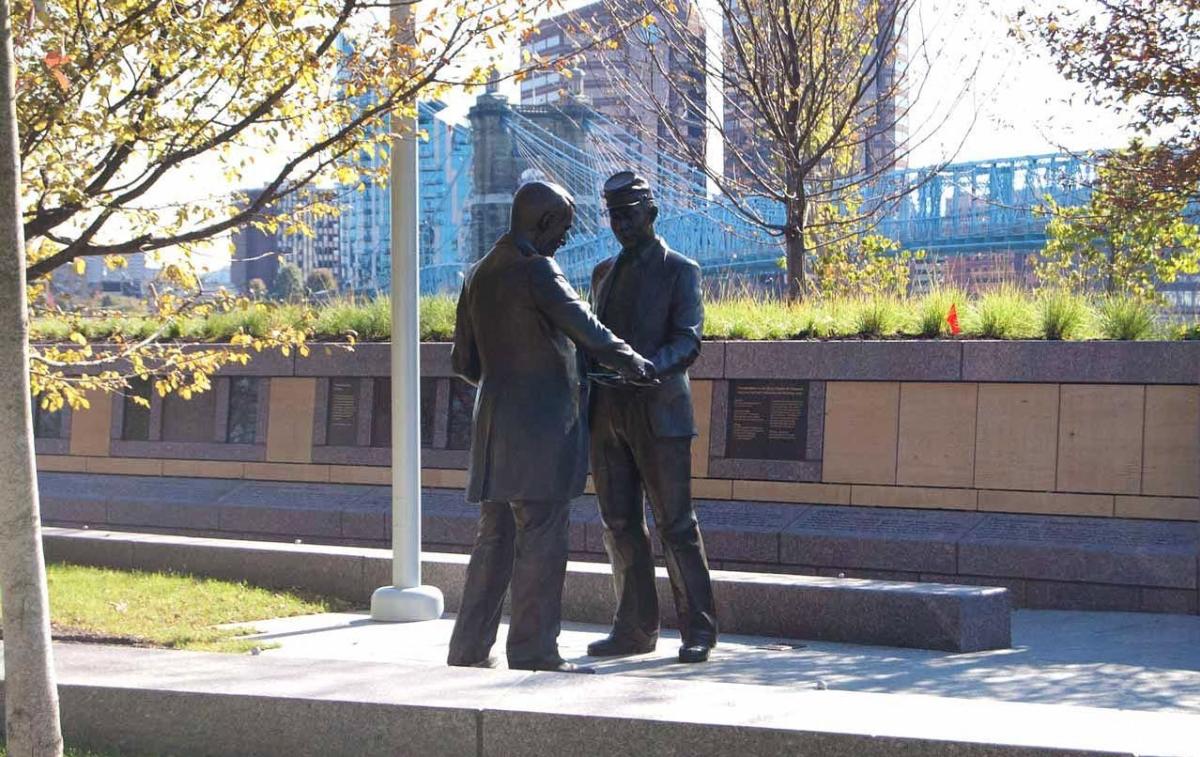 Photo by Cincinnati Parks
Black Brigade of Cincinnati Monument at Smale Riverfront Park
Downtown Cincinnati's 45-acre Smale Riverfront Park is filled with native plants, interactive features and plenty of public art. Among the works on display is a monument dedicated to Cincinnati's Black Brigade. Originated in 1862 to defend the city from the Confederacy, the brigade eventually consisted of more than 700 Black military volunteers, who built fortifications that helped thwart Southern advances. The memorial was erected in 2012, on the brigade's 150th anniversary, and includes life-size bronze figures, an informational plaque and a sculptural table, where visitors can sit and read the names of the soldiers. 8 W. Mehring Way, Cincinnati, Ohio 45202. cincinnati-oh.gov/cincyparks.
Located just outside downtown's Andrew J. Brady Music Center concert venue is the Cincinnati Black Music Walk of Fame, which recognizes the rich contributions of Black Cincinnatians in all facets and genres of music. Founded by Hamilton County Commissioner Alicia Reece in 2021 and opened to the public in 2022 during the Cincinnati Music Festival — the nation's oldest Black music fest — the walk features eight stars so far, including those commemorating Bootsy Collins, Otis Williams, The Isley Brothers and Hi-Tek, and will induct four new honorees each year for the next 50 years. The walk will eventually include an interactive technology aspect, slated to debut in 2023. 25 Race St., Cincinnati, Ohio 45202. cincyblackmusicwalkoffame.org.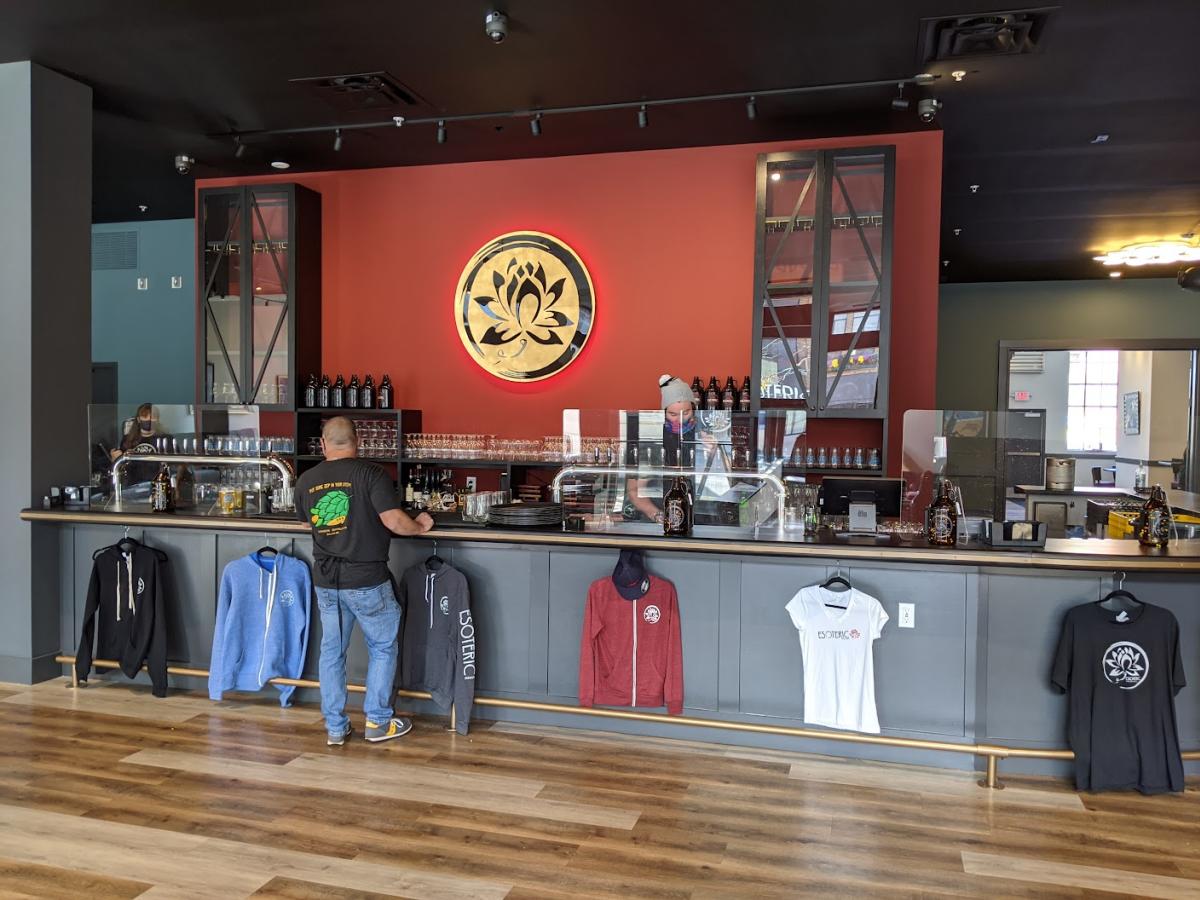 Drink, Dine and Shop at Black-Owned Businesses
Website The Voice of Black Cincinnati offers comprehensive listings of Black-owned businesses in the Cincy/NKY area, with the ability to search by type of offering, from beauty parlors and event planners to retail and restaurants. Looking for live music and jazz-themed cocktails, head to Nostalgia Wine & Jazz Lounge. More of a beer person? Esoteric Brewing slings its craft beer in a historic building. In need of a caffeine boost? Head to BlaCk Coffee Lounge for a cup of their special Wakanda blend and stop by the next-door shop BlaCk OWned Outerwear for streetstyle sported by Bengals players. Nolia Kitchen serves up elevated eats inspired by New Orleans' Ninth Ward, and President Biden recently paid a visit to Just Q'in BBQ for brisket, cornbread and cobbler. thevoiceofblackcincinnati.com.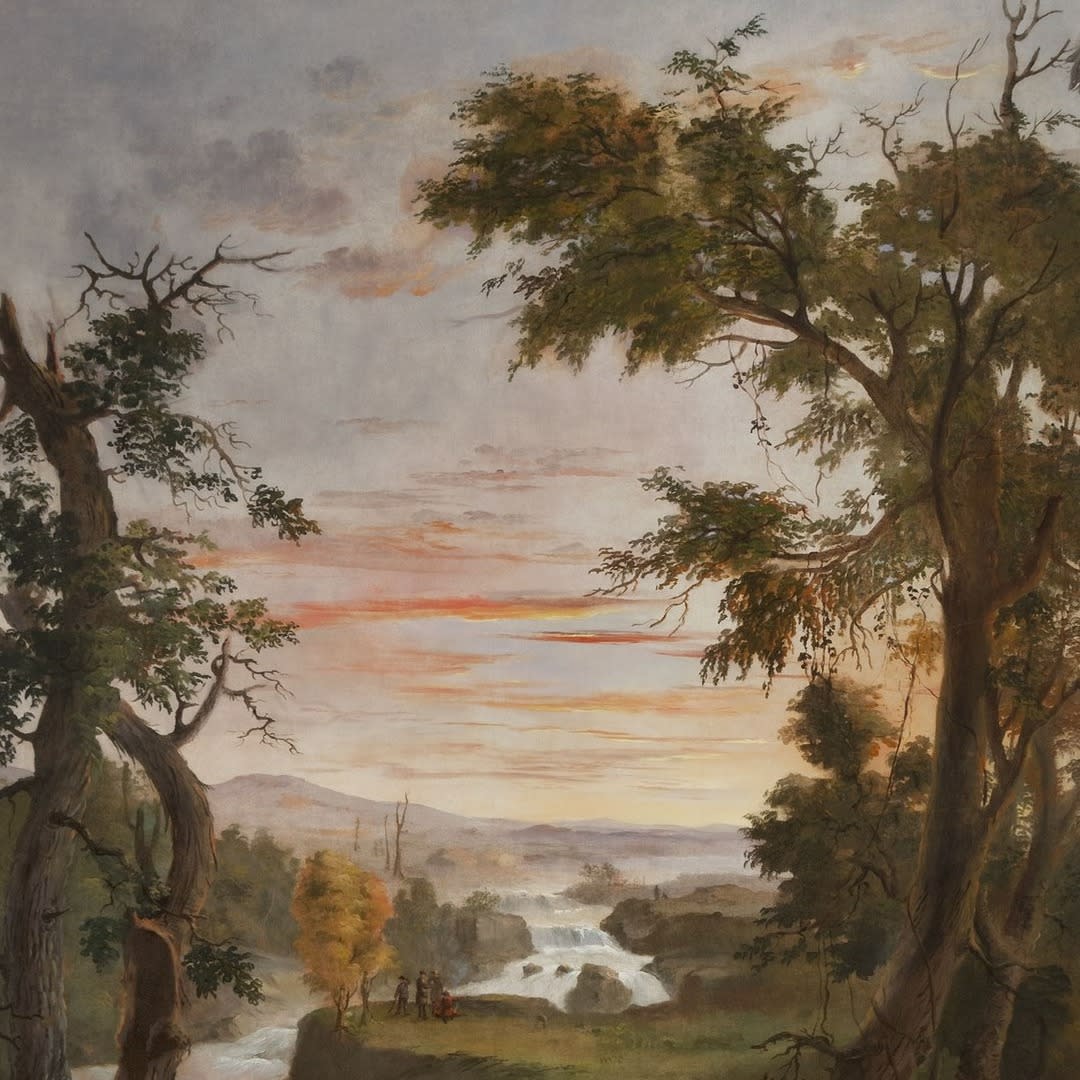 The Duncanson Murals at the Taft Museum of Art
Built in 1820 as a private residence, the Taft Museum of Art is a National Historic Landmark that became a museum in 1932. Home to a collection spanning the Middle Ages to the 19th century, perhaps its most important artworks are the Duncanson Murals. Commissioned by former owner Nicholas Longworth in the 1850s, this series of eight landscapes launched painter Robert S. Duncanson to international fame, prompting him to become one of the first Black artists with a global impact; he even painted for Queen Victoria. Upcoming Taft exhibitions include Memories & Inspiration: The Kerry and C. Betty Davis Collection of African American Art (Feb. 4-May 14, 2023) and Universal Magnetic (Feb. 16-June 4, 2023), featuring prints and ceramics by contemporary Black Cincinnati artist Terence Hammonds. 316 Pike St., Cincinnati, Ohio 45202. taftmuseum.org.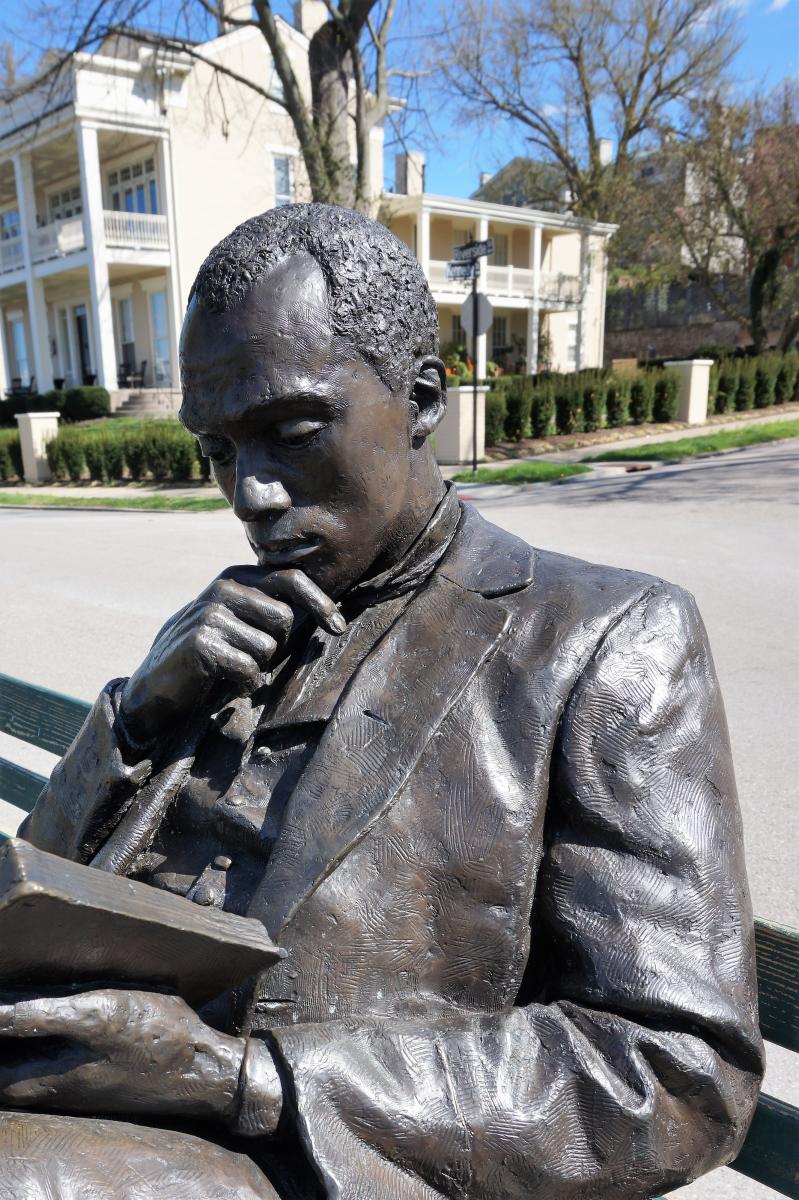 Take a self-guided tour through Northern Kentucky's Black history via NKY Art Tours. Both tours consist of a blend of historical sites and public art. Wander to discover a marker dedicated to Dr. James Randolph, a community leader and the first Black physician on staff at Covington's St. Elizabeth Hospital, and the Riverfront Floodwall Murals, featuring the flight of the Garner Family across a frozen Ohio River to freedom. See a statue of James Bradley, who participated in the Lane Seminary Debates. Visit the site of the former home of La Salette Academy, an all-girls Catholic school and one of the first in the area to desegregate, and the 1815 Thomas Carneal mansion, with a rumored Underground Railroad tunnel.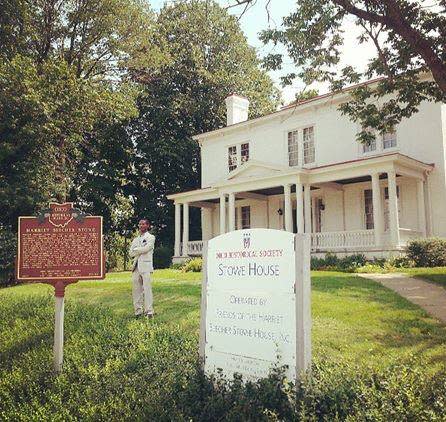 Harriet Beecher Stowe, famed abolitionist and author of pivotal anti-slavery novel Uncle Tom's Cabin, called Cincinnati home starting in 1832 when she moved here with her father, the president of the Lane Theological Seminary. Tours focus on Stowe's experiences, which led to the penning of her influential book; the Lane Seminary Debates; the Underground Railroad; and more about the home, which became a Black boarding house and tavern in the 1930s and was listed in the Green Book. The Stowe House also leads themed private walking tours, including "Abolitionists and African Americans in Walnut Hills" and "African American History Along the Cincinnati Riverfront."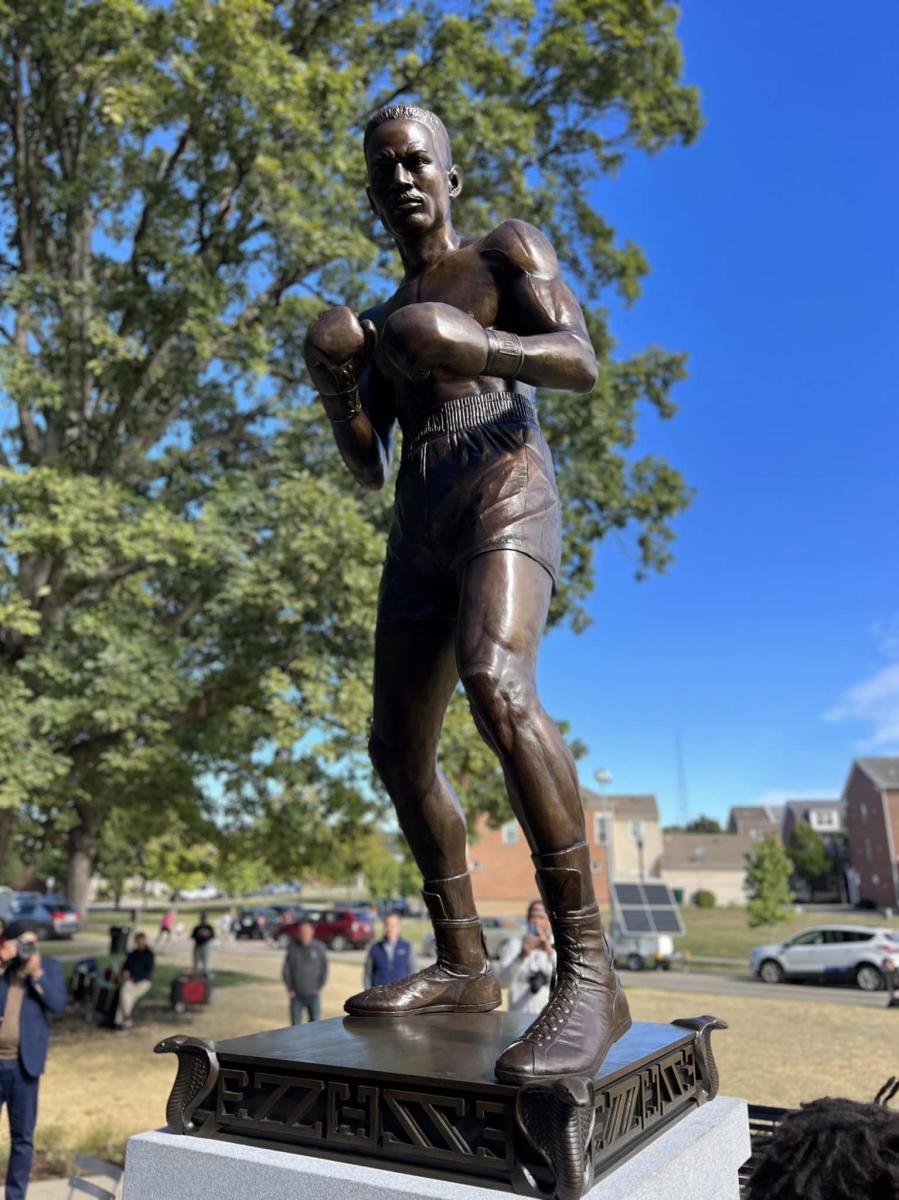 Ezzard Charles Statue in Ezzard Charles Park
World Heavyweight Champion boxer Ezzard Charles grew up in Cincinnati and the city recently unveiled a statue to the iconic "Cincinnati Cobra" in the West End. Widely considered one of the best fighters in the world, Charles ended his career with 95 wins, 25 losses and one draw. The 13-foot bronze sculpture commemorates his boxing legacy and his impact on the community in a city park that bears his name. There is also a bold mural to Charles on Republic Street in downtown Cincinnati. 500 Ezzard Charles Drive, Cincinnati, Ohio 45214. cincinnati-oh.gov/cincyparks.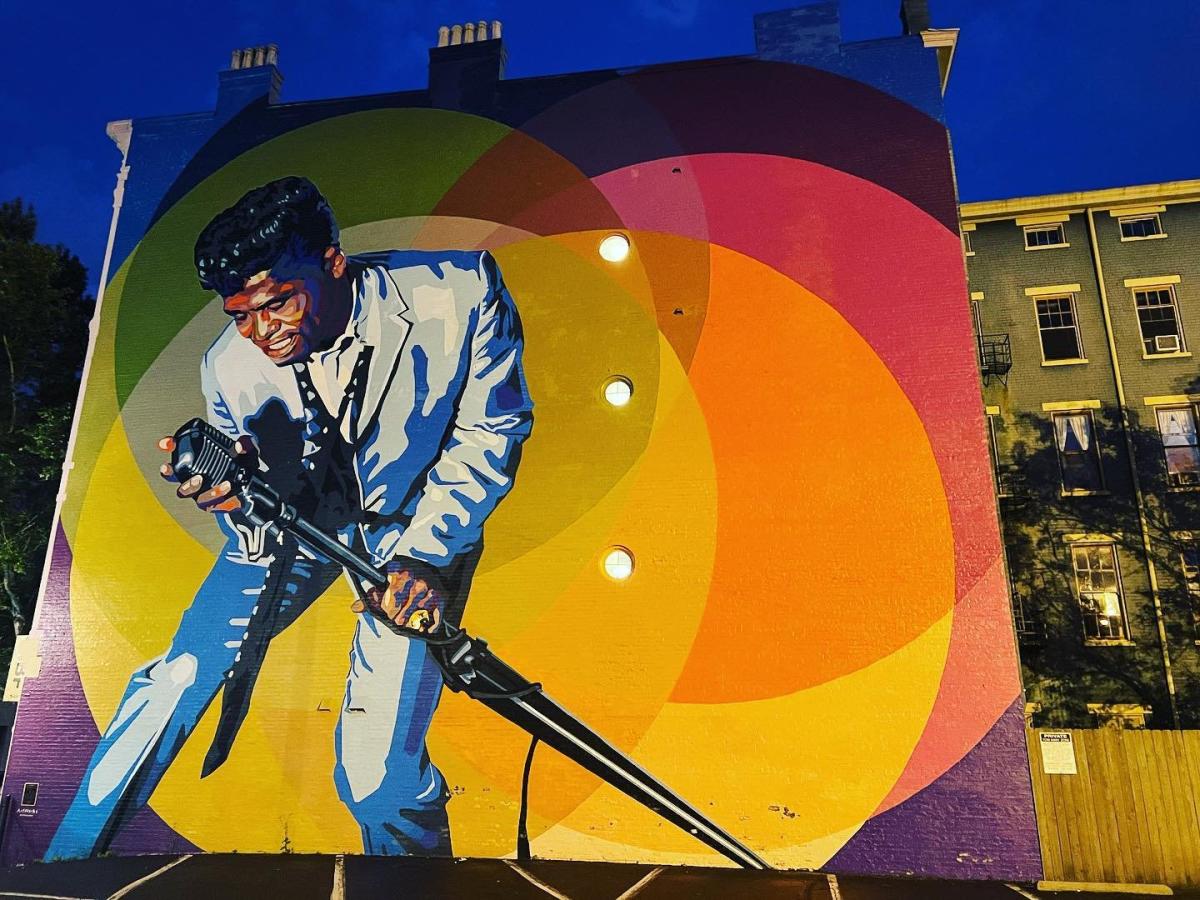 ArtWorks Murals Commemorating Black Cincinnatians
Each year, local nonprofit ArtWorks paints a series of new murals on buildings across Greater Cincinnati, many of which pay tribute to the area's history and impactful residents. In addition to the mural of Ezzard Charles listed above, some notable works include "Black Excellence in Zone 15," which celebrates Lincoln Heights, the first self-governing Black community above the Mason-Dixon Line; "Mr. Dynamite," a colorful depiction of James Brown, who launched his career with Cincinnati label King Records; and an ode to Mamie Smith, a Cincinnatian and the first Black blues recording artist. The organization offers both guided and self-guided walking tours of the artworks. artworkscincinnati.org.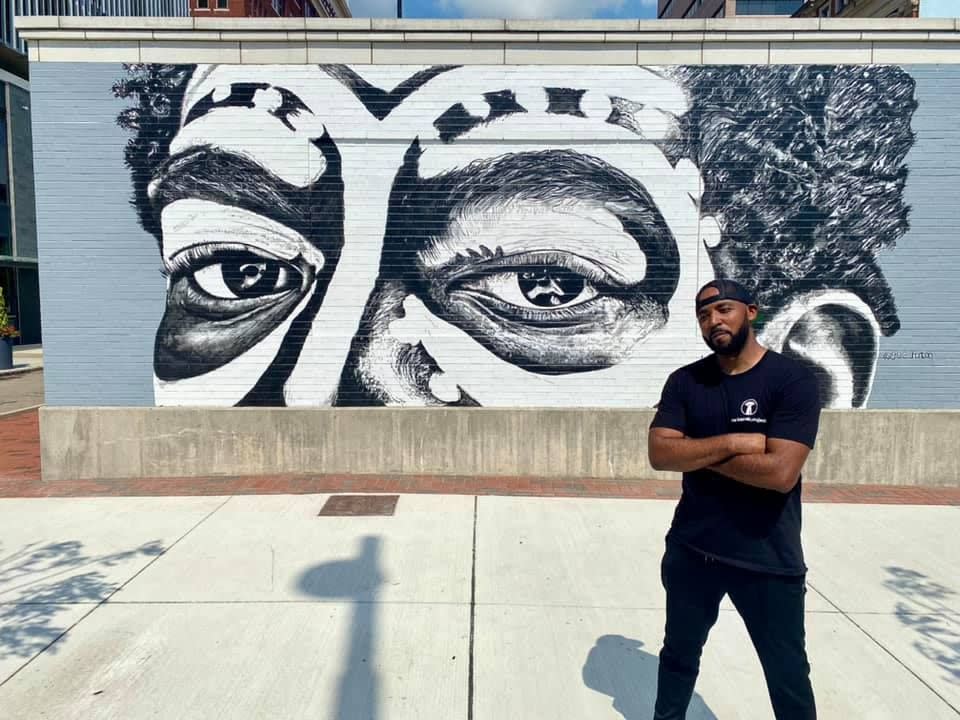 Gee Horton's Court Street Mural
Cincinnati's recently renovated, pedestrian-friendly Court Street Plaza has become a new epicenter of public art. In addition to a series of sculptures is a mural by local Black artist Gee Horton. Horton is a hyperrealist who typically works in charcoal and graphite to create images that reflect ideas of Black youth, personal identity, innocence and African heritage. Part of his "Coming of Age" series, the mural on Court Street bridges art and activism and features the top half of a young man's face, rendered in black and white and donning tribal markings. E. Court St. between Vine and Walnut streets, Cincinnati, Ohio 45202. courtstreetcincy.com.