25 Northern Kentucky Bars and Restaurants with Patios
Whether you love to linger in the carefree moments of summer sunshine, or love eating outdoors in cooler, fall temperatures, Northern Kentucky has plenty of bars and restaurants with amazing patios. Here are a handful of favorite destinations to inspire you to drink and dine al fresco. And don't worry: There's plenty more than what's our list — just use this as a starting point. 
Covington

Agave & Rye
If you want epic tacos stuffed with unique proteins (kangaroo, anyone?) and delicious margaritas, check out Agave & Rye in Covington, Ky. This is the flagship location of the locally spawned chain, which has expanded to Cleveland, Chattanooga, Indianapolis, Huntsville, and more. Although their brightly colored interior is enticing, take a seat at one of the outdoor tables along both sides of the restaurant. A second Agave & Rye location in the Rookwood neighborhood of Cincinnati also features a unique and boldly decorated patio.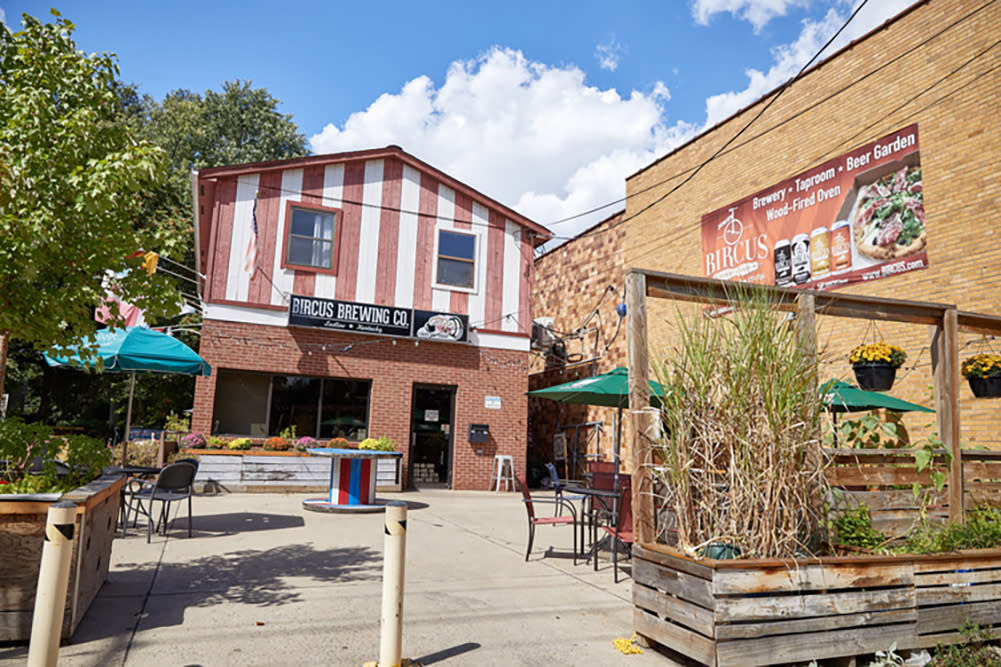 Bircus Brewing
The world of circus acts live in harmony with love of craft beer at Bircus Brewing in Ludlow, Ky. Located in the old Ludlow Theater space, catch live circus performers on the indoor stage while enjoying one of their 12 craft beers, or head outside to the patio to snack on a wood-fired pizza. Check their calendar for upcoming events.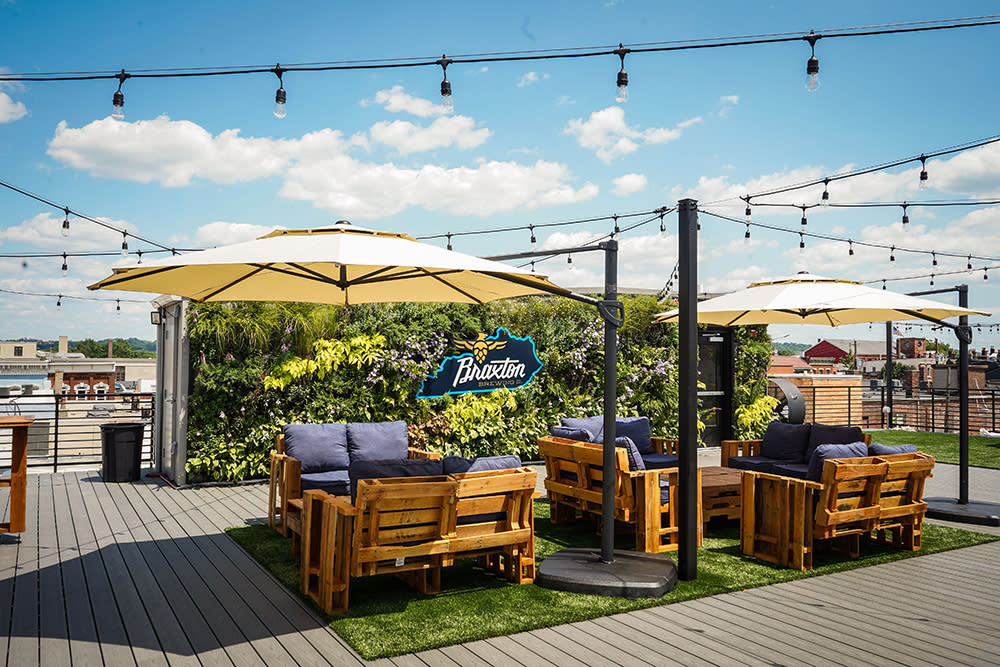 Braxton Brewing Company
Lift one to life at the rooftop at Braxton Brewing Company in Covington. Incredible city views, lots of green space, beautiful lighting, and a living plant wall for the perfect photo ops make this an ideal outdoor destination. If you're hungry, order a pizza from the next-door Dewey's location, with service to the taproom. Downstairs, the main floor is dog-friendly and kid-friendly until 9 p.m., with a handful of tables on the sidewalk. Braxton also has a taproom over the river in Cincinnati, as well as the Braxton Barrel House in Ft. Mitchell, Ky.

Covington Yard
The Covington Yard shipping container park features tons of green space, a full-service bar, yard games, and food options like tacos, sliders, or chicken fingers. It's a family-friendly and dog-friendly communal backyard with events like movie screenings, drag bingo, and themed parties.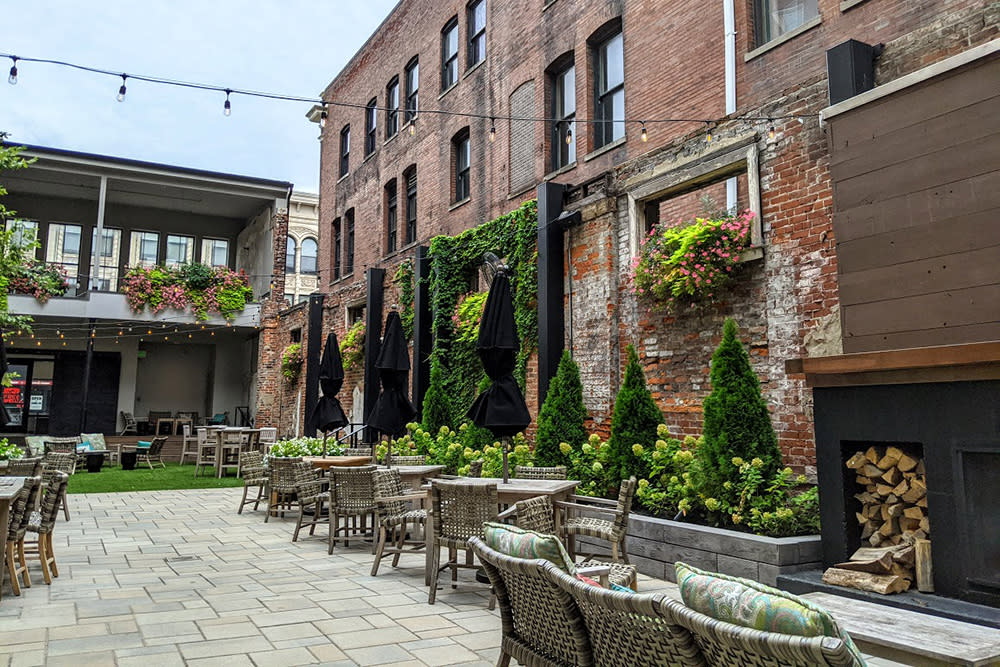 Coppin's Restaurant at Hotel Covington
Transformed from the original Coppin's Department Store, Hotel Covington's Coppin's Restaurant is infused with history, along with signature cocktails and a rotating seasonal menu, with a heavy focus on local. Coppin's is also a stop on The B-Line and the outside is dog-friendly, so bring your furry four-legged friend with you to experience their lovely patio.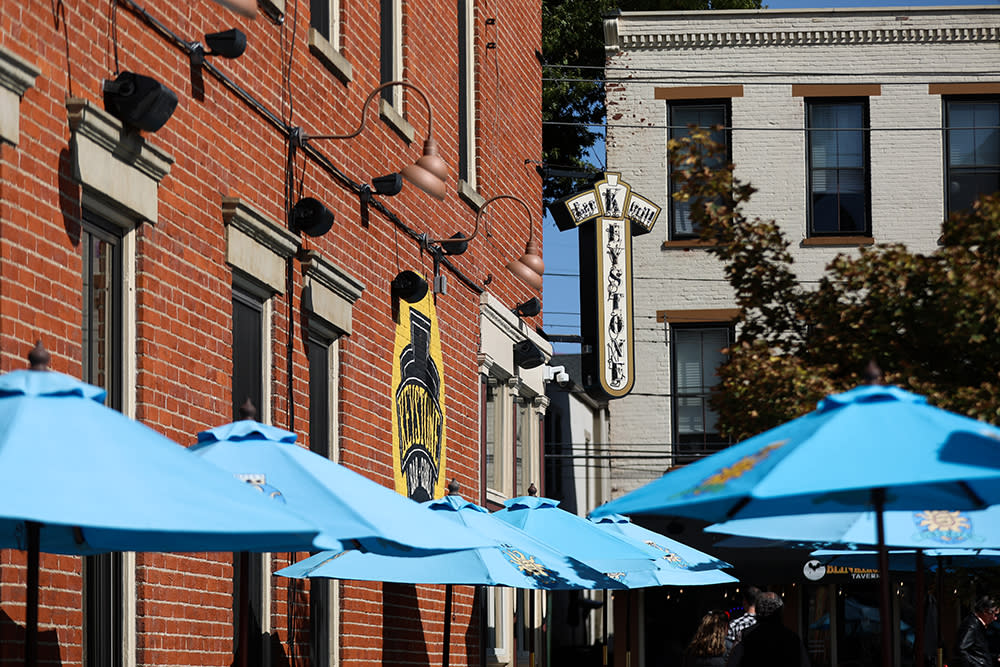 Keystone Bar & Grill
If you like mac & cheese, then you will love Keystone Bar & Grill in Covington because they have eight different mac & cheese variations for you to enjoy in their outdoor dining space. If a piping hot skillet of mac doesn't do it for you, they have other great options like quesadillas, burgers, and sandwiches. Located in the Roebling Point District, there are other dining destinations nearby with outdoor accommodations including Molly Malone's, Smoke Justis, The Gruff, Blinkers Tavern, and Frosthaus — if you feel like patio hopping.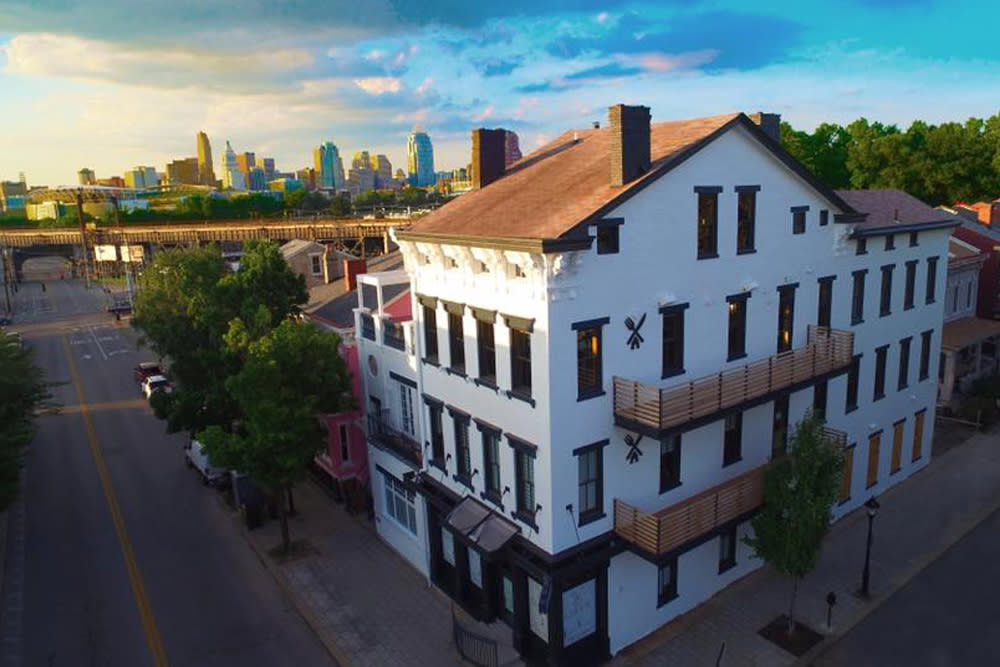 Lisse Steakhuis
Lisse Steakhuis is a Dutch steakhouse with an amazing rooftop area for dining with views of Mainstrasse Village as well as the Cincinnati skyline.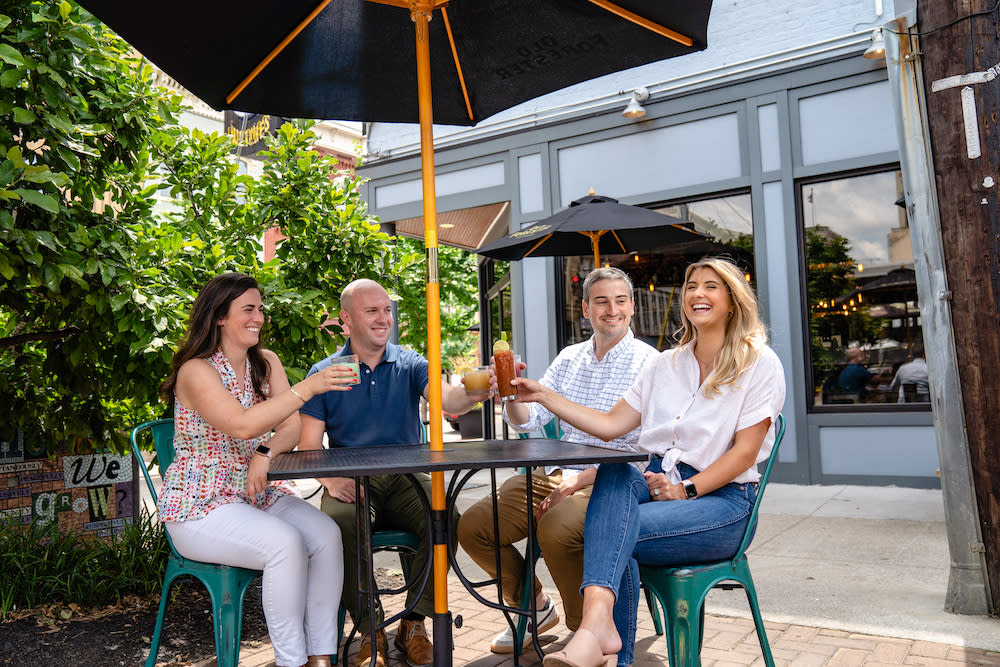 Rich's Proper Food & Drink
Rich's Proper Food & Drink in Covington prides themselves on their oysters and Southern menu offerings. They're also a member of The B-Line and one of the country's top 100 bourbon bars, so grab a seat at one of their patio tables.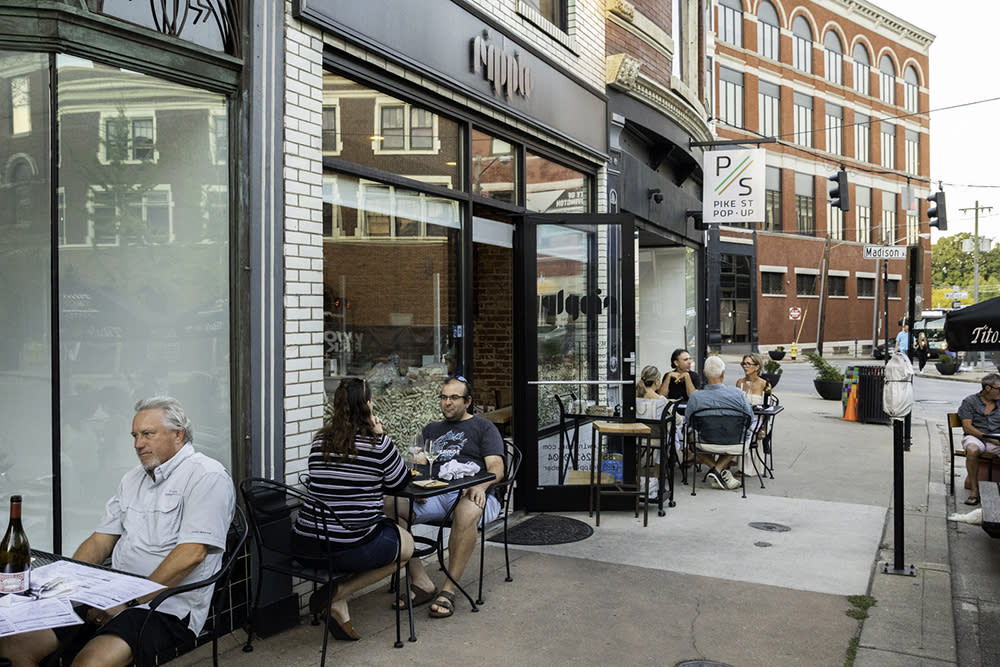 Ripple Wine Bar
You don't want to miss this stylish wine bar in Covington, pouring more than 40 varieties of wines by the glass. Ripple Wine Bar also offers a seasonally inspired menu, cocktails, and beer. Their newly expanded patio gives you plenty of space to spread out and enjoy while taking in the sights of the city core.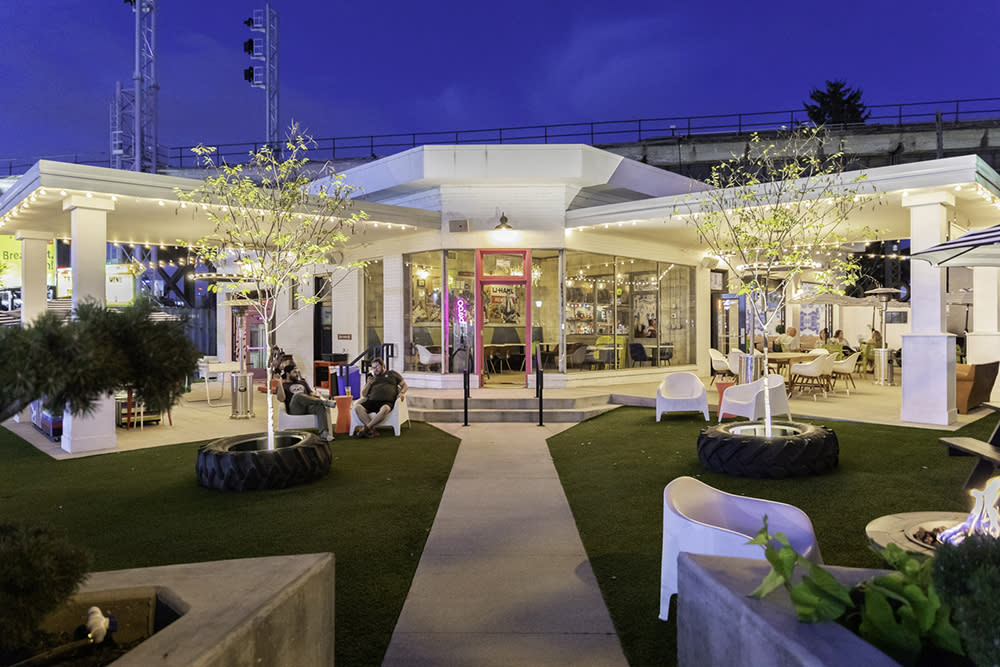 The Standard Covington
An old mechanic's garage has been turned into the hip restaurant and bar, The Standard. Helmed by NKY restaurateur power couple Emily Wolff and Paul Weckman (Frida's, Otto's, Larry's, Mama's on Main), the vibe is artful industrial with colorful murals, a huge front lawn, and plenty of delicious drinks. Stop in for burgers, salads, and snacks, like deviled eggs, and their famous Marge's Bourbon Slush, made with green tea, lemonade, and orange juice.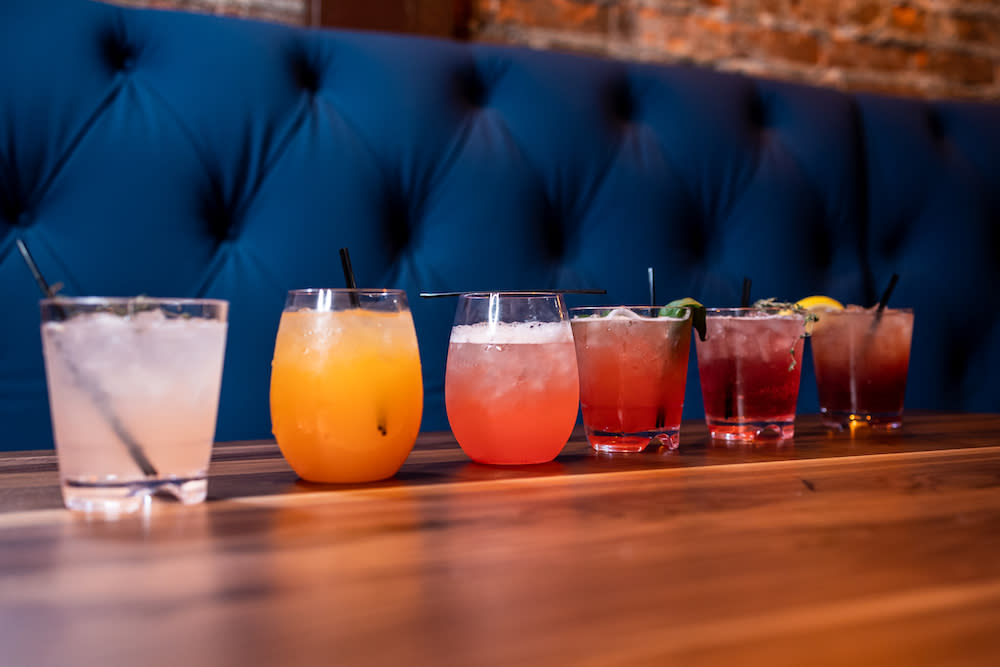 The Well
The Well is a friendly neighborhood bar that offers a dog-friendly patio, fun cocktails, and a food menu from chef Mitch Arens, featuring everything from coneys and ribs to Chicago-style hot dogs and tater tots.
Newport

Bridgeview Box Park 
Bridgeview Box Park at Newport on the Levee in Newport, Ky. is a great option for outdoor dining. With walk-up counter service of several local food and drink options, there's truly something for everyone. Grab your picks and settle in on the amazing patio on the Levee with the beautiful Cincinnati skyline as your backdrop.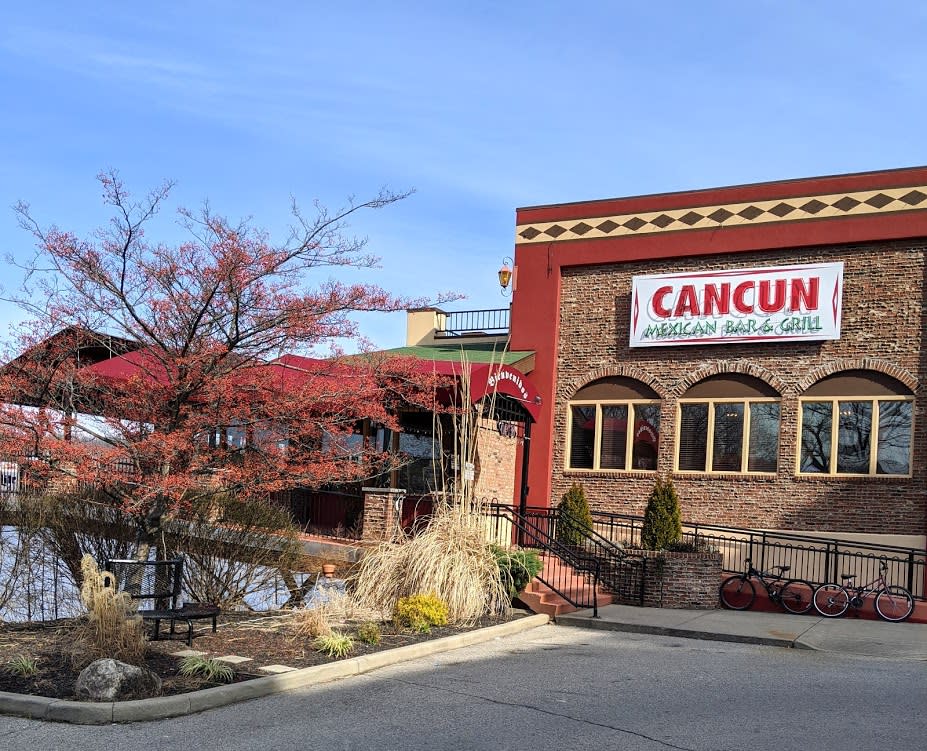 Cancun Mexican Restaurant & Bar
OK, riverfront patios are hard to beat and Cancun Mexican Restaurant & Bar has a great one. When you have a craving for Mexican with a view, this is your best bet! Located in Newport, the back deck extends over the Ohio River.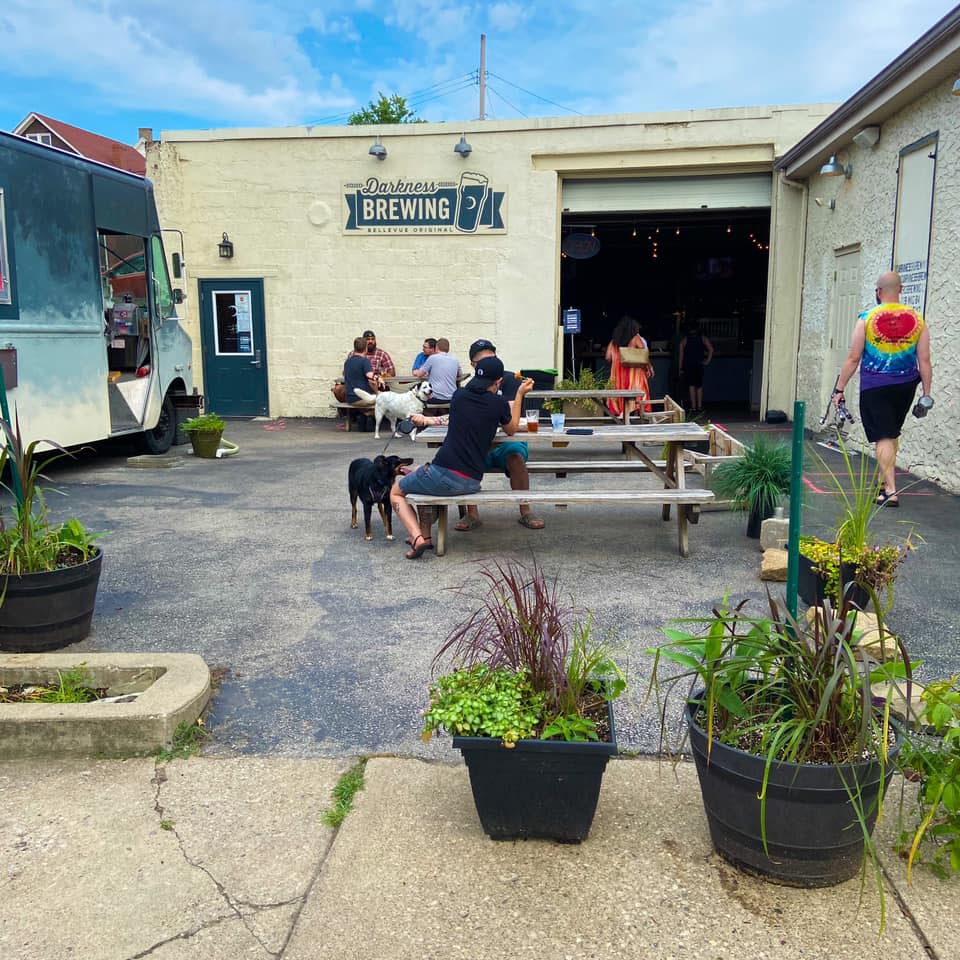 Darkness Brewing
As the name suggests, Darkness Brewing in Bellevue, Ky. specializes in dark beers. The nanobrewery serves up a chill vibe alongside favorites beverages, like the Man in the Moon milk stout. This is an awesome patio to grab a beer and food from the on-site kitchen, open five days a week, including for brunch.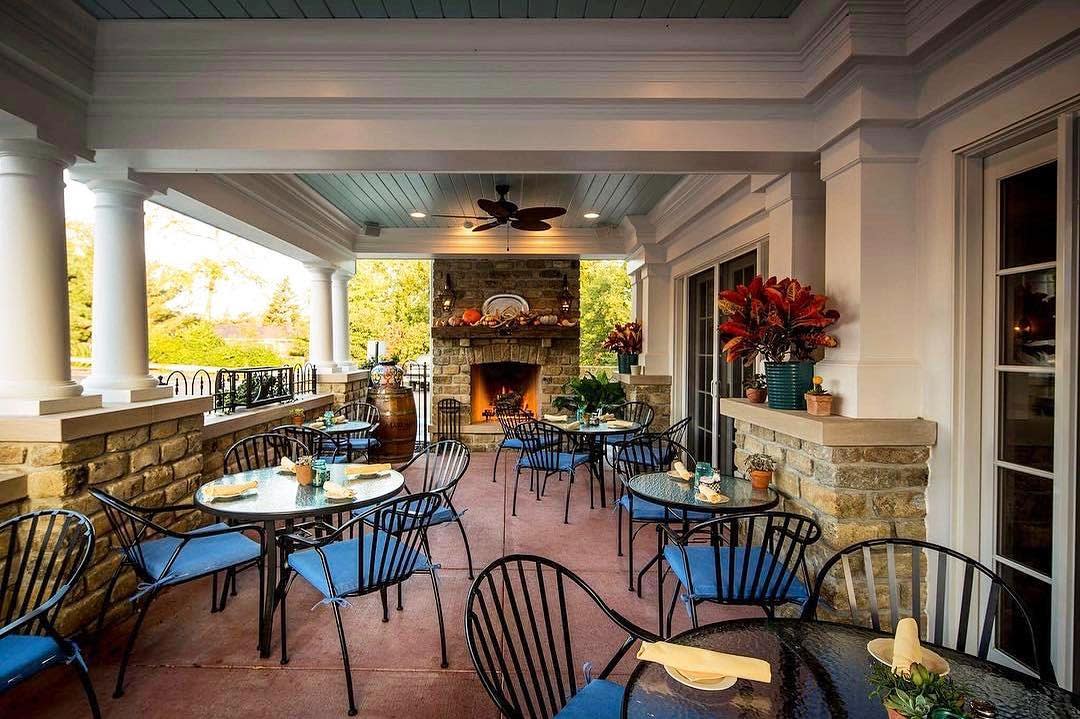 Greyhound Tavern
Located in Ft. Mitchell, Ky., local favorite Greyhound Tavern offers a large outdoor patio for customers to enjoy in addition to award-winning eats, including their family-recipe fried chicken, Kentucky Hot Brown, and large onion rings!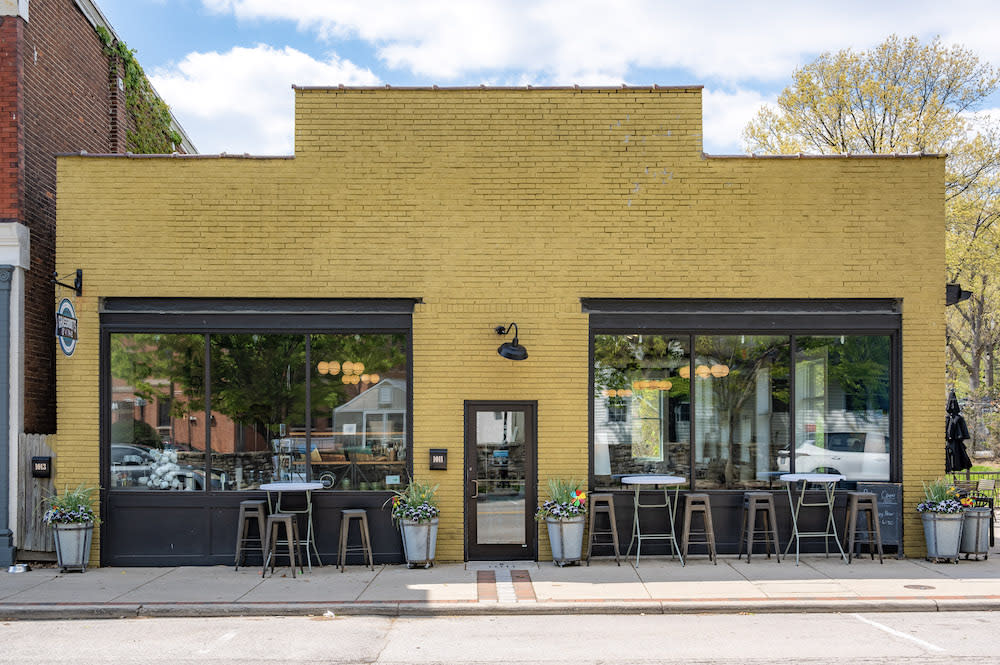 Grassroots & Vine
A hidden gem in Ft. Thomas, Ky., Grassroots & Vine has an awesome patio to just sit back and relax. Located in the neighborhood's historic Midway District, guests can indulge in the finest selection of cheeses, local honey, small-batch wine, craft beer, and Kentucky bourbon. A cozy lunch spot or the perfect place to unwind in the evening with friends over a charcuterie board.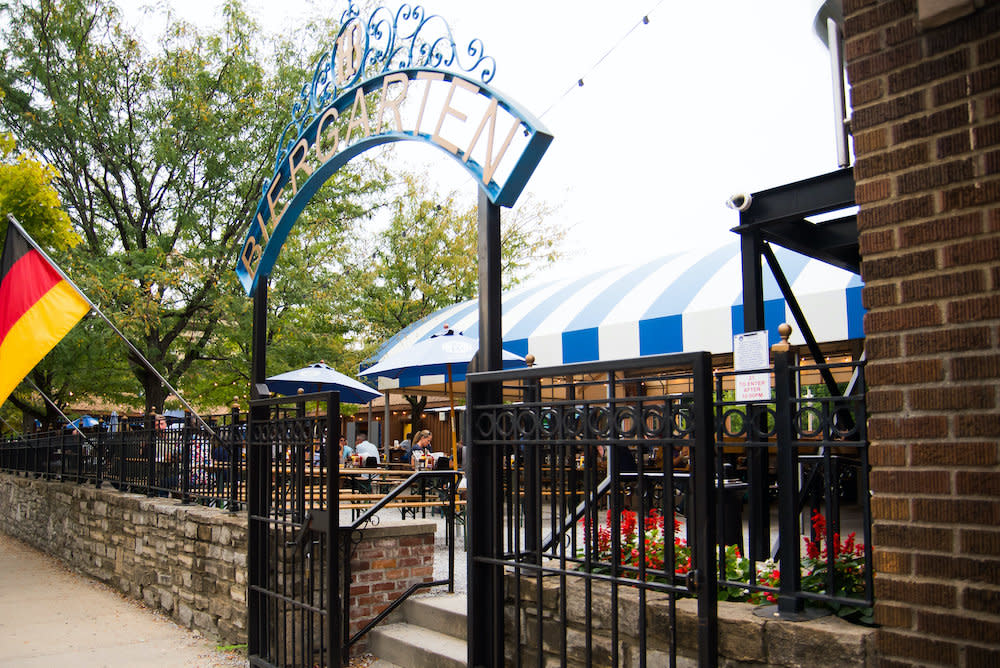 Hofbrauhaus
This list would be incomplete without mentioning Hofbrauhaus' spacious outdoor biergarten. Located directly across from Newport on the Levee, the Northern Kentucky location of the Munich favorite was the first Hofbrauhaus in America. Make sure to stop in and enjoy the traditions of Germany — from brats to beer to polka bands — without having to leave the United States.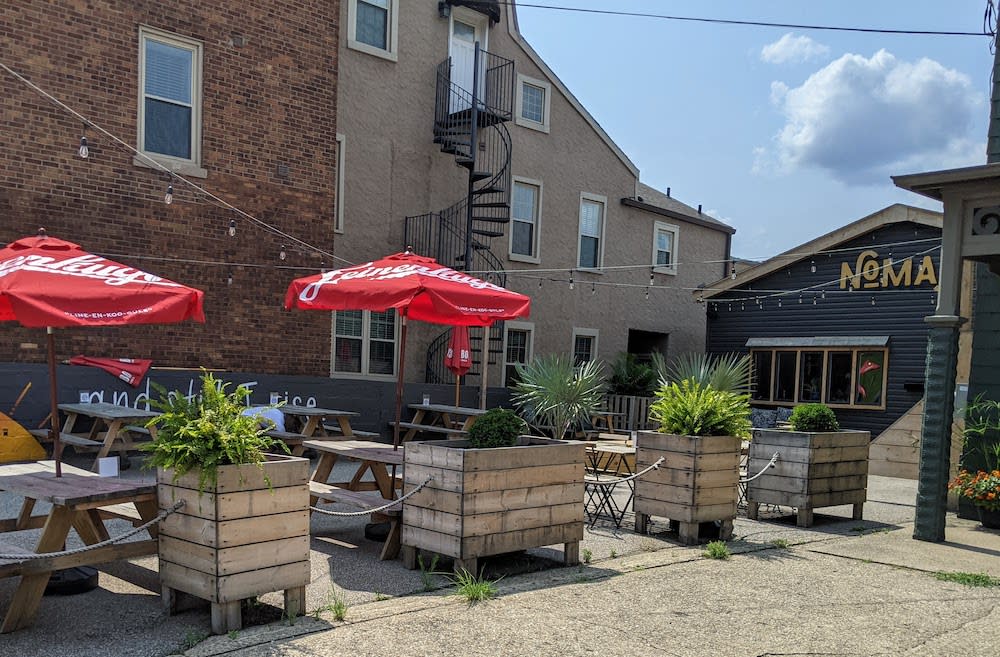 Nomad
Nomad is a Bellevue bar and cafe that is all about coffee, cocktails, beer, boozy milkshakes, and both sweet and savory food specials alike (try the loaded tater tot baskets called Totchos — you won't regret it). With a heap of outdoor seating, this is the perfect place to gather over drinks and live music.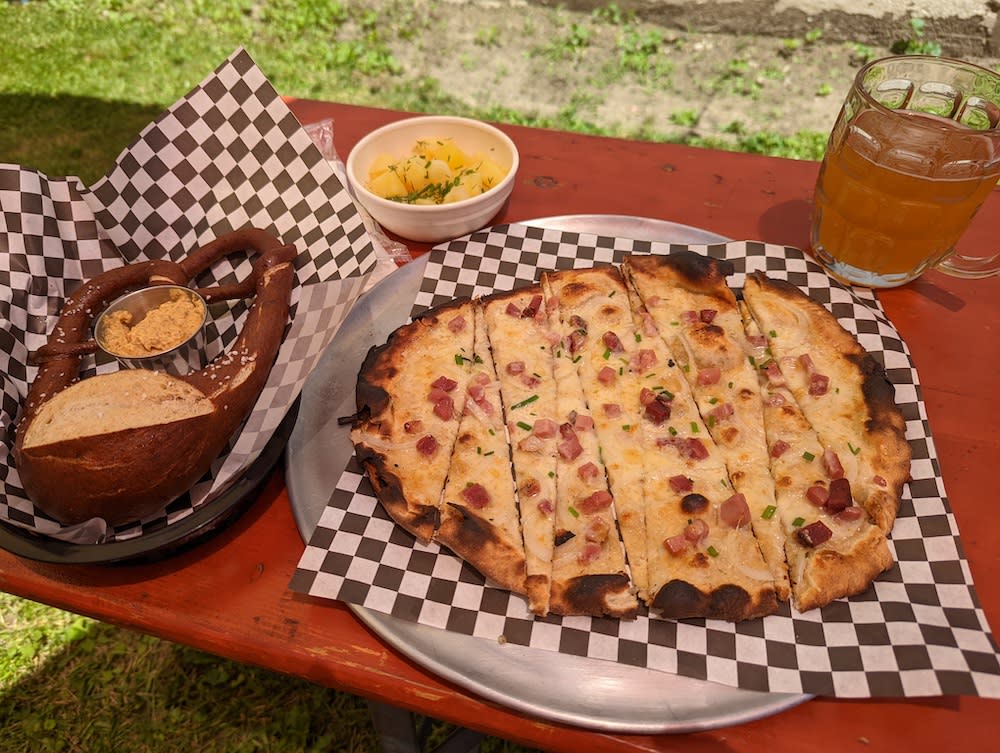 Tuba Baking Co.
Tuba Baking Co. is a German baking company and restaurant that operates a "Brezelgarten." They offer a housemade laugenbrezel (rye and spelt sourdough soft pretzel) and woodfired flammkuchen (essentially a German pizza), as well as a variety of wurst, spatzel, and dipping options for your pretzel. There are vegetarian and vegan options available.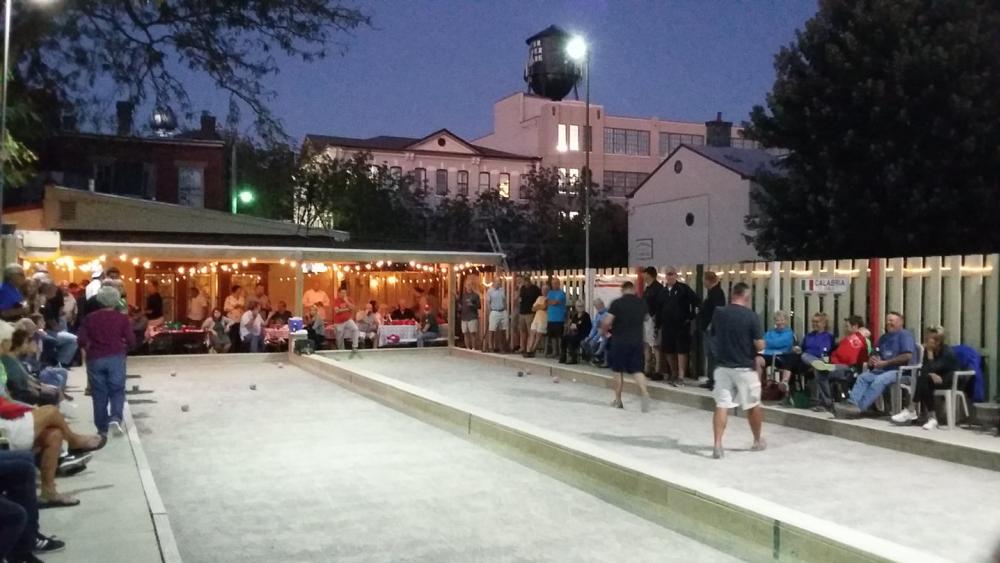 Pompilio's
A local staple since 1933, Pompilio's in Newport specializes in red sauce Italian and features a big bocce ball court out back. The restaurant's claim to fame is not only the family-recipe food and large bourbon selection, but also for being a filming location for the Oscar-winning film Rainman.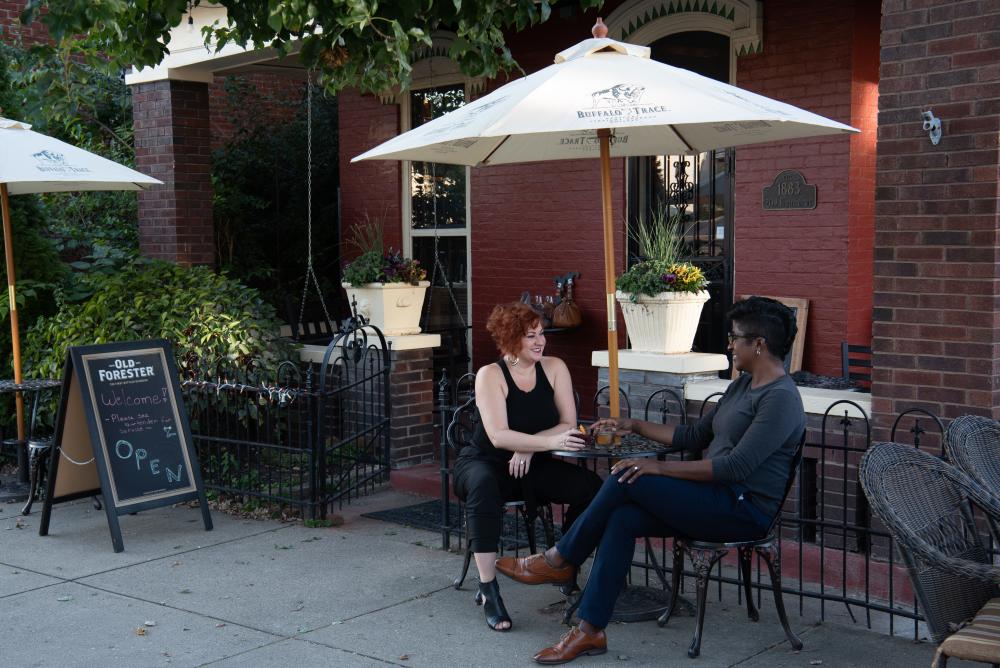 Three Spirits Tavern
A fun neighborhood bar in the heart of Bellevue's Fairfield Avenue, Three Spirits Tavern serves amazing drinks, flatbreads, hanky pankys, and more. Their awesome patio and live music are not to be missed! A spot on The B-Line, the bar is also rumored to be haunted. See if you can commune with the spirits and spirits on their outdoor patio.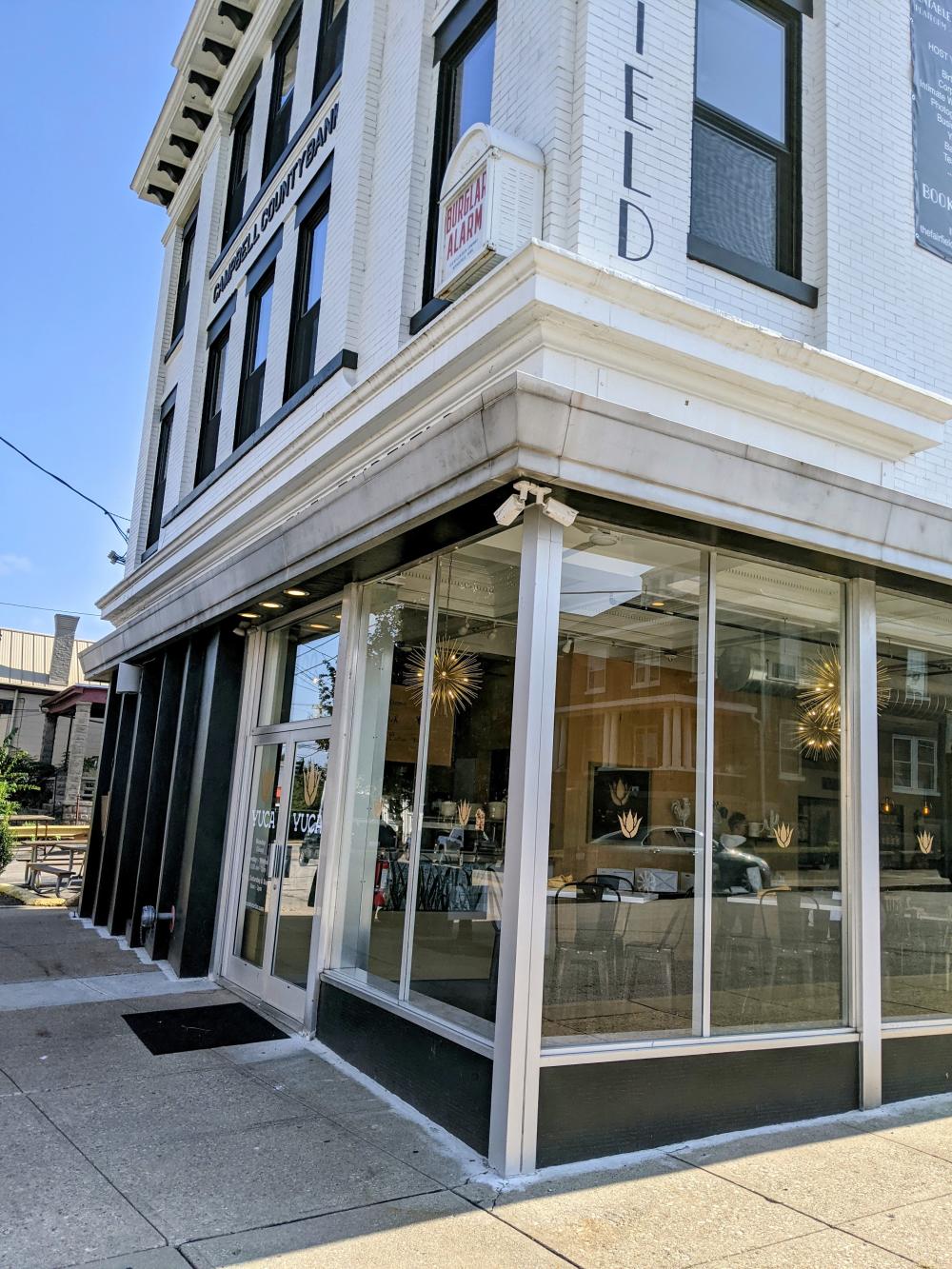 Yuca
Welcome to Yuca scratch kitchen, by Cedar. Latin flavors — with a twist — can be found sprinkled throughout the menu here. Located in the renovated first floor of the Historic Campbell County Bank building in Bellevue, Yuca creates a special dining experience for their brunch guests and features a one-of-a-kind tequila vault.
Florence

The 859 Taproom and Grill
The 859 Taproom and Grill in Florence, Ky. is a craft beer bar and restaurant with "Northern Kentucky's largest beer wall," featuring 60+ brews on tap, as well as a full bar, large bourbon selection, and tasty food ranging from shareables and burgers to tacos and salads. Stop by on Whiskey Wednesday and take a seat on their year-round, dog-friendly patio, replete with 17 big screen TVs.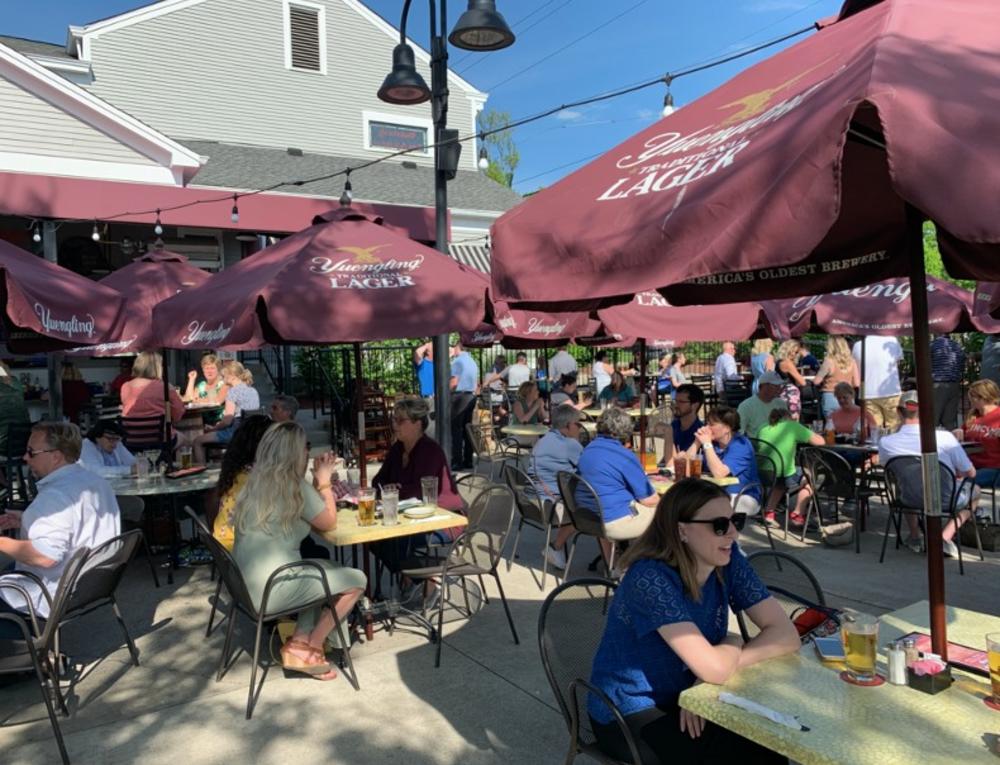 Barleycorn's
With locations in Florence, Cold Spring, and Lakeside Park, Ky., Barleycorn's is a great local favorite with amazing patios. Well known for their wings and burgers, Barleycorn's also offers salads, sandwiches, and entrees like Moonshine Meatloaf. Each Barleycorn's patio is ready to welcome you with a fully-stocked outdoor bar, covered seating, and plenty of TVs.
Knotty Pine on the Bayou
Tucked away on the banks of the Licking River in Cold Spring, Ky., Knotty Pine on the Bayou might be one of NKY's best kept secrets. As the name suggests, the restaurant specializes in Cajun and Southern cuisine, everything from fried alligator and frog legs to gumbo and etouffe. Order a shrimp boil and Hurricane to enjoy a lazy evening with friends or family on the covered patio.
For more drinking and dining ideas, check out our restaurant listings and bar listings.
Content written by Sarah O'Shaughnessy on October 4, 2019, updated by Rebecca Banks on July 29, 2020 and updated by the meetNKY CVB team on May 15, 2023.