Shrimp and grits, chicken biscuit sliders, bourbon slushies... I cannot think of a more "southern" combination.  But when you're at Libby's Southern Comfort, the combinations of southern comfort food (and drink) are almost endless!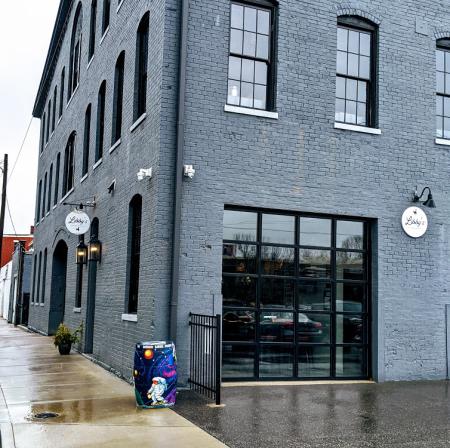 We visited Libby's at 35 W. 8th Street in Covington on a rainy day in February, but we cannot wait to return when the patio opens.  There's just something dreamy about sipping on something from the impressive bourbon selection at Libby's or enjoying one of their well-known bourbon or Cheerwine slushies with the lights twinkling above you on the outdoor patio.
But until then, the restaurant's indoor ambiance is super cozy and shining with southern spirit.  The building used to be the home of Dixie Wholesale Grocery, but its owner restored it with the intent of creating a fun, comfortable place for friends and families to gather--and that he did.  Libby's is named for the owner's daughter, whose image is reflected in the restaurant logo along with the family's black lab, Yuma.
Maybe I just love southern food, but the Libby's menu is seriously mouthwatering.  Fried chicken (or an appetizer of just the skins), fried green tomatoes, goetta hush puppies... need I say more?  The fried green tomatoes are served with pimento cheese mousse, pork belly lardons, bourbon onion jam, and herb oil.  Wow.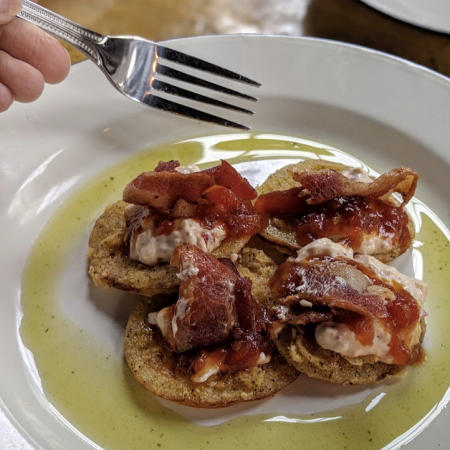 The shrimp and grits are incredible.  Tasso grits served with blackened shrimp, fried onion straws, and chives.  So delicious!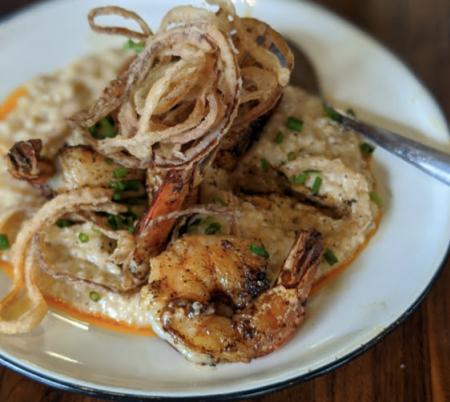 I ordered the daily special--a calamari poboy with fries and slaw.  The calamari was fried to perfection and not chewy at all.  And those fries get me every time!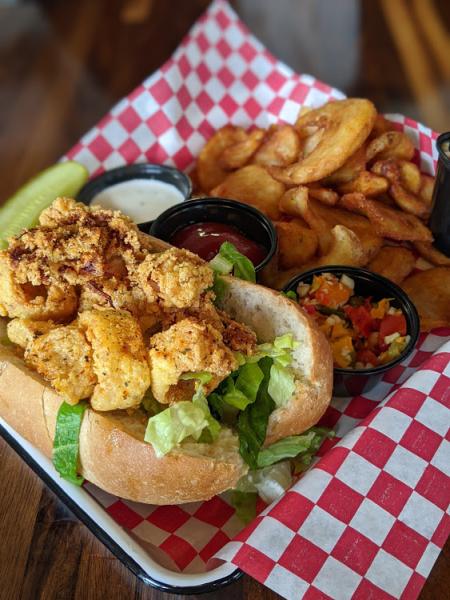 My coworker ordered the chicken biscuit sliders, one of the most popular dishes at Libby's.  She raved about the buttermilk biscuits and the fried sweet chili chicken breast and pimento cheese were a bonus!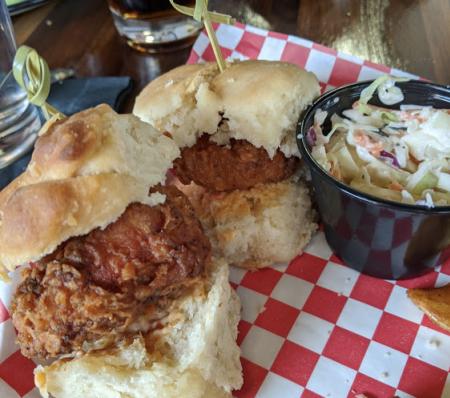 And every time I go to Libby's, I vow to save room for their oatmeal cream pies, but alas, I failed once again.  I was way too full to sample them this visit, but one day, I'm going to Libby's and ordering dessert!