LGBTQ+
Y'all means ALL
Northern Kentucky and Cincy are happy to welcome LGBTQ+ travelers and show them how "Y'all means all" in our region.  

Covington, Ky. was one of the first cities in the state to pass an LGBTQ Fairness Ordinance in 2003, banning discrimination in housing, employment, and public accommodations. Recently, Marketwatch named Covington a top three destination for LGBTQ people seeking the best places to retire - Covington also consistently improved their city score from the Human Rights Campaign, and in 2022 scored a perfect 100. Across the Ohio river, our Cincinnati partners scored 100 too.

Since 2003, many other cities in Northern Kentucky have joined Cincy and Covington by adopting Fairness Ordinances, including Fort Mitchell, Crescent Springs, Newport, Cold Spring, Fort Thomas, Highland Heights, Bellevue, Maysville, and Dayton, Kentucky.
LGBTQ+ Bars and Nightlife in the Cincy / NKY Area
Both sides of the river offer a variety of LGBTQ bars and nightclubs: 
The Birdcage – located in Cincy's downtown, a friendly, welcoming bar with tasty drinks and a spacious dance floor. 

The Creative House of Art and Design, aka CHAD -- Located in the heart of Covington's Mainstrasse Village, CHAD is an LGBTQ-owned business offering a place for creatives to take art classes, get art supplies, buy laser cut works of art and more. They also have a "secret" bar in the back with craft beer, cocktails and conversation. Take your drink outside to their charming patio.

The Cellar – in Covington, Ky., at the south end of National Historic District Mainstrasse Village. A fun nightclub offering different themed entertainment almost every night of the week, including drag shows, talent contests, goth night, and karaoke.

Bar 32 – in the heart of Mainstrasse Village in Covington, another local favorite bar to unwind with a refreshing drink.

Rosie's Tavern – across the rainbow-colored crosswalk from Bar 32, another great bar hangout, with an outdoor seating area. 

The Crazy Fox – located in Newport, Ky. and owned by one of the people who founded NKY Pridefest, this neighborhood bar reputedly has the best Bloody Marys in town. 
More LGBTQ+-friendly Things to Do in NKY and Cincy
In addition to welcoming night spots, NKY and Cincy are chock-full of unique local shops, antiques, art galleries, performing arts venues, museums, bourbon bars (we even have our own bourbon trail – The B-Line), and some of the best restaurants in the world. Yes, the world. Our Southern, German, Mexican, Asian, Farm to Table, and Dive Bar cuisine are second to none. 

There's also a local LGBTQ+ film festival - Outreels Cincinnati. The mission of Outreels is "To foster a creative outlet for the Ohio tri-state area where LGBT issues are expressed and discussed through art of film." Outreels is  a weekend of LGBTQ shorts, features, and documentaries submitted by filmmakers from around the world. 

Oh, and we're home to not only one, but three Pride celebrations -- NKY Pride, Cincinnati Pride, and Cincinnati Black Pride. 
LGBTQ+ Two Day Travel Itinerary
Below is a sample two-day LGBTQ+ itinerary for travel and things to do in Northern Kentucky. Hope to welcome you here soon! 
Day 1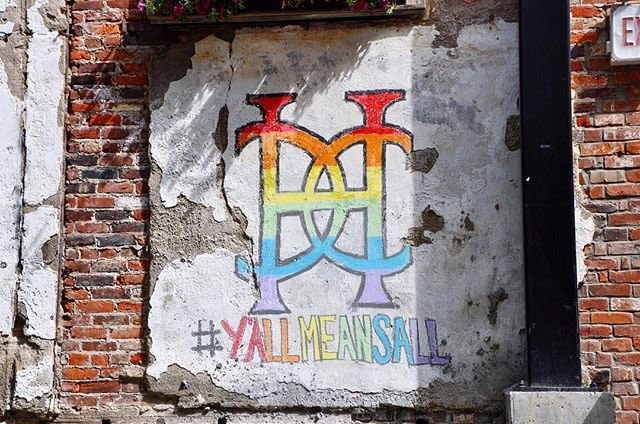 Check into the Hotel Covington –  Named the best hotel in Kentucky by U.S. News & World Report, The Hotel Covington is a true design hotel. Like many great things in Kentucky, it began with a horse race. The state's first modern skyscraper and high-end department store were born from John Coppin's bet on a longshot—a horse named Knowledge. With big winnings and big dreams, the rest, as they say, is history. Today, Hotel Covington stands as a testament to high stakes, high fashion, and high ambition. With vintage touches and modern tailoring, the Hotel Covington sings in style, character, and comfort. The Hotel Covington is also a yearly host of NKY Pride.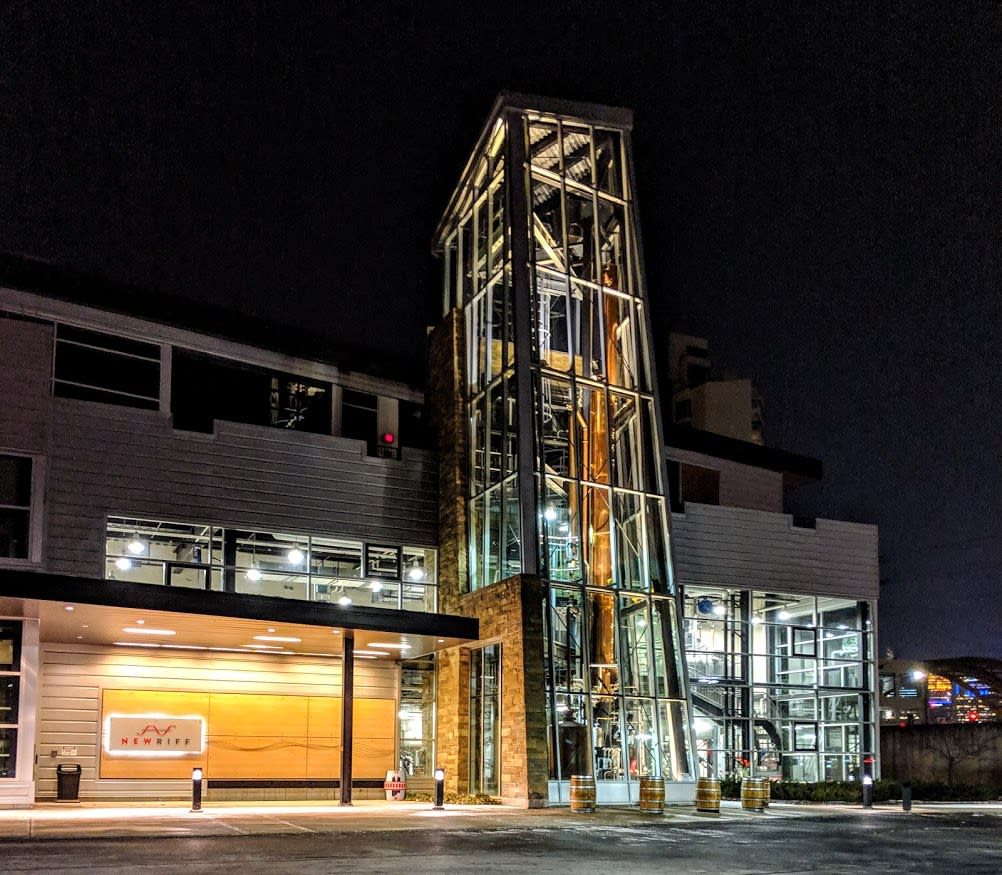 Afternoon - Head over for a tour at New Riff – New Riff Distilling is a new riff on the storied tradition of bourbon making. This unique urban distillery ensures their focus is on making a new and edgier tradition on America's Native Spirit. Meet Hannah Lowen, the only gay Vice President of Operations of a major bourbon distillery and learn more about how New Riff is making strides to stand out among its bourbon brothers and sisters. New Riff is a member of the Kentucky Bourbon Trail Craft Tour® and the Northern Kentucky bourbon tour, The B-Line. The B-Line is a unique bourbon tour focused on five of the northern Kentucky Bourbon Trail Craft Tour® distilleries, eight bourbon bars and six bourbon focused restaurants.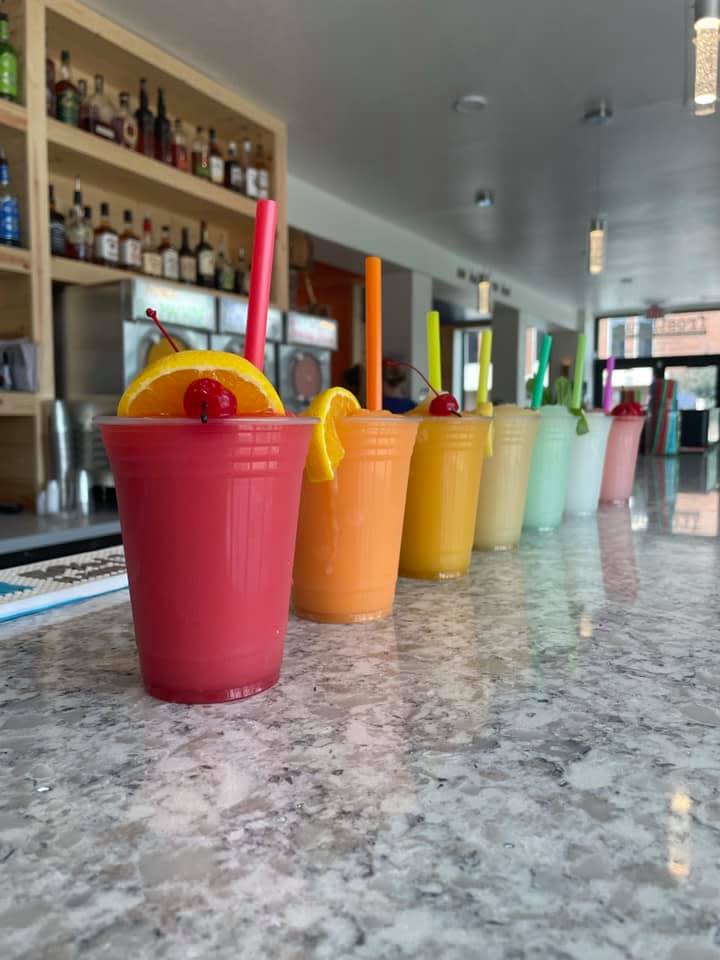 Evening – Enjoy a taste of the Cov in downtown Covington. With three entertainment areas, there is something for every taste. World class tacos and tequila at Agave & Rye in the downtown Renaissance District near the Hotel Covington. Or enjoy some of the South's best from-scratch cooking at Libby's Southern Comfort. Or try one of the permanent food trucks at the Covington Yard, in the Roebling Point district in the shade of the Roebling Bridge. This bridge, iconic for our region, is the little sister to the Brooklyn Bridge in New York, both designed by John R. Roebling. Make sure to stop at Frosthaus in Roebling Point for a delicious alcoholic slushy or keep your night going with a stop at Rosie's Tavern in the historic Mainstrasse Village or a craft IPA on the rooftop deck of Braxton Brewing Co. just half a block away from Hotel Covington.  
Day 2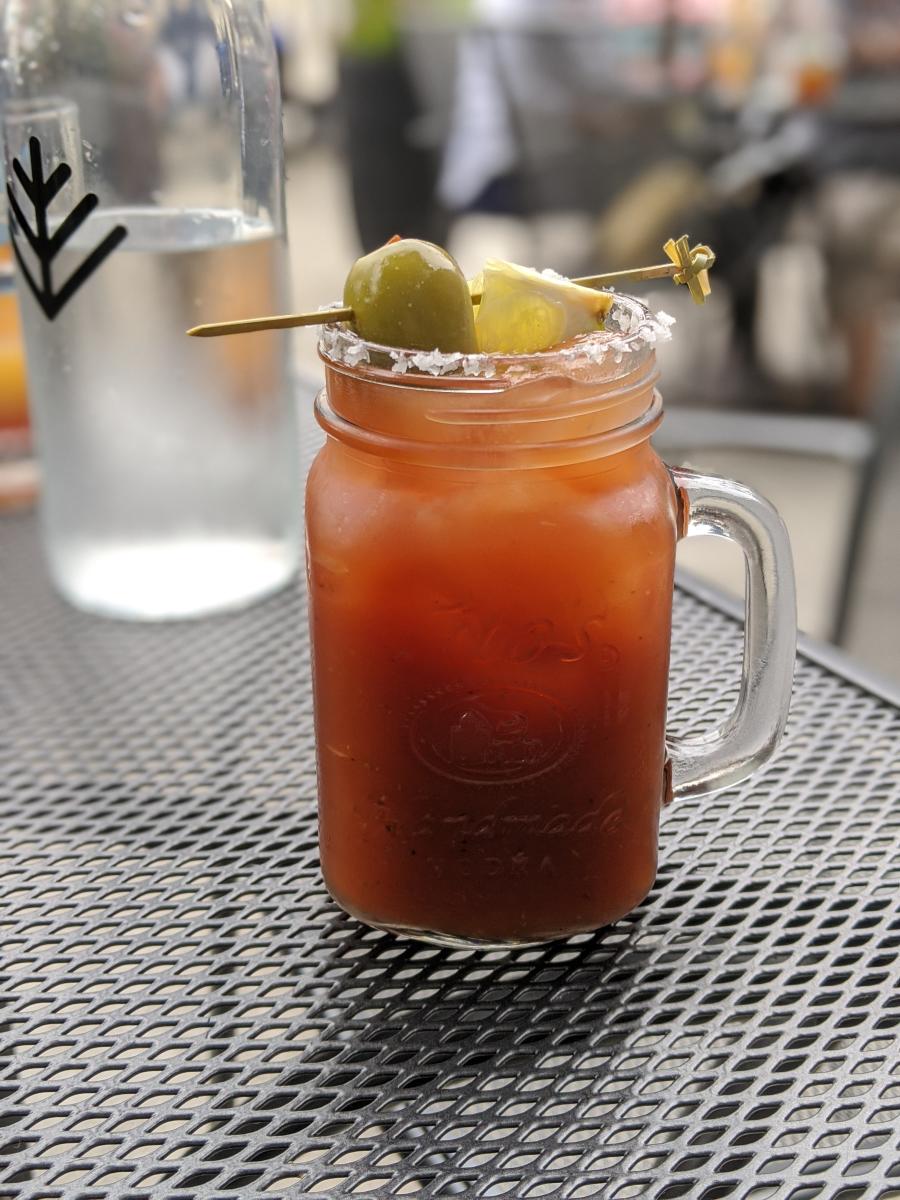 Morning – Enjoy one of the brunches, as well as one of the best Bloody Marys in town (shhhh, those are fighting words around here) at Cedar, in Mainstrasse Village.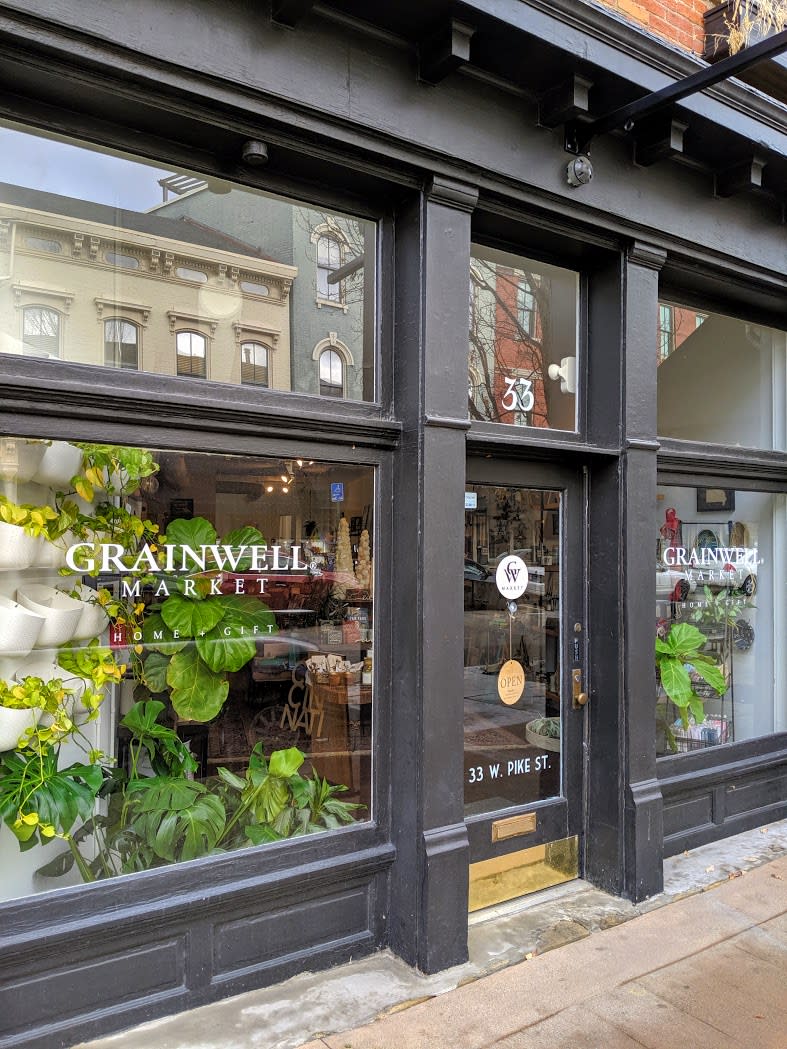 Midmorning – Explore the shops and public art on Pike Street, home of the NKY Pride Center, Grainwell, Hierophany & Hedge and more. Or maybe a self-guided public art tour is more your speed.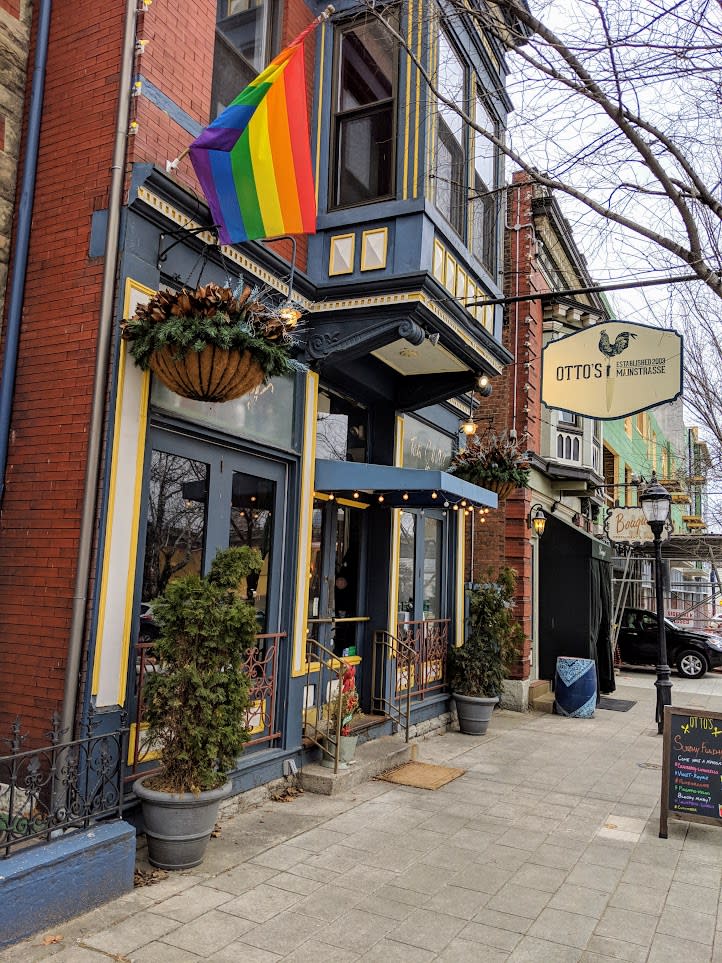 Lunch – enjoy a last taste of Northern Kentucky at Otto's on Main Street.  This gem, located in National Historic District Mainstrasse Village, serves inspired Farm to Table fare with an art flare. After lunch enjoy a quick stroll through the historic German village and make sure to visit Goebel Park.  
Goebel Park is best known for its iconic German-style Carroll Chimes Clock Tower, which displays a charming mechanical puppet show of the Pied Piper every two hours on the half hour, April through November. The clock tower also boasts a working carillon, which plays music every hour. Architect Addison Clipson was commissioned to design the tower and worked with partner Bill Batson.
 
Have fun planning your trip to the NKY and Cincy region! For more ideas and inspiration for gay travelers, check out this blog post by a local writer, Off The Beaten Path: A Local's Guide To LGBTQ Offerings.