Hidden Treasures Found Only in Northern Kentucky
Only in Northern Kentucky will you find the original predecessor for New York City's Brooklyn Bridge—the John A. Roebling Suspension Bridge. Follow this series to learn more about the hidden treasures found only in NKY.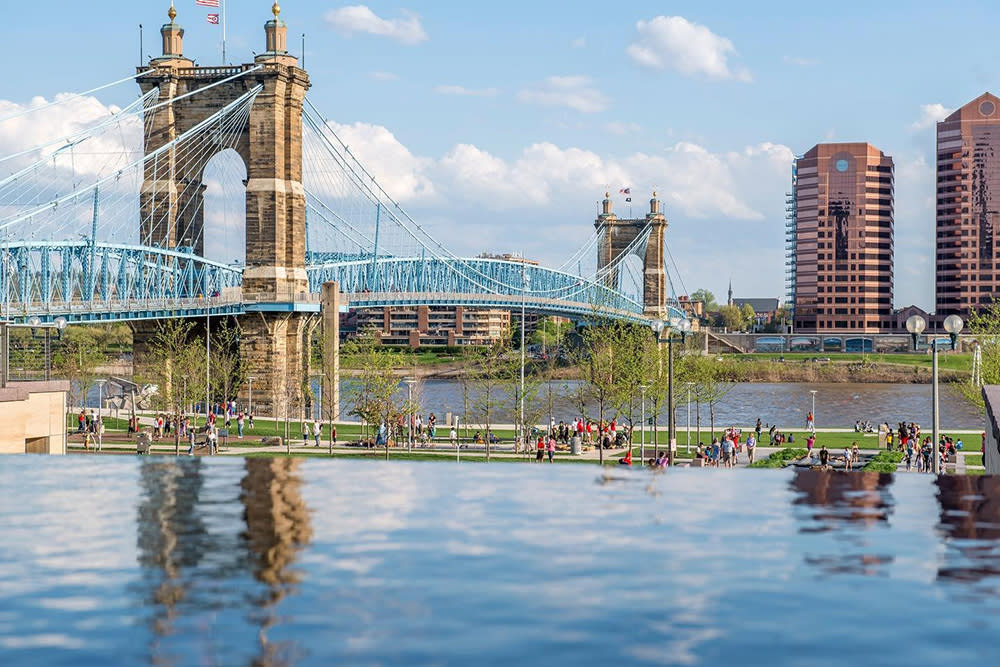 There's a reason Cincinnati and Northern Kentucky are beloved movie sets for Hollywood period pieces. In addition to being a centrally located and affordable area to visit, the region also shines architecturally. Basically, we look like old school New York City—a point of pride for many locals and lovers of design. Perhaps one of the area's most obvious ties to NYC is the John A. Roebling Suspension Bridge that served as a prototype for its big sister, The Brooklyn Bridge. 
A Rocky Start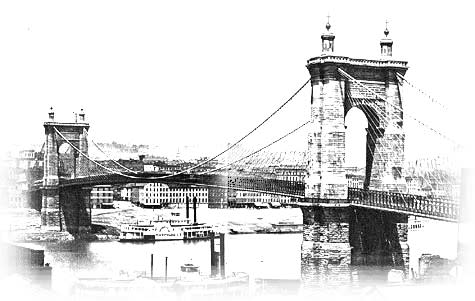 Photo Courtesy of reoblingbridge.org
Completed in 1866, two years before construction began in Brooklyn, the Roebling Bridge connected Covington, KY to downtown Cincinnati and was the longest bridge in the world at the time. The engineering marvel introduced several new bridge-building techniques and helped shape the world of engineering and transportation. But its construction was not without challenges. After the collapse of a smaller suspension bridge over Kentucky's Licking River, funding the Roebling Bridge became a serious problem. The accident had, understandably, left a bad taste in the mouths of those living in the area. It was not until after the Civil War that investors realized the true importance of a bridge connecting the north and south banks of the Ohio River and began throwing money at the project. 
After more than ten years of construction slowed by freezing temperatures, high water levels, war, and angry steamboat operators, the Roebling Bridge had its first pedestrian visitors on December 1, 1866. More than 166,000 people visited and walked across its 1,075-foot span in its first two days of operation. The bridge began accepting vehicles on January 1, 1867.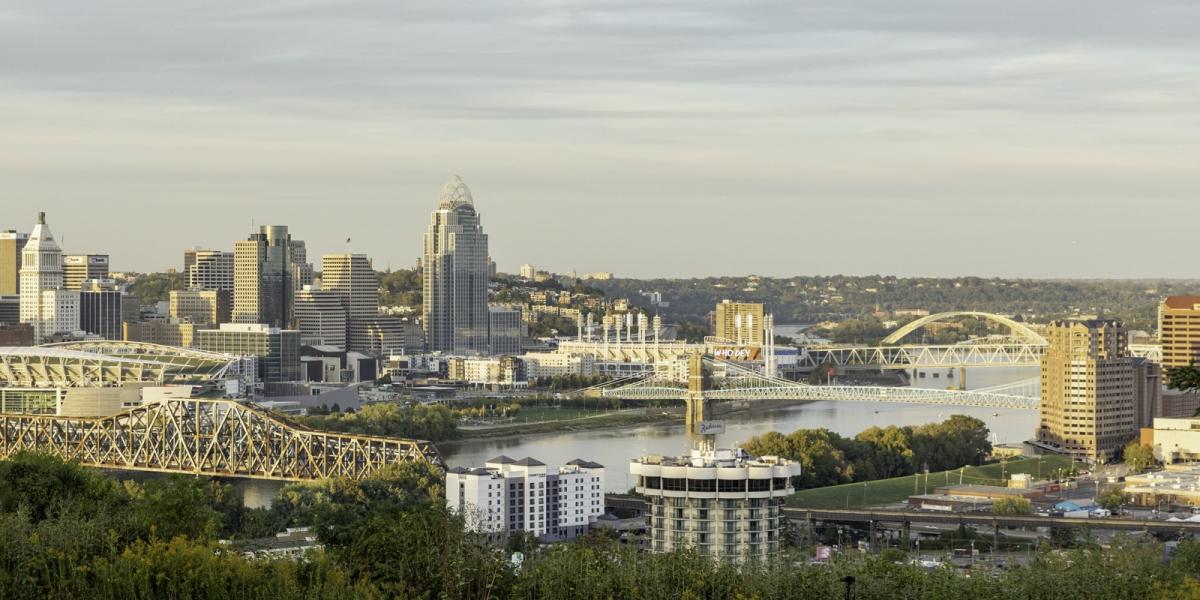 Now, more than 150 years later, the Roebling Bridge shares the riverfront with four other bridges that connect Covington and Newport to downtown Cincinnati. Despite the competition, the Roebling continues to capture the hearts of locals and visitors alike, offering not only a means of transportation, but also a gateway to unforgettable experiences. With a touch of friendly rivalry toward New York, Northern Kentucky invites you to explore the structure that predates the renowned Brooklyn Bridge and offers a unique opportunity to revel in the rich history and architectural brilliance that exemplifies our area's spirit. There is something truly special about walking across the bridge and hearing it sing as cars drive over the grated decking with the Covington and Cincinnati skylines sandwiching you in urban beauty. 
Beyond The Bridge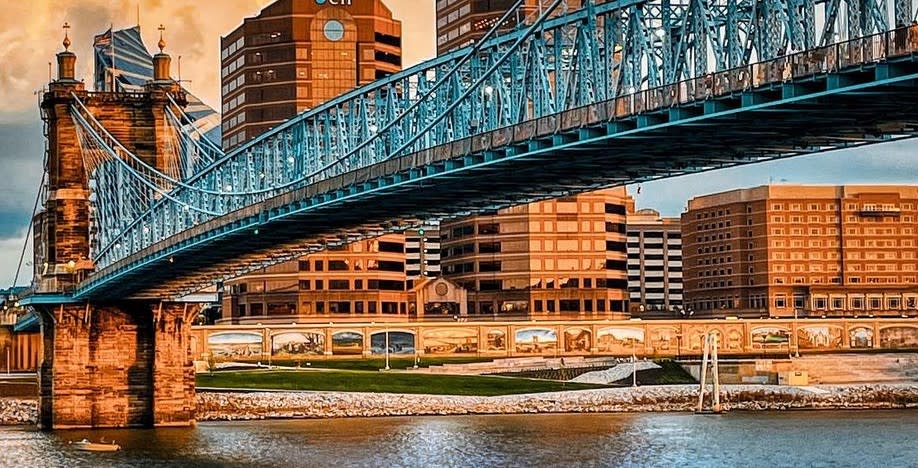 Beyond its good looks, the Roebling Bridge is an integral part of daily life for many commuters in the area. It has become a cherished pathway for those who travel by foot and its convenient location is perfect for motorists who need quick access to businesses in either downtown area. Sports fans know it as a ticket to cheaper parking for Bengals and Reds games (pro tip: if you're in town for a game, save a few bucks by parking in Kentucky and walking to either stadium).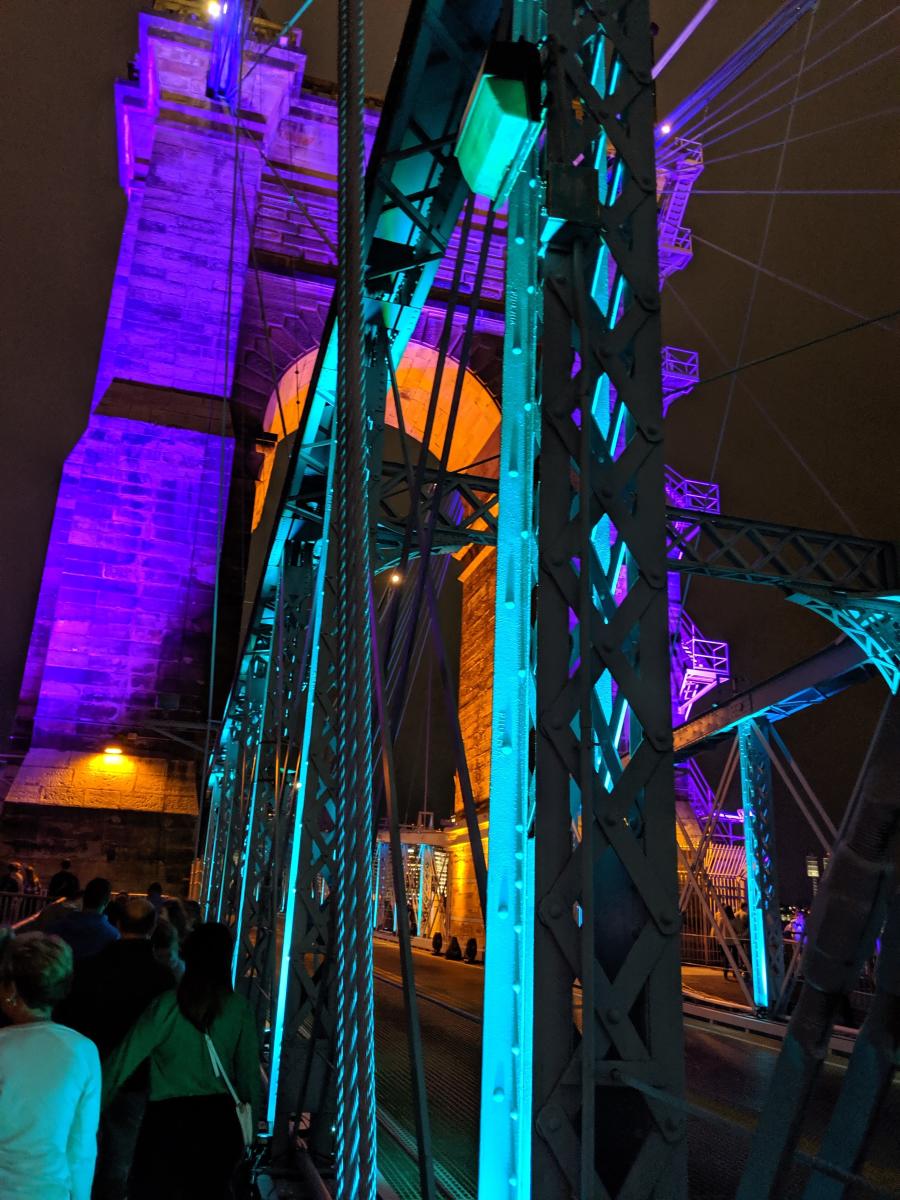 Occasionally, the Roebling Bridge takes on new roles, transforming into a venue for exciting events that draw crowds from across the country. The bridge has been a centerpiece for BLINK, a festival of light art displays that illuminate the area with mesmerizing installations. During the Flying Pig Marathon, the Roebling serves as the backdrop for the finish line and after party. Bike enthusiasts enjoy the Cincinnati, Ohio Smart-guided Bikeway Tour, a 23-mile adventure along the Ohio River that showcases downtown Cincinnati, the Purple People Bridge, the Roebling Suspension Bridge, downtown Newport and more. There are so many ways to explore the remarkable charm and timeless beauty of this Northern Kentucky icon.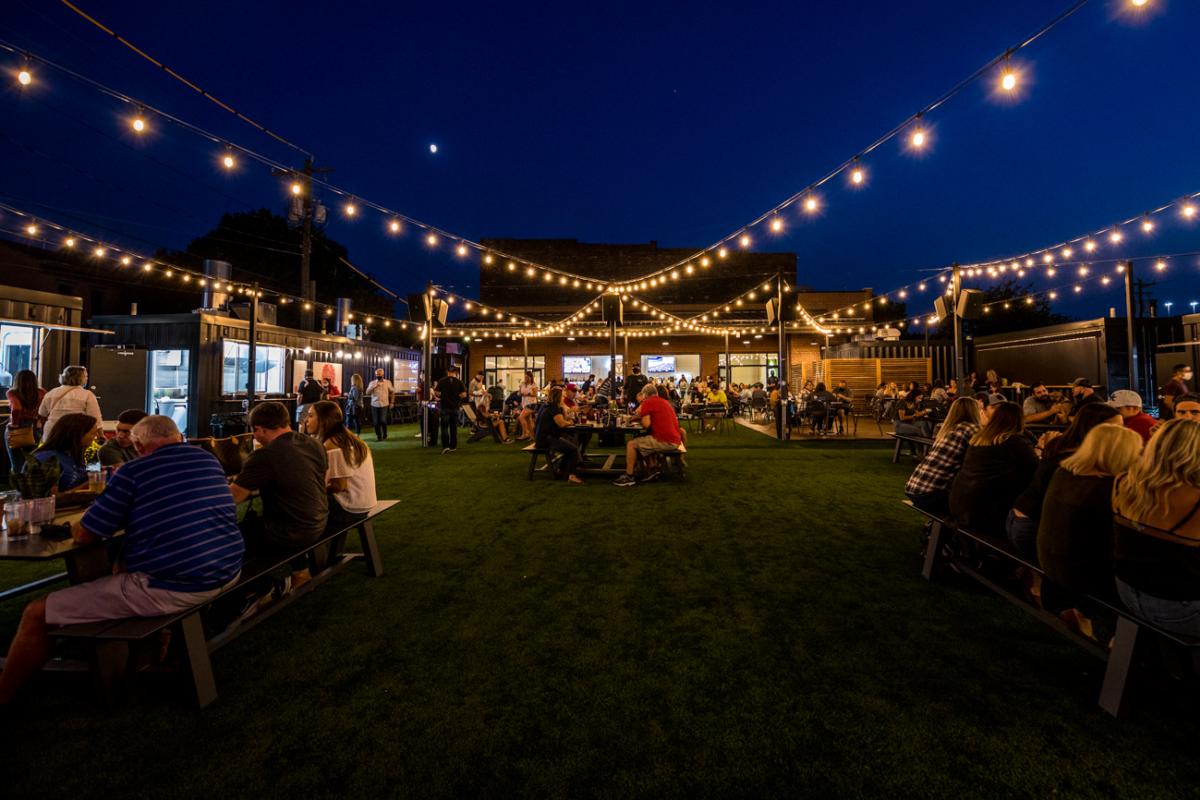 After you've taken in all there is to see on the bridge, it's time to discover everything there is to do around it. Just a short walk onto the Kentucky side of the river is the Roebling Point business district. Bars, restaurants, and coffee shops wait to welcome you with culinary delights and friendly atmospheres. Grab a drink and snack from the many food trucks at Covington Yard or stop into Roebling Point Books & Coffee for a cozy afternoon of browsing and sipping lattes. Venture below the bridge and experience the Roebling Murals—18 stunning works painted on the city's floodwall depicting the rich history of Covington and Northern Kentucky. Families will enjoy the NKY Art Tours scavenger hunt based on these murals. Then grab a pint and watch an FC Cincinnati game at Molly Malone's Irish Pub & Restaurant. 
Northern Kentucky has so many hidden gems, but the Roebling Bridge is certainly not one of them—because it is anything but hidden. Every visit to this historic site is like stepping back in time to experience innovation and engineering at its finest. It is a taste of the big city while avoiding crowds and overwhelming traffic. Whether you're a lover of architecture, a history enthusiast, or simply in search of beautiful views, the Roebling Bridge offers an exceptional starting point for your Northern Kentucky journey. Let it be a gateway of discovery and appreciation for bygone eras and all that is to come.