Cuban Cuisine Comes to Northern Kentucky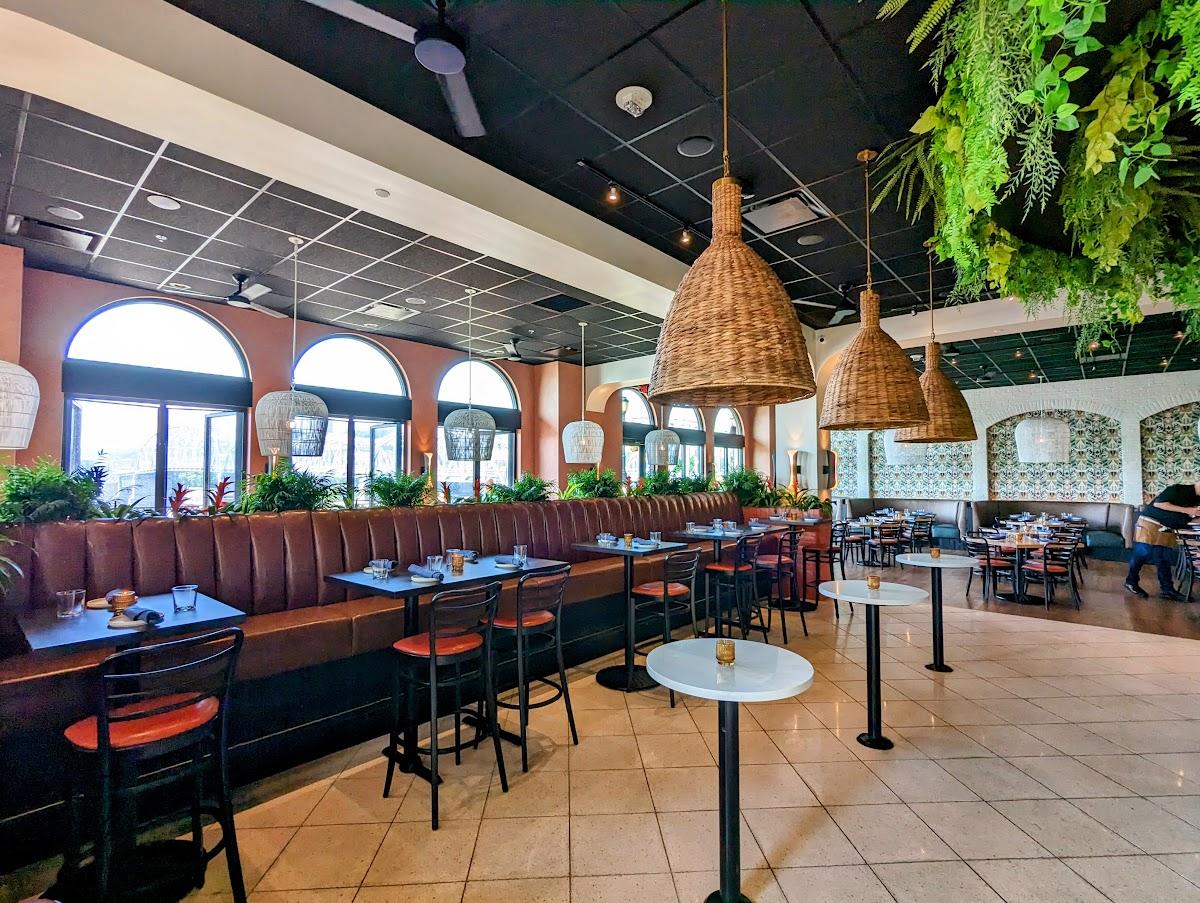 Are you looking for an unforgettable dining experience with plenty of flavor? The new Amador Cuban Restaurant located at Newport on the Levee is serving you Cuban and South Florida vibes, beautifully crafted cocktails, and food made from scratch right here in the Cincy Region. Colorful, fragrant, and flavorful selections are what you can expect along with some great vegan and gluten free options!
Dot (colleague and food and drink taster extraordinaire) and I couldn't wait to try Chef Sean Williams (formerly of Kitchen 1883) food at Amador. Let me tell you, it did not disappoint. From the vibrant tropical decor to the friendly staff and food, we were swept away and transported for an exciting and authentic Cuban dinner experience.
What We Drank
The waitress approached our table and asked, "Can I get you ladies started with something to drink?" My reply, "Absolutely!"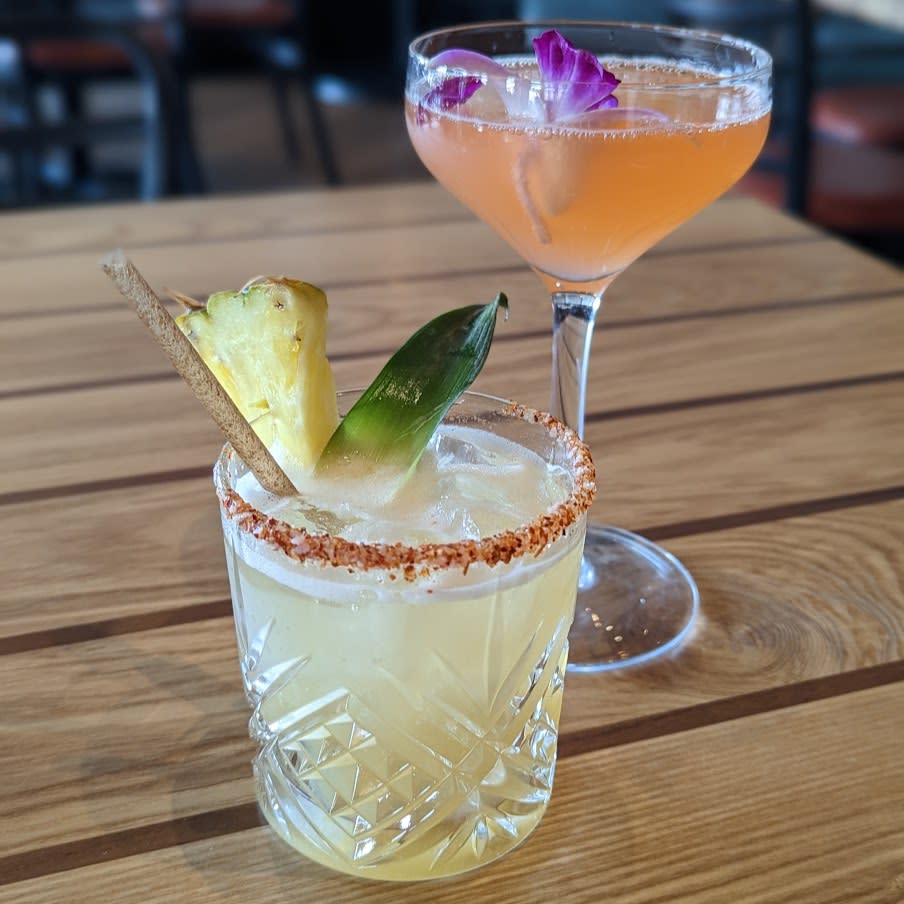 Floridita Daiquiri
Made with Papa's Pilar Blonde Rum, Luxardo Maraschino Liqueur, Aperol, agave nectar and lime, this drink was one of author Ernest Hemingway's favorites. I quite enjoyed it, too! Served chilled with a gorgeous edible flower, this cocktail is a beautiful orange color, fragrant and tasty.
El Caribe Margarita
Dot couldn't get enough of this light and refreshing cocktail. Made with Carazon Reposado Tequila, Orange Curacao, pineapple, lime, agave nectar and Tajin, served with a pineapple slice and salted and spiced rim, this margarita is exactly what you need on a hot summer day.  
What We Ate
We sampled two appetizers (referred to as small plates on their menu), two mains, and of course dessert!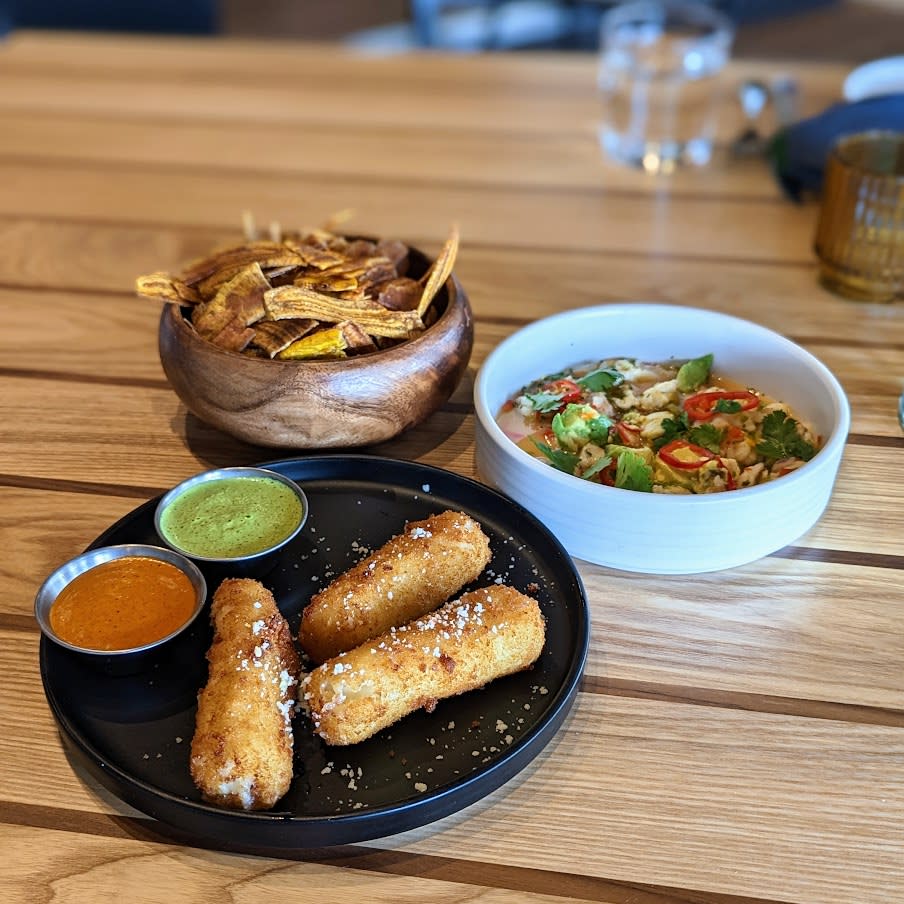 Queso Croquetas
This vegetarian appetizer is crispy and golden on the outside with a smooth and creamy cheesy center. It was a great way to start off our dining experience. Dot said it was truly melt-in-your-mouth good. It comes with two dipping sauces—a cilantro crema, and smoked aioli. Please note, this is not a traditional cheese stick made with mozzarella. The cheese used is a delectable queso blend that does not stretch.
Ceviche
Gluten free and packed with flavor, this appetizer was a hitter. Made with shrimp, avocado, cilantro, red onion, peppers, and citrus, this ceviche is garden fresh, bursting with flavor and kick of spice and paired with a side of delectable plantain chips. Similar to banana chips, but less sweet and more savory.

Pollo Asado
I had the mojo marinated grilled chicken with sweet pepper reduction and cilantro served over yellow rice and pickled citrus. The chicken is grilled to perfection with a moist inside and flavorful outside of spices and citrus. The yellow rice provides great texture and completes the meal.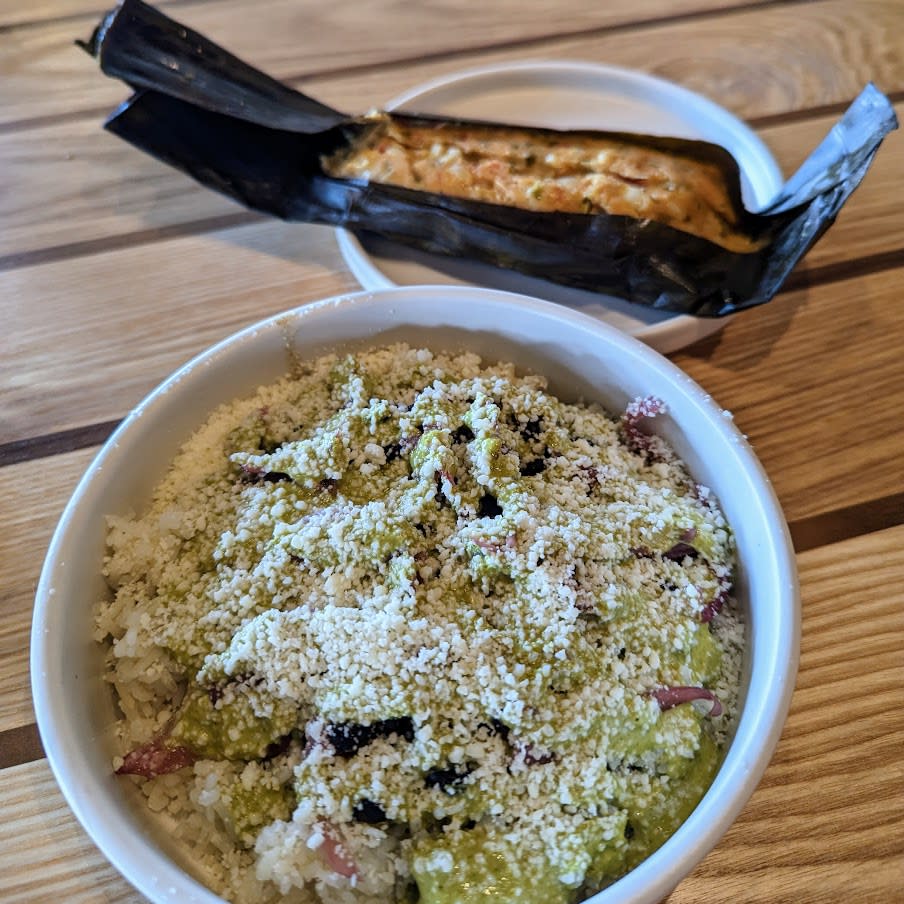 Tamal
This vegetarian main is a savory tamale with veggies, served with a side of white rice, corn, black beans, peppers, pickled onions and Cotija cheese with a cilantro crema. When Dot took her first bite, she literally went, mm-hmm! If the look of pure joy on her face told me anything, it was that this dish is a winner.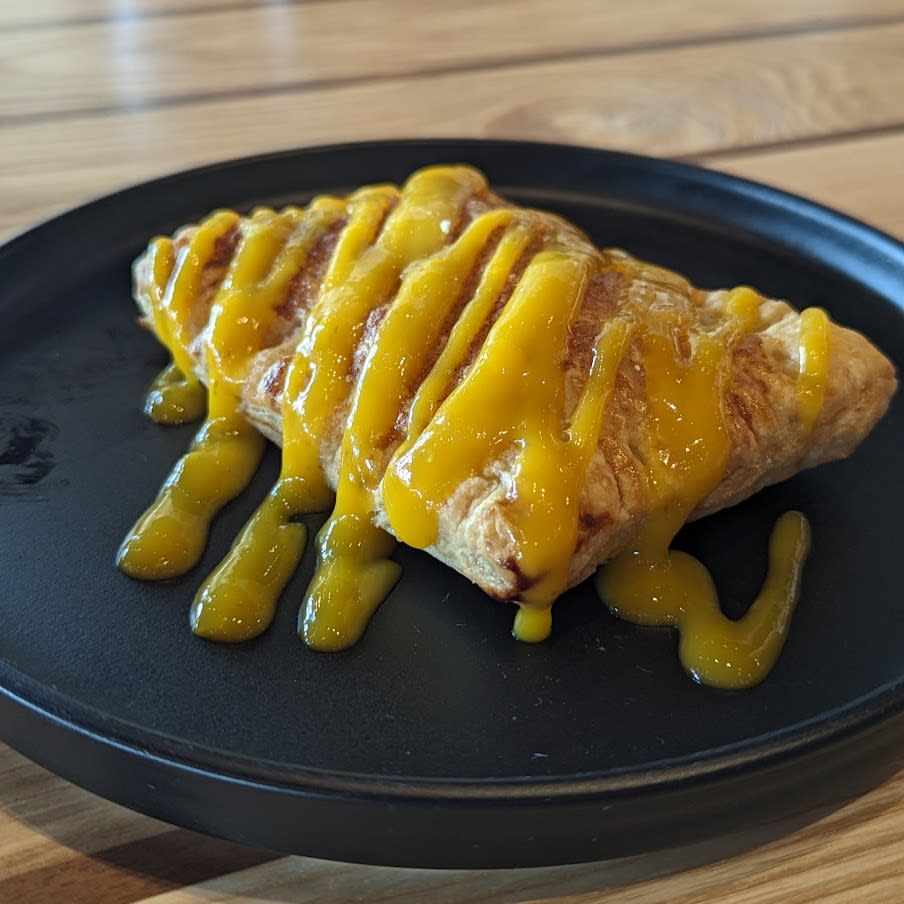 Mango Pastelito
A tropical, soft, and chewy pastry filled with ripe chucks of fresh mango and cinnamon with a mango drizzle on top. Yes, yes, and yes!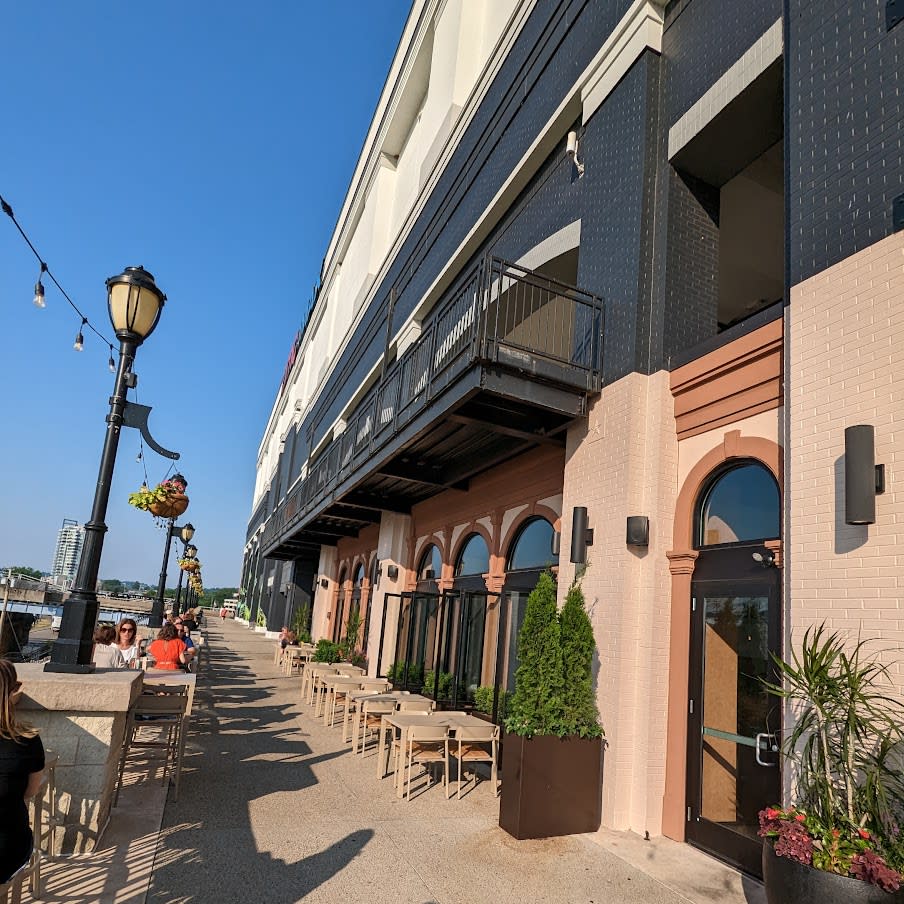 Overall, Dot and I had a great experience at Amador. The staff were welcoming and knowledgeable, the décor was lush and tropical, giving you the unique vibe of South Florida and Cuba and the food, phenomenal. We give Amador a 10 out of 10 would recommend. With plenty of seating available both indoor and outdoor (views overlook the City of Cincinnati), bring your family, spouse or friends and let Amador whisk you away on journey of Cuban cuisine.   
Looking for more recommendations of local restaurants in Northern Kentucky? Be sure to check out our restaurants page for a full listing of what this region has to offer.