10 things to do in two hours or less
Mainstrasse Village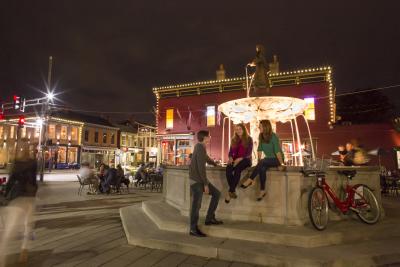 Covington's crown jewel, Mainstrasse Village is a National Register Historic District conceived in the 1970s as a restored 19th-century German village. Blocks of well-preserved and renovated buildings are home to both adventurous urban dwellers and a charming array of shops, boutiques, restaurants and cafes. The charming, tree-lined Sixth Street Promenade includes the towering bronze Goose Girl Fountain inspired by the Brothers Grimm fairy tale — and is the time-honored location for numerous annual festivals including Maifest, Oktoberfest and Goetta Fest, a freewheeling homage to the region's ubiquitous German meat and pin oat staple. In Goebel Park, the beautiful glockenspiel Carroll Chimes Bell Tower features four illuminated clock faces and 43 bells.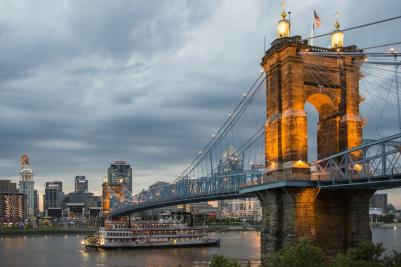 While John Roebling may be best known for New York's famed Brooklyn Bridge, his groundbreaking design for this stately signature spanning the Ohio River was completed nearly 30 years earlier. Though its completion was delayed by the Civil War, it opened Dec. 1, 1866, as the longest suspension bridge in the world at 1,057 feet, and the first to utilize both vertical suspenders and diagonal stays fanning from either tower. Placed on the National Register of Historic Places in 1975, it remains a busy span for transportation, a distinctive pedestrian connector and a beloved subject of photographers.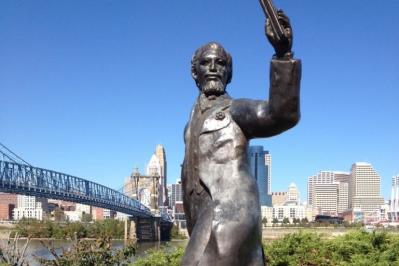 Rising from the confluence of the Ohio and Licking rivers, this remarkably intact historic district encompasses blocks of sprawling, beautifully preserved estates and townhomes in the Greek Revival, Federal, Queen Anne, High Victorian, Gothic, Italianate, and French Second Empire styles. In fact, just the residences lining its four-block riverfront drive demonstrate every major evolutionary style of American architecture from 1815 to 1920. Its appealing walkability, architectural intrigue, seven lifelike bronze historical figures and stunning views of the river and Cincinnati skyline make it one of the area's most popular attractions.
 
Newport Aquarium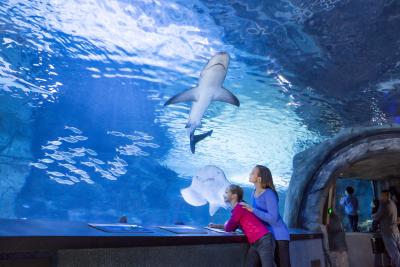 While many people flock to the riverfront for views, recreation and restaurants, one of the Midwest's most popular water adventures, while just yards from the river, is actually indoors. The Newport Aquarium at Newport on the Levee — named a top U.S. aquarium by the Travel Channel — features 70 exhibits and 14 galleries swarming with thousands of exotic fish, fearsome sharks, adorable penguins, rare turtles, reptiles, amphibians and more — from all over the world — in a million gallons of water. Stroll seamless acrylic tunnels surrounded by aquatic life — and, if you dare, step across the world's first and only Shark Bridge, suspended just inches above a 385,000-gallon open water tank — and over two dozen sharks, shark rays and stingrays!
 
Cathedral Basilica of the Assumption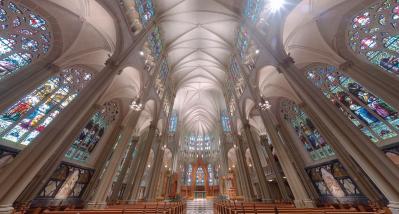 Named one of "The Most Beautiful Churches in the World" by the Catholic Reporter, the Cathedral Basilica of the Assumption is a stunningly ornate Gothic Revival achievement that draws attention and visitors from all over the world.
Planned and built over a 30-year span from 1885 to 1915, it is a remarkable paean to 13th century French-Gothic style, with an interior modeled after the Abbey Church of St. Denis in Paris and a facade designed to mirror Notre Dame de Paris.
Among its interior appointments are 82 hand-poured stained glass windows crafted in Munich Germany — including one of the largest in the world, the 24- by 67-foot splendor that graces the north transept — and two massive rose windows, each 26 feet in diameter, modeled after those in Notre Dame Cathedral. In this soaring, awe-inspiring structure, visitors will also find three pipe organs, murals by Covington native Frank Duveneck, and its signature Stations of the Cross, each an immense mosaic masterpiece containing more than 70,000 pieces of Italian tile. Outside, 26 sensational gargoyles, each hand-carved in Italy, ring the exterior and watch over the grounds.
On Dec. 8, 1953, Pope Pius XII elevated St. Mary's Cathedral to the rank of minor basilica, one of only 35 in the U.S.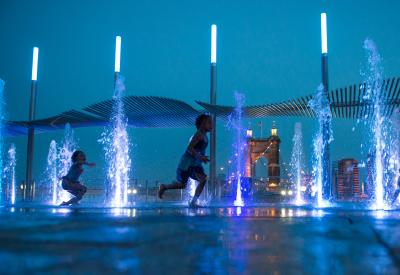 Arguably America's newest and most remarkable urban "front lawn," this $120 million park spans 45 acres of scenic riverfront connecting Cincinnati — and the entire region — back to its historic beginnings. The perfect destination for a peaceful stroll, its dizzying array of features and interactive attractions includes gardens and great lawns, playgrounds and water features, bike paths and walkways — even family-sized porch swings, a giant foot piano and a one-of-a-kind, hand-carved carousel — all nestled neatly between the surging Ohio river and the soaring city skyline.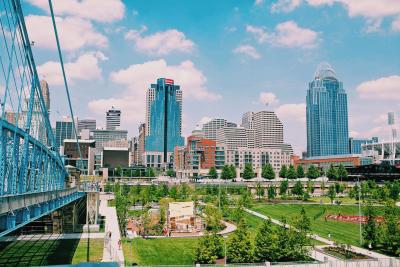 Question: How many U.S. cities have erected a dynamic, entirely new entertainment, residential and business district bordered by two professional sports stadiums and a 45-acre riverfront park? Answer: One — and The Banks, an epic urban mix of bars, brewpubs, restaurants, retail and museums nestled between the glittering Cincinnati skyline and the gleaming Ohio River, is just a bridge away from Northern Kentucky.
Upscale steaks and fine wine? Check. Sushi and cocktails? Got it. Pasta and pizza? Sì. Gourmet burgers and craft beers? By the hundreds. Tacos or pork belly? Oh yeah. All in a lively, walkable setting with a surprise around every corner and one of America's newest and grandest urban parks as its front lawn.
 
Findlay Market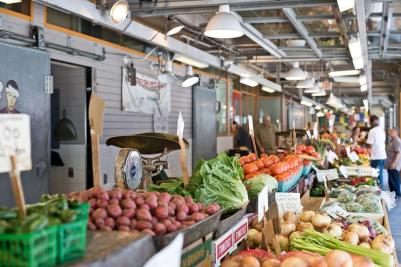 Erected in 1852 and in continuous operation since 1855, Findlay Market is one of the oldest surviving municipal market houses in the U.S. Listed on the National Register of Historic Places in 1972, the structure was among the first markets in the United States to use iron frame construction technology and among just a few that have survived. Today, the Market hosts over one million visitors per year, dependably abuzz with the region's most socially, economically, racially and ethnically diverse crowds. Over 150 years after its opening, Findlay remains a true regional institution, as well as a continually evolving, quintessentially unique urban shopping experience.
Located in the burgeoning Over-the-Rhine historic district just blocks from downtown Cincinnati, Findlay Market is home to dozens of indoor merchants selling meat, fish, poultry, cheese, produce, flowers, and ethnic foods — and surrounded by a wildly eclectic array of shops, delis and restaurants housed in restored 19th century buildings. On weekends from April through November a thriving open-air farmers' market features dozens more local vendors offering fresh produce, specialty foods and handmade crafts, along with street performers and regular special events including musicians in the OTR Biergarten.
Open year-round, Tuesday through Sunday
 
Over-the-Rhine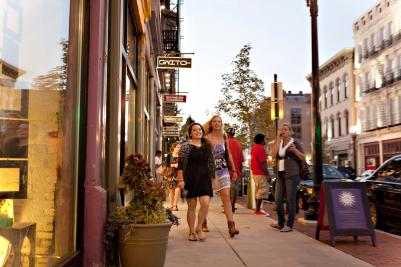 Quite simply, there is no place in the U.S. that compares to Over-the-Rhine, the two-square-mile historic district just a few blocks north of Cincinnati's central business district. While its architectural significance has been likened to New Orleans' famed French Quarter — and The New York Times described it as having "a scale and grace reminiscent of Greenwich Village" — OTR (as it's known to locals) is pure Cincinnati, both its oldest neighborhood and one of America's most remarkable urban turnarounds.
Home to the country's largest collection of 19th-century Italianate architecture (nearly 1,000 buildings), OTR is the largest, most intact urban historic district in the U.S., with a rich culture rooted in its legacy as port of entry for immigrants to Cincinnati. Starting in the mid-1800s, thousands of Germans settled and built this burgeoning neighborhood, separated by a canal from the northern fringe of the city. Reminded of the Rhine River in their native homeland, they nicknamed the canal "The Rhine" — and the rapidly growing village beyond it became "Over-the-Rhine."
Now, after decades of decline, its beautiful, ornate buildings and churches are being renovated at a feverish pitch — with over $1 billion in investment — into homes and lofts, apartments and commercial spaces, breweries and boutiques, eateries, galleries, shops and tech incubators. Here you'll find blocks of dining, drinking and entertainment options — from casual cafés and eclectic bistros to innovative gastropubs, upscale cuisine and everything in between, much of it with a focus on farm-inspired locally sourced ingredients. American and Mediterranean. Belgian and Japanese. Mexican, Asian, Italian and Argentine. So sample a gourmet hot dog. Indulge in a fine craft cocktail. Catch sunset from a rooftop deck. Or kick back in a cozy courtyard.
OTR is a living, breathing experience in both renaissance and adventure. Nightlife includes everything from free concerts in the newly renovated, eight-acre Washington Park to live bands in a variety of restored clubs, and the Cincinnati Symphony in the internationally renowned Music Hall.
 
Touring on Cincy Red Bikes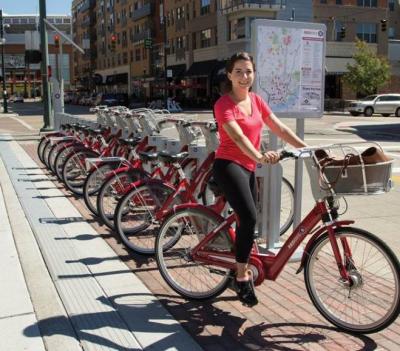 Most visitors are surprised to discover how compact and convenient it is to get around Northern Kentucky and downtown Cincinnati, especially given they're in two states separated by one of America's grand rivers. That's just one of the beauties that makes Cincy Red Bike — a public bicycle sharing system with 50 stations and 385 bikes — an ideal way to tour either or both sides of the river.
The system opened to the public in September 2014 with 30 stations, but its immediate popularity quickly demanded expansion to 50 stations, including 11 in Northern Kentucky. Simply locate a station, purchase a pass, grab a bike and off you go. All Red Bike Passes (24-hour passes are available) include unlimited 60-minute trips within the lifetime of your pass — and since your timer resets every time you dock a Red Bike, you can enjoy just a short Red Bike ride, a series of rides, or ride all day long!