Five must-see riverfront stops
Newport Aquarium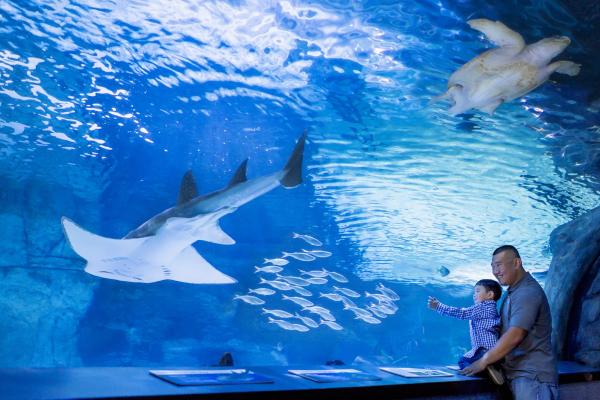 Newport Aquarium
While many people flock to the riverfront for views, recreation and restaurants, one of the Midwest's most popular water adventures, while just yards from the river, is actually indoors. The Newport Aquarium at Newport on the Levee – named a top U.S. aquarium by Travel Channel – features 70 exhibits and 14 galleries swarming with thousands of exotic fish, fearsome sharks, adorable penguins, rare turtles, reptiles, amphibians and more – from all over the world – in a million gallons of water. Stroll seamless acrylic tunnels surrounded by aquatic life – and, if you dare, step across the world's first and only Shark Bridge, suspended just inches above a 385,000-gallon open water tank … and over two dozen sharks, shark rays and stingrays!
Licking Riverside Historic District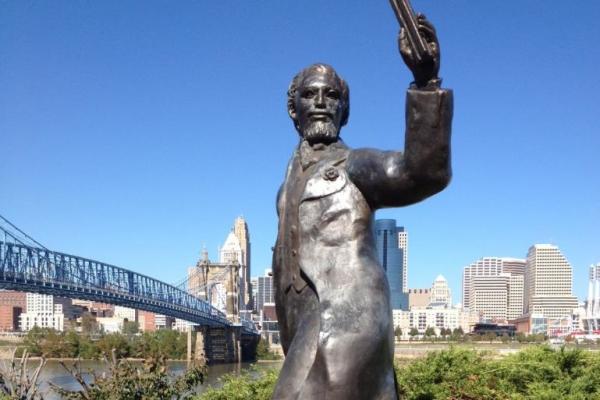 Riverside Historic District
Rising from the confluence of the Ohio and Licking rivers, this remarkably intact Riverside Historic District encompasses blocks of sprawling, beautifully preserved antebellum estates and townhomes in the Greek Revival, Federal, Queen Anne, High Victorian, Gothic, Italianate, and French Second Empire styles. In fact, just the residences lining its four-block riverfront drive demonstrate every major evolutionary style of American architecture from 1815 to 1920. Its appealing walkability, architectural intrigue, seven lifelike bronze historical figures and stunning views of the river and Cincinnati skyline make it one of the areas most popular attractions.
John A. Roebling Suspension Bridge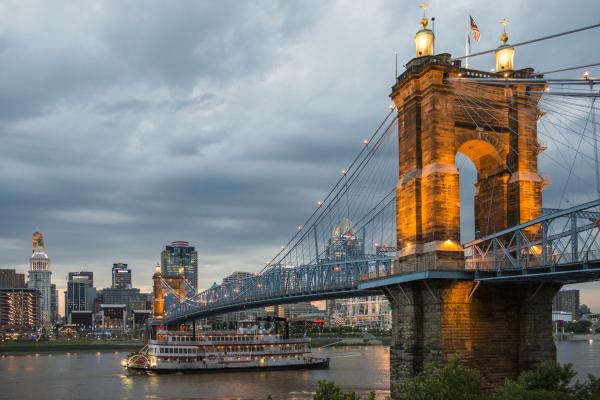 Roebling Suspension Bridge
While John Roebling may be best known for New York's famed Brooklyn Bridge, his groundbreaking design for this stately signature spanning the Ohio River was completed nearly 30 years earlier. Though its completion was delayed by the Civil War, it opened Dec 1, 1866 as the longest suspension bridge in the world at 1,057 feet, and the first to utilize both vertical suspenders and diagonal stays fanning from either tower. Placed on the National Register of Historic Places in 1975, it remains a busy span for transportation, a distinctive pedestrian connector and a beloved subject of photographers.  Be sure to also check out the Roebling Murals at the foot of the Kentucky side of the bridge!
Smale Riverfront Park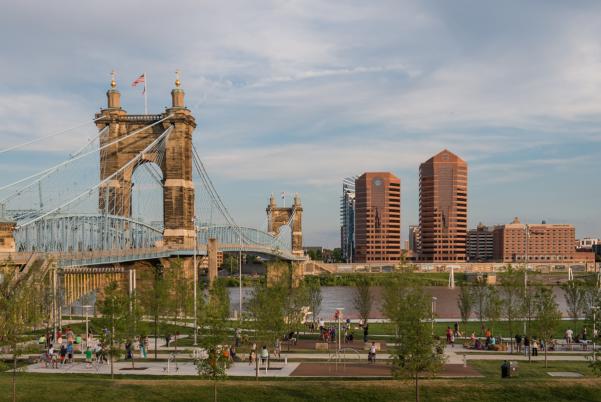 Smale Park
Arguably America's newest and most remarkable urban "front lawn", the $120-million Smale Park spans 45 acres of scenic riverfront connecting Cincinnati – and the entire region – back to its historic beginnings. While the perfect destination for a peaceful stroll, its dizzying array of features and interactive attractions also includes gardens and great lawns, playgrounds and water features, bike paths and walkways – even family-sized porch swings, a giant foot piano and a one-of-a-kind, hand-carved carousel – all nestled neatly between the surging Ohio River and the soaring city skyline.
The Purple People Bridge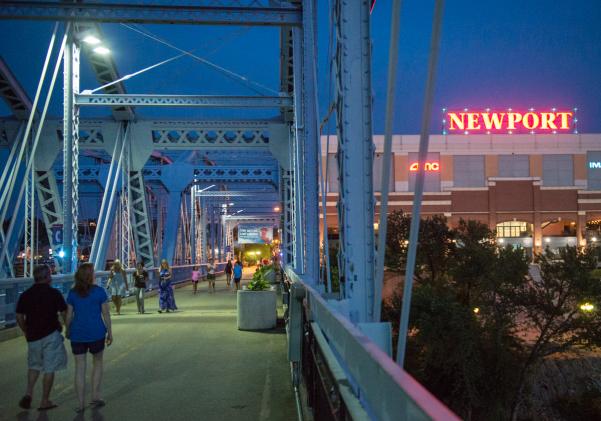 Purple People Bridge
Of the nine bridges crossing the Ohio at Cincinnati, only one is purple – and only one is just for people. Opened in 1872 as Cincinnati's first railroad bridge, the Purple People Bridge's nearly 150-year life has also supported streetcars and automobiles before becoming People-only in 2003 (and the longest connector in the U.S. that links two states). Today, the colorful span serves as a historic connector to the lively Newport on the Levee retail and entertainment district, a favorite route for commuters, walkers, runners and cyclists, and a singularly scenic venue for public and private events including art shows, tastings, weddings and receptions.