Create a Self-Guided Tour of Movie Locations in Cincy and NKY
Northern Kentucky and Cincinnati's charming and historic architecture have attracted Hollywood films for decades, with many coming to the region over the past several years. That is partly due to the efforts of Film Cincinnati, a non-profit that advocates and supports local film production.
From dramas to shocking thrillers and Oscar-winning films, the NKY and Cincy Region act as the backdrops for a range of films. Here's a handy list of recent filming locations so you can create your own self-guided tour and see the locale before you see it on the screen.
Wise Guys
While still in production, Wise Guys has already made a splash in the Cincy Region as the latest major film to use the area as a set. Starring legendary actor Robert De Niro, this gangster flick throws it back to 1950s New York. Parts of Eighth Street in Downtown Cincinnati and Arnold's Bar and Grill, a historic eatery that first opened in 1861, were sectioned off for filming.
Directed by Barry Levinson, who also helmed regionally filmed Rain Man, Wise Guys was shot in Northern Kentucky too. Several blocks on Pike St. in Covington were closed to regular traffic for the film. Word is the iconic Sam's Candy and Ice Cream sign on Pike St. was one of the spots filmed.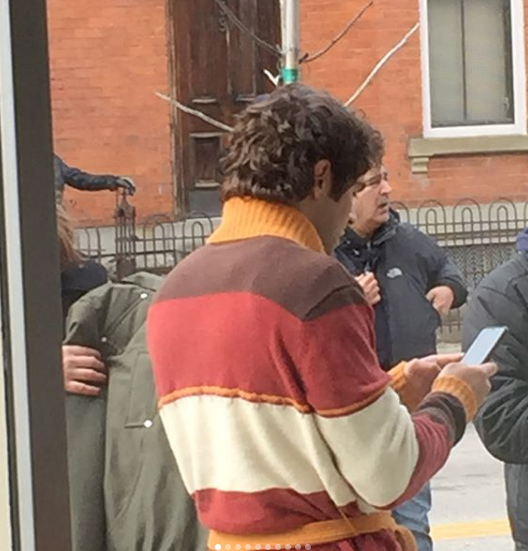 Zac Efron waiting to film his next scene outside Mainstrasse Village's Crafts & Vines. Photo provided by Crafts & Vines.
Extremely Wicked, Shockingly Evil and Vile (2019)
Starring Zac Efron and Lily Collins, Netflix's Ted Bundy biopic Extremely Wicked, Shockingly Evil and Vile told from perspective of his girlfriend, Liz, used several NKY spots as a backdrop. Watch the movie and you'll notice shots of Northern Kentucky University's campus, known for its 1960s and '70s brutalist architecture, and Efron jumping from the window of the Campbell County Courthouse in Newport, Kentucky. Other locations include Fort Thomas, Kentucky's Midwest Bottle Gas and Covington's historic Mainstrasse Village.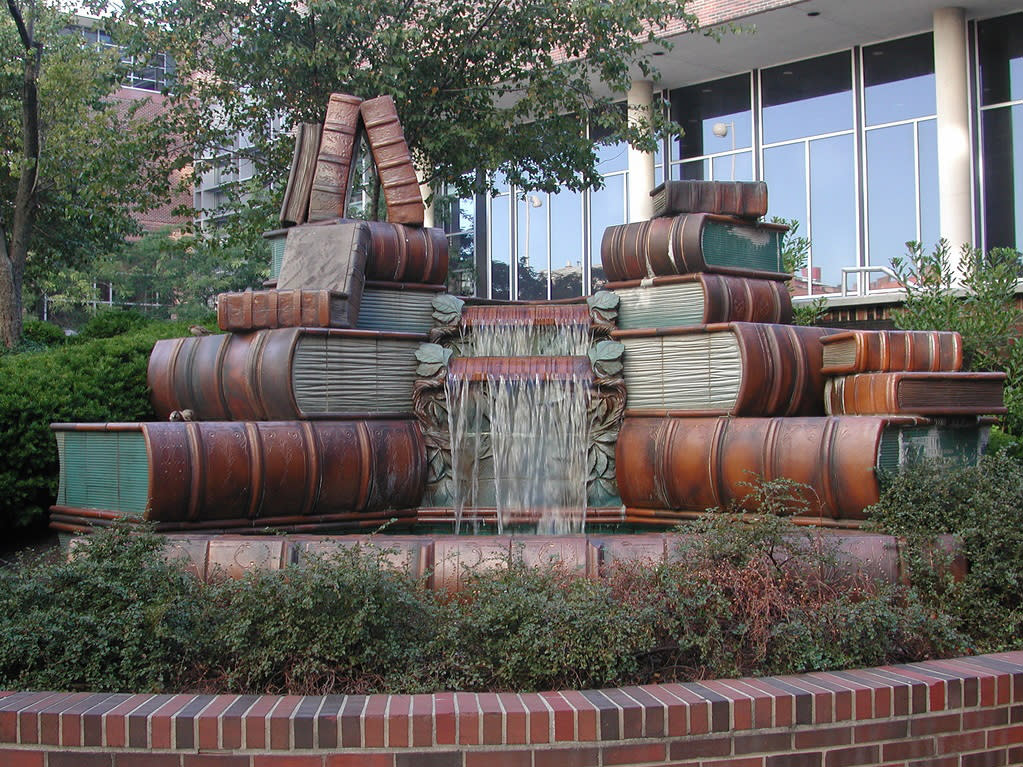 The Public (2018)
Not only was this Emilio Estevez-starring flick The Public filmed in Cincinnati, but it was set in the Queen City, too. The earnest drama unfolds when a group of library patrons refuse to leave at closing hours because of a cold snap raging outside. A standoff with local police and city officials follows; two librarians find themselves caught in the middle. Viewers will recognize the Cincinnati & Hamilton County Public Library's Downtown Main Library and may also get a kick out of Estevez's character singing the praises of LaRosa's Pizza.
Estevez loves the city so much that he even lent his voice to the Cincinnati Streetcar; when not working in Los Angeles, Estevez lives in the Cincinnati neighborhood of Over-the-Rhine.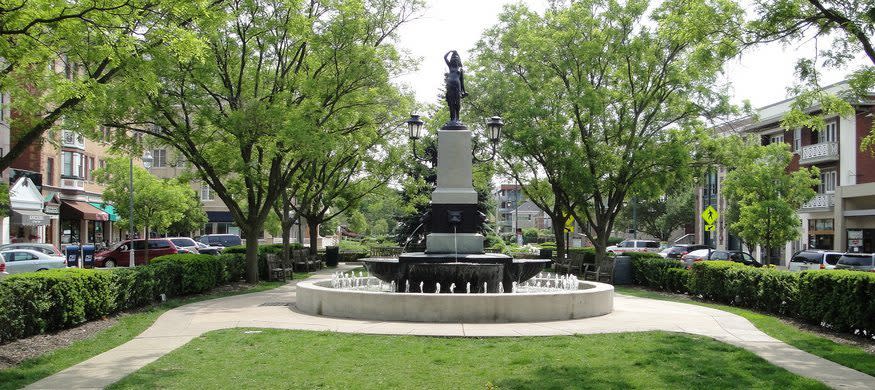 Traffic (2000)
Directed by Steven Soderbergh, Traffic remains one of the most high-profile films to ever shoot in the Northern Kentucky and Cincy Region. It garnered over 200 million at the box office and received four Oscars. A look into America's war on drugs through interconnected stories, the star-studded cast included Michael Douglas, Catherine Zeta-Jones, Don Cheadle and Dennis Quaid. Douglas' character lived in the suburb of Indian Hill, but the movie was filmed in Hyde Park, a neighborhood on Cincy's eastern side. Some filming was also done at 621 Main St. in downtown Cincy and on Vine and McMicken streets in Over-the-Rhine, a Cincy neighborhood immediately north of downtown.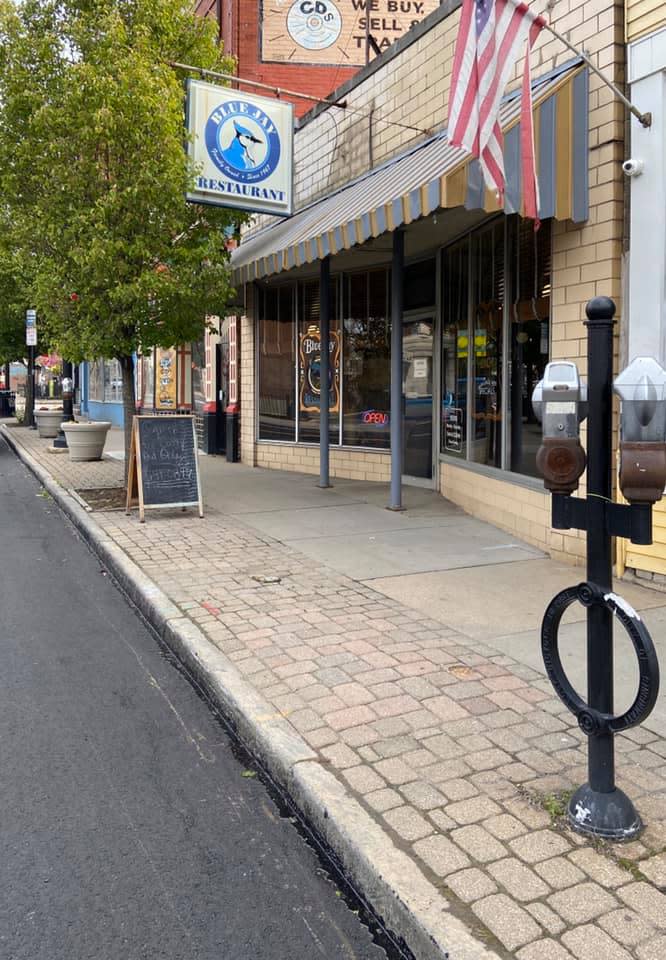 The Killing of a Sacred Deer (2017)
This unnerving psychological thriller follows a surgeon, Dr. Steven Murphy, whose domestic existence turns upside down when a teen inserts himself into his life in increasingly disturbing ways. Visit Cincinnati neighborhood Northside's Blue Jay Restaurant, and The Christ Hospital, located just north of downtown in Mount Auburn, to see a couple of places where the film was shot. Scenes were also shot along Covington's riverbank, giving movie-goers a glimpse of the John A. Roebling Suspension Bridge and sweeping Cincinnati skyline views.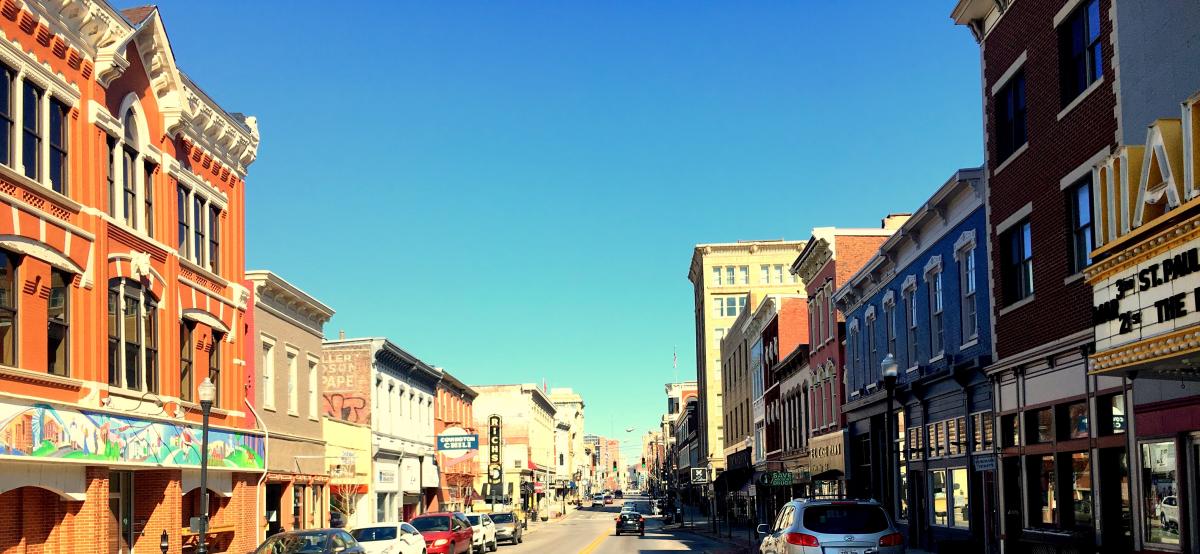 The Old Man and the Gun (2018)
The Blue Jay also makes an appearance in The Old Man and the Gun, Robert Redford's last leading role before announcing his retirement in 2018. Based on a true story of a prison escapee, the film put multiple NKY locations on screen including the Citizens Federal Savings & Loan at 437 Madison Avenue in Covington. Car-chase scenes were shot in Latonia, Ky. near Holy Cross High School. And Casey Affleck and John David Washington were seen on Monmouth shooting footage for a pair of car-ride scenes.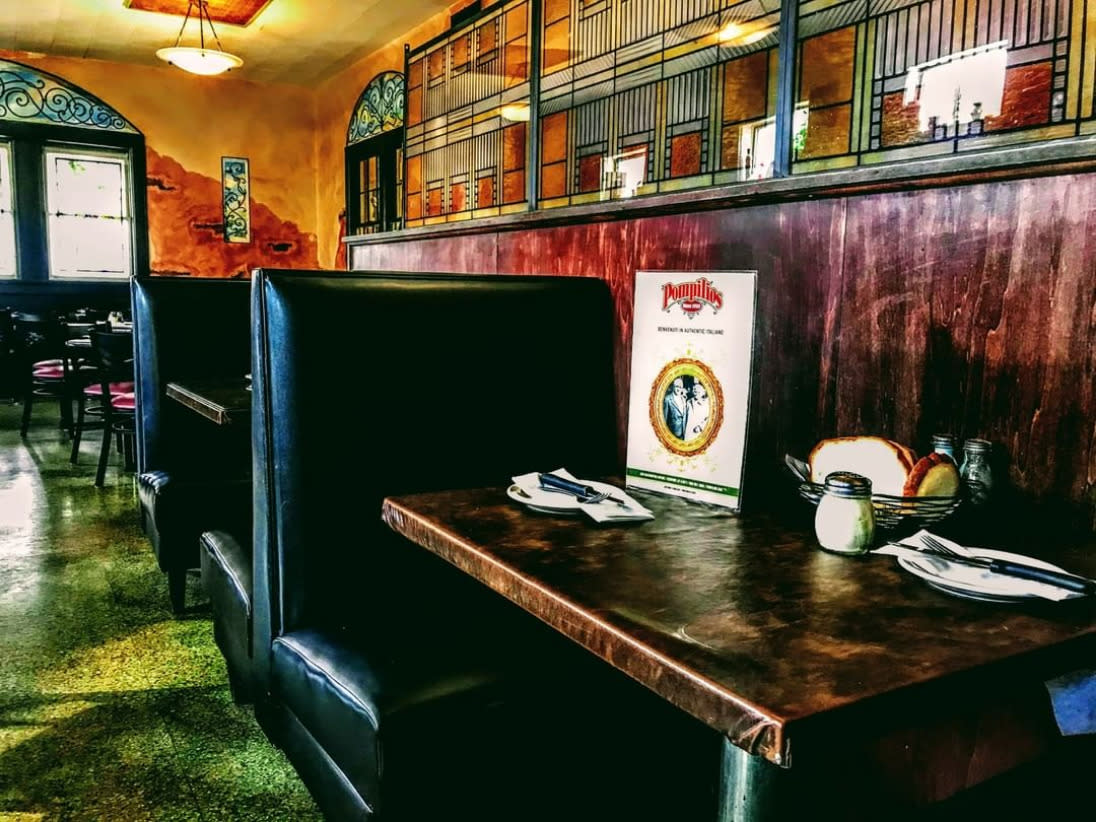 Rain Man (1988)
Rain Man is one of the most well-known regionally filmed flicks, and it scored the Academy Award for Best Picture. Newport's beloved Italian restaurant Pompilio's served as the backdrop for the iconic scene in which Dustin Hoffman's character repeats the number of toothpicks in a box (246, for those wondering). Another scene featured Hoffman and Tom Cruise's characters strolling in Southgate, Kentucky's Evergreen Cemetery.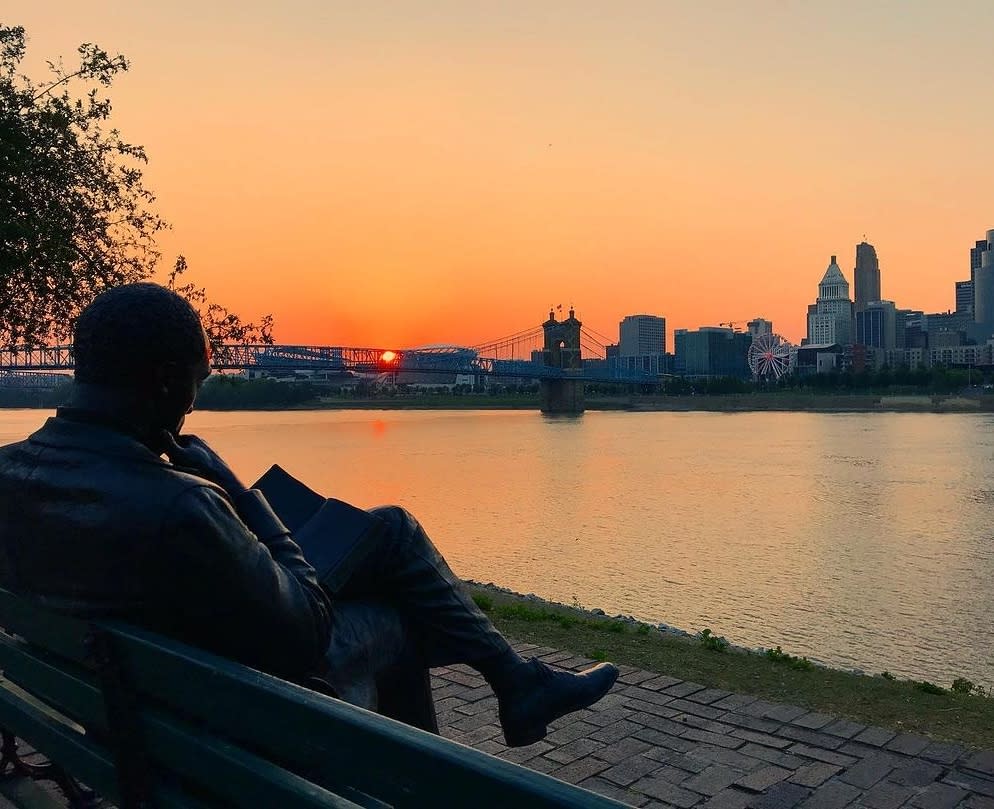 The Ides of March (2011)
From a hotel along Newport's Riverboat Row to a meet-up along Covington's riverbanks to the campuses of Miami and Xavier University to Ryan Gosling's character using a payphone at Fountain Square, The Ides of March unfolded across Cincinnati and Northern Kentucky. The critically acclaimed film is set in Ohio and follows Gov. Mike Morris as the state's Democratic primary nears. It also stars one of Northern Kentucky's most famous former locals: George Clooney.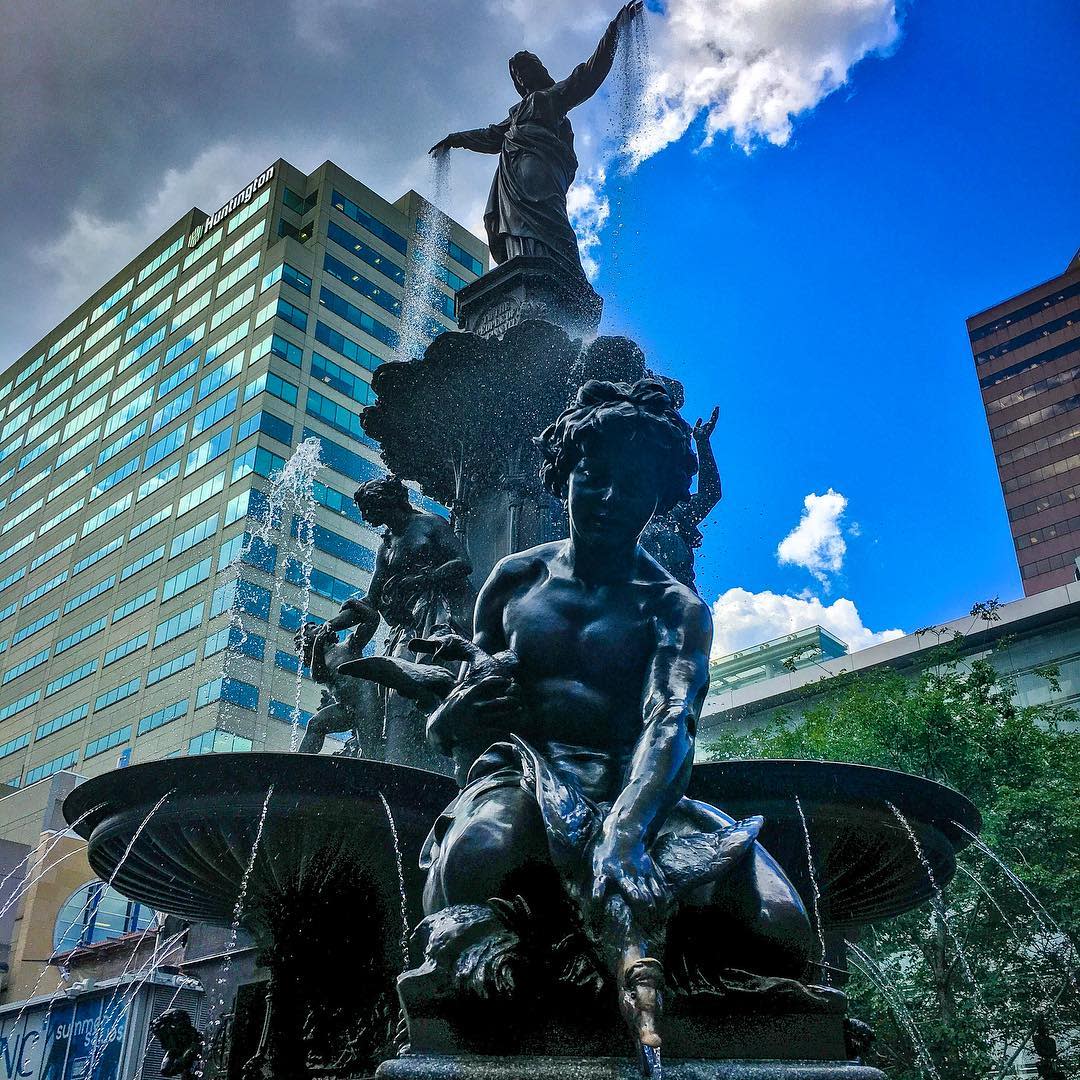 Dark Waters (2019)
Mark Ruffalo-starring Dark Waters follows real-life Cincinnatian and lawyer Robert Bilott, who took on DuPont, a chemical manufacturing corporation, after they dumped unregulated chemicals in Parkersburg, West Virginia, resulting in sickness and deaths. Directed by Todd Haynes, the movie takes place over many years, showing the case growing wider and more complicated. Also shot in Cincinnati, notable locations include Fountain Square, O'Malley's in the Alley, Hamilton, Ohio, and buildings along Downtown Cincinnati's Walnut Street. Viewers will also see glimpses of Covington's Radisson Hotel, Paycor Stadium, Great American Ball Park, Graeter's and more.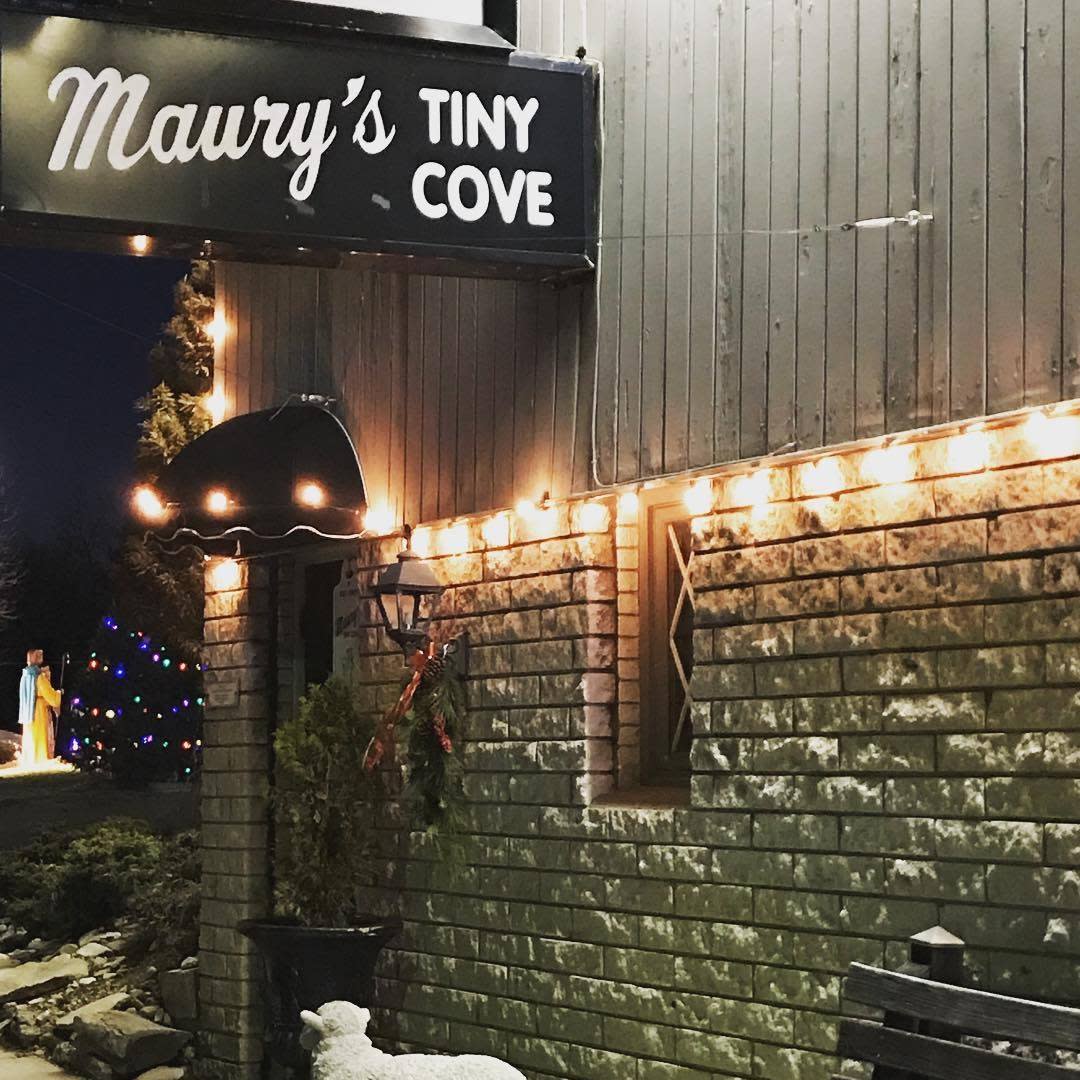 Carol (2015)
Dark Waters wasn't the first film Todd Haynes shot in Cincinnati­­­­­­­­­­; the romance drama Carol was. Set in 1950s Manhattan during Christmas, it follows two women––an aspiring young photographer and a middle-aged woman going through a divorce––who fall in love. The affair becomes complicated as their lives become more entangled. Scenes unfold through the city, including at Eden Park in Cincinnati; Maury's Tiny Cove on Cincinnati's West Side; and along Downtown Cincinnati's 12th and Walnut Streets. Along with several Oscar nominations and other awards, Carol was named the best LGBT film of all time by the British Film Institute in 2016 and ranked among the best 100 films since the year 2000 by the BBC.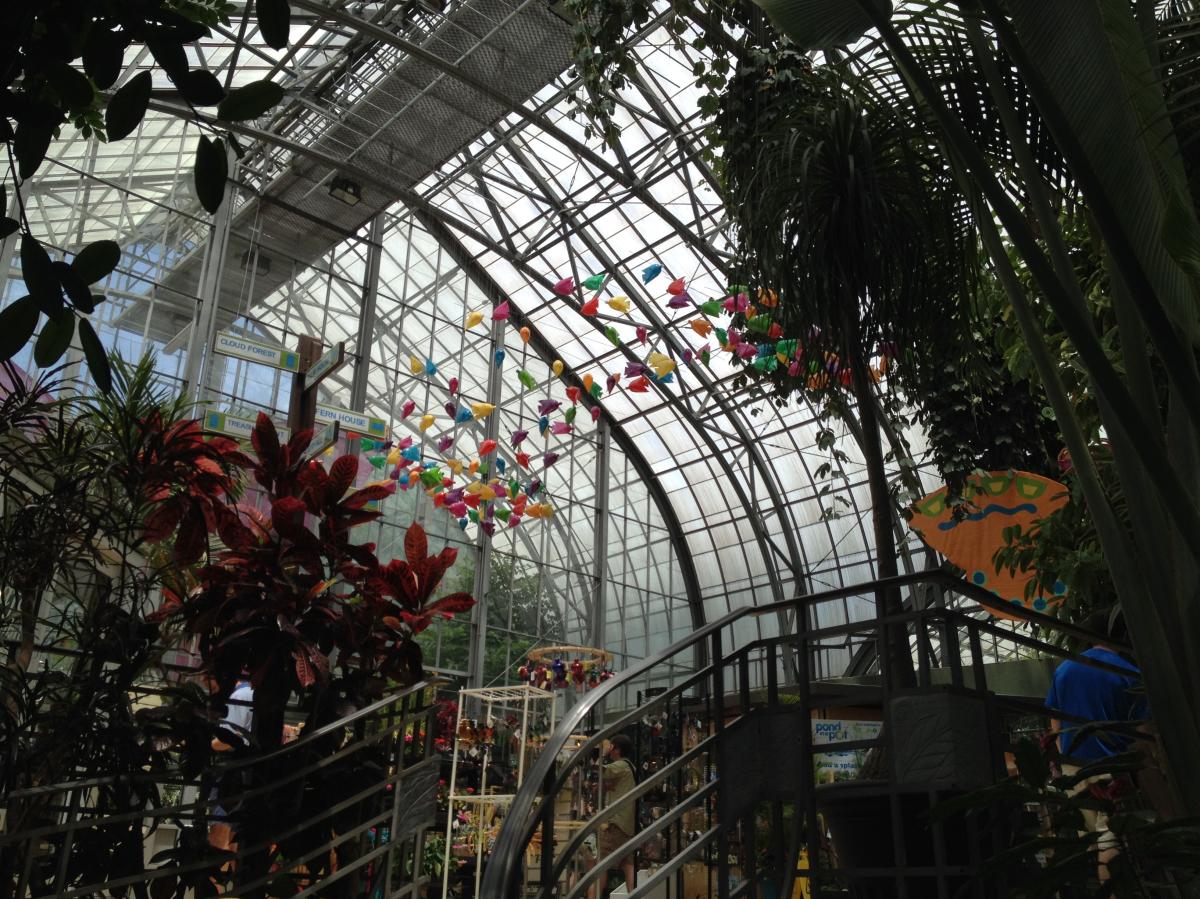 Airborne (1993)
See Seth Green and Jack Black in their early days via the comedy Airborne. When California teenager Mitchell is sent to live with his aunt and uncle in Ohio instead of joining his parents on a stint to Australia, he's shocked, a feeling that only deepens upon arrival. Much of the film was shot in Bellevue and Newport, Ky. Cincinnati's Krohn Conservatory also gets some love as one of the city's best date spots. Seth Green's character, Wiley, lives along Linden Ave. in Newport. Pompillio's even makes another appearance. One thing Airborne got wrong? Cincinnati is not nearly the hockey town it's made out to be.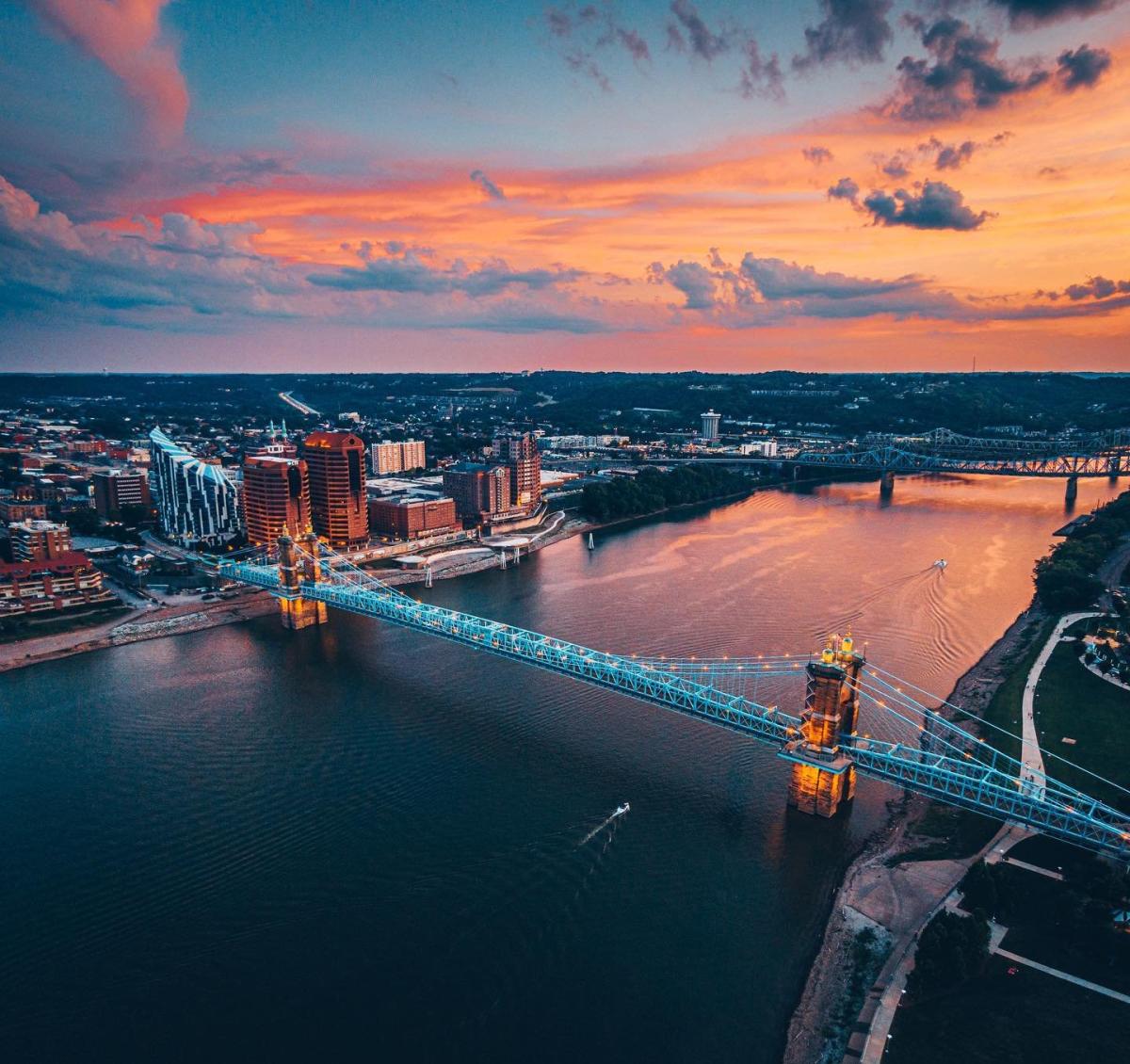 Bones & All (2022)
Italian director Luca Guadagnino, known for Academy Award-nominated Call Me by Your Name, shot his first film on American soil in 2021 in the NKY and Cincy Region. Billed as a romantic horror flick, it stars Timothée Chalamet and Taylor Russell as young cannibal drifters traveling across the Midwest.
In an interview, production designer Elliot Hostetter told Conde Nast Traveler that "nearly all of the film was shot within a sixty-mile radius of Cincinnati. That means a lot of Kentucky as well. All along the Ohio River."
University of Cincinnati's Zimmer Hall and Country Kitchen Restaurant in Lebanon, Ohio, a suburb of Cincinnati, are among the places that got to shine on the silver screen. An hour's drive from Covington, the production also filmed in Maysville, Kentucky, a charming small town sometimes referred to as the "birthplace of bourbon."
NKY Walking Tours
Are you the kind of traveler who loves learning about your destination by walking through it? There's a variety of walking tours of the NKY and Cincy Region available. From our local street art tours, to food tours, to historic walks like the self-guided Covington Black History walking tour, you're sure to find something that interests you on our NKY Walking Tours page.