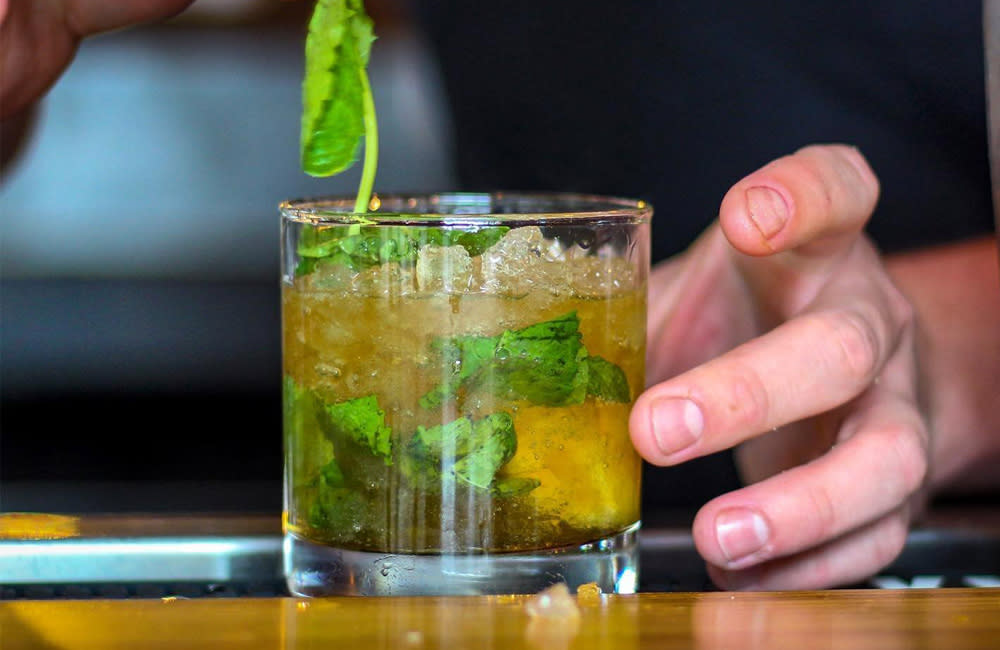 Ahhh, the Mint Julep. Nothing says "Kentucky" more than the refreshing bourbon cocktail, which gets big billing during National Mint Julep Month in April and for the Kentucky Derby in May. And while this is the perfect sipper in spring and summer, you can also enjoy a Mint Julep year-round — especially if you perfect your recipe.
Want to learn how to make the best Kentucky Mint Julep? We asked Northern Kentucky's own Bill Whitlow, a local restaurant owner, entrepreneur, bourbon lover, and cocktail genius. Not only is Whitlow an Ole Smoky Moonshine National Champion and two-time winner of the Woodford Manhattan Experience, he also won first place in the 19th-annual Rose Julep Cocktail Competition for his take on the classic cocktail.
Here are his top Mint Julep tips, as told to meetNKY.
Mint Julep 101
A Mint Julep can be a fantastic cocktail to enjoy on Derby Day or throughout the spring/summer — if you make it right. So many people make juleps with store-bought simple syrup, premix, and lower-grade bourbon. The quality of ingredients affects the quality of your cocktail. I personally like to make my juleps with a spicier bourbon, such as Four Roses Small Batch, Old Forester 100, or Woodford Reserve. 
Using homemade simple syrup (and mint-infused syrup for large batches) is also pertinent. Making simple syrup can be as easy as boiling 16 oz. of water and stirring in 16 oz. of white sugar while it is rolling. If you're making drinks for a group, you can make a larger batch of simple and add mint leaves as it is cooling down to extract the mint flavors. Strain the mint leaves before mixing up the batch and serve. Even when doing this, always garnish with fresh mint for the aromatics.
Bill's Best Julep Recipe
My recipe for a traditional Mint Julep would be the following:
Ingredients
2 oz. bourbon
6-8 mint leaves
.5 oz. simple syrup
Crushed ice
Mint sprig
Instructions
In a julep cup, add mint and syrup. Lightly muddle (shredding the leaves releases chlorophyll, which is unpleasant). Add bourbon and crushed ice. Roll back and forth a few times with a shaker. Smack a mint sprig on the back of your hand (the oils on your palm can degrade the mint). Garnish with said mint sprig and a little powdered sugar — or a lot, if you want to clean up a mess.
If you are making a batch for a Derby Party, try the following:
Ingredients
1 750ml bottle bourbon
16 oz. mint syrup (slightly more than usual to appease more party guests; feel free to reduce if you like a drink less sweet)
8 oz. water
Instructions
Mix and put into a dispenser in the fridge. At party time, put out the dispenser, cups, a bowl of crushed ice, mint sprigs, and a powdered sugar shaker. You can serve great juleps and not have to play bartender all day.
Fun Riffs on a Mint Julep
It is also easy to make a riff on the julep. You can muddle in some fruit like apricot to brighten it up, add maple syrup to make it more savory, or add some chocolate bitters to make it more decadent. Any number of bitters, fruits, or household ingredients can enhance the flavor. I have even used a little cold-brewed coffee to give balance if I'm using brown sugar instead of white sugar.
For more of Whitlow's cocktails, visit his restaurants Rich's Proper Food & Drink, Hangry Omar's at Covington Yard, and the forthcoming Opal. Or visit the personal bourbon-blending experience, Wenzel Whiskey, which he co-owns.