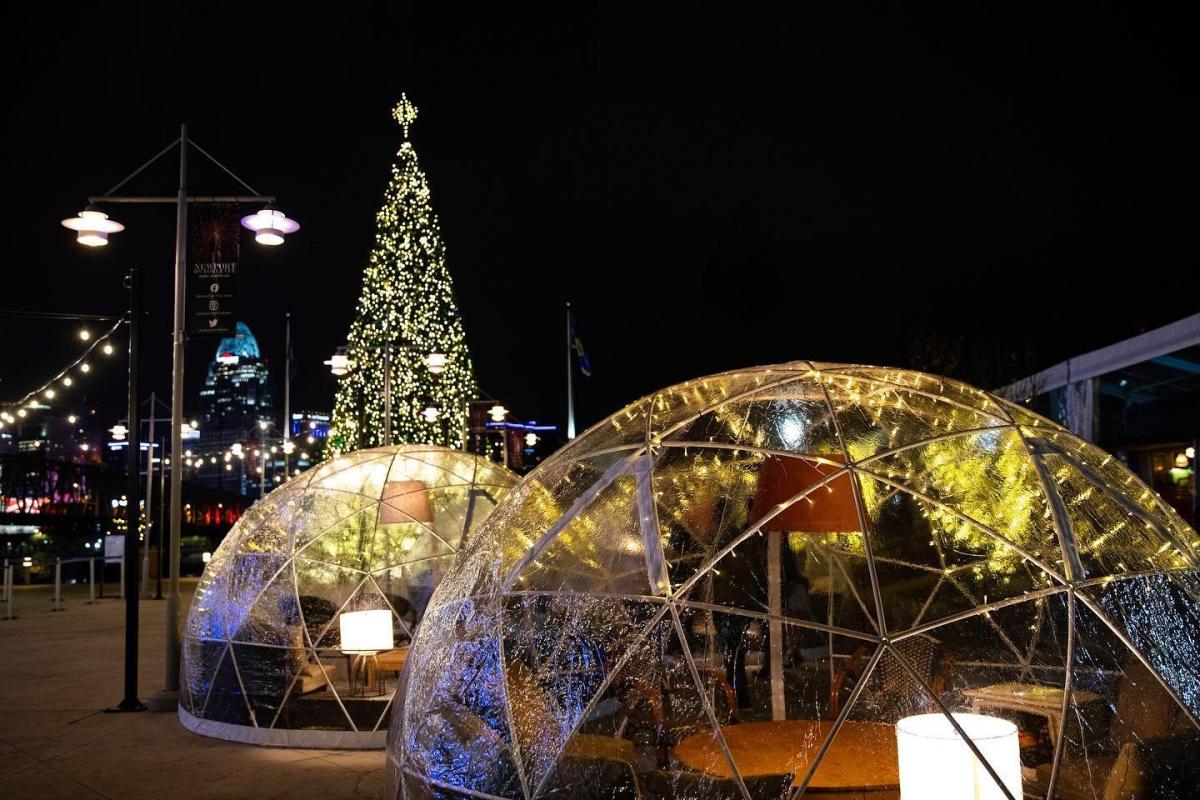 There's a certain romance that comes from spending time on a chilly day inside a private, heated igloo. You enjoy your own little pocket of coziness, with safer air quality and views of the wintery landscape.
Where to Find Heated Outdoor Dining in NKY
It's an experience we recommend—here's how to get it.
In Northern Kentucky, Braxton Brewery, Frosthaus and Kon Tiki Fire Lounge offer reservable igloos.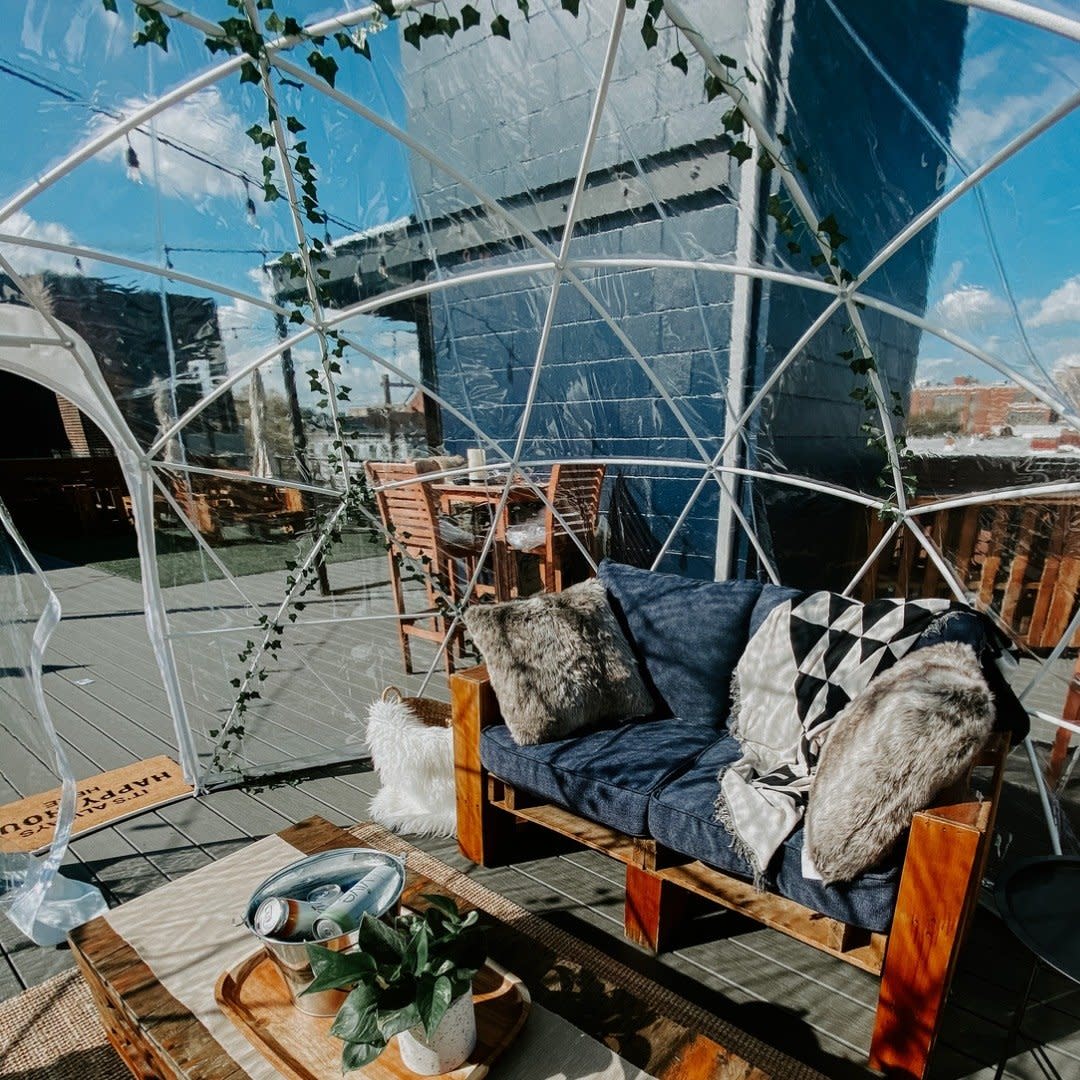 Braxton Brewery Covington
Braxton's Igloobar is on the rooftop of their Covington taproom. The igloos have cushioned seating for eight (21 years old or older) people and a dedicated Bluetooth speaker. You reserve the igloo for a 2-hour timeslot, during which you can enjoy food from Parlor on 7th and Braxton's craft beer and drink menu.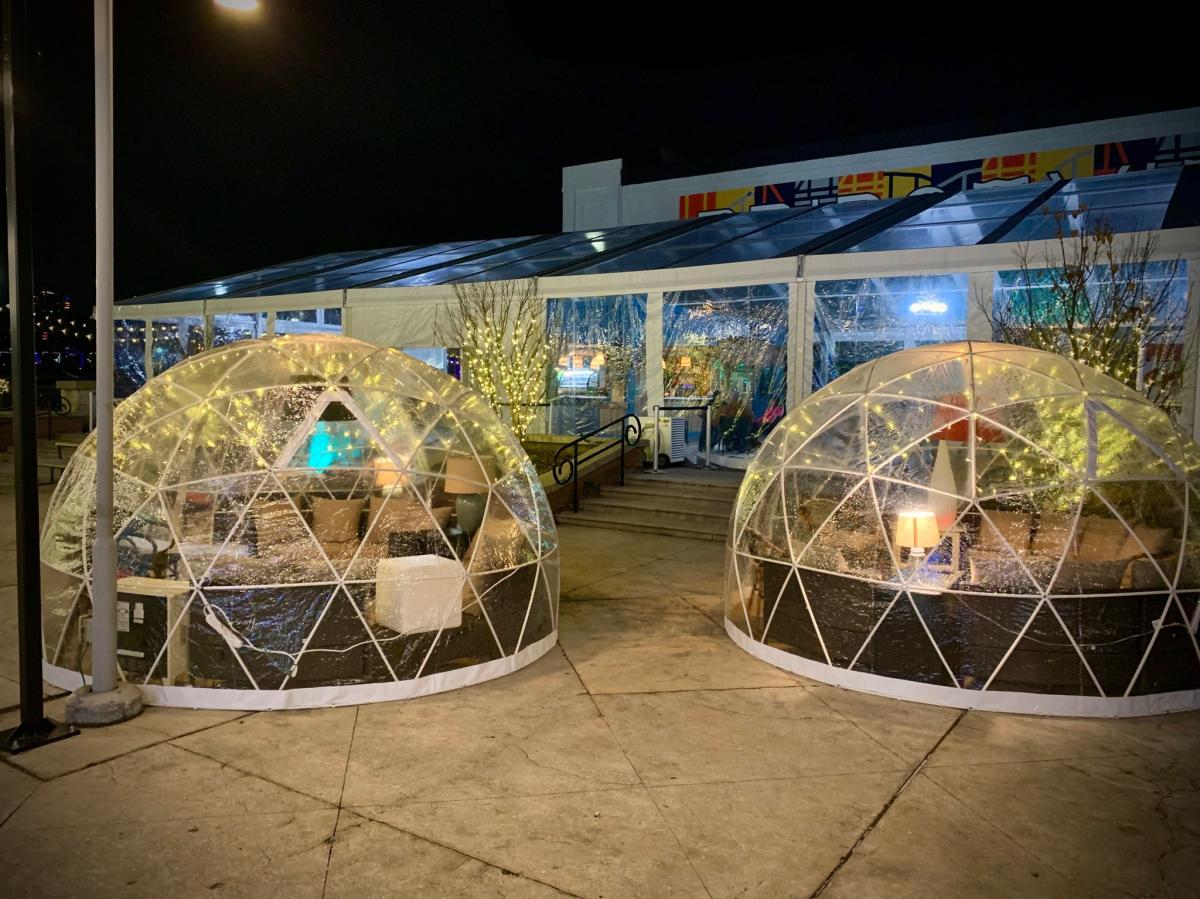 Kon Tiki Fire Lounge
Next to Newport on the Levee's heated and enclosed Bridgeview Box Park (an excellent winter dining option in itself) is a cluster of four igloos brought to you by Kon Tiki Fire Lounge. Their Igloo Experience includes a 2-hour timeslot for up to eight people, board games, and controls for the lights, heater, and Bluetooth speaker. The igloos are family-friendly, as long as at least one person in the party is 21 or older. Lean into the tropical vibe with tiki drinks, wine, or beer, along with tasty treats like empanadas, coconut shrimp, and hot churro donuts.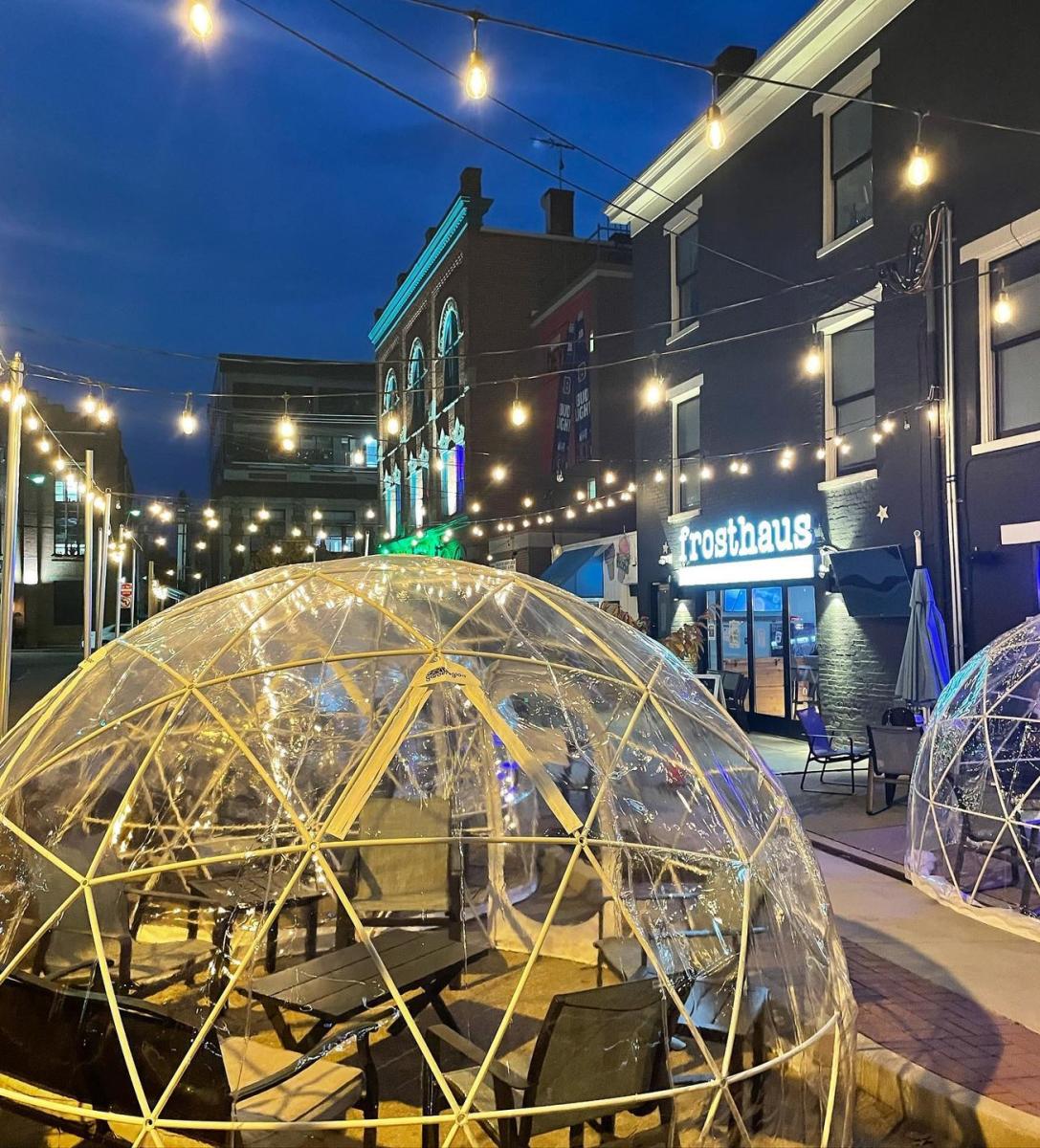 Frosthaus
In Covington's Roebling Point neighborhood, you'll find the Frosthaus igloos nestled together on Court Street. These family-friendly igloos seat eight and some of the times slots can be reserved for just $1.00. Your server will come to you, bringing you frozen drinks (fun to sip while inside your heated igloo) and food from their German-inspired menu, including salads, sandwiches, and desserts. Top off your meal with Spaghetti Eis, an ice cream dish served with strawberry sauce that looks like a bowl of spaghetti and meatballs.
Other great heated outdoor dining options
If you don't need an igloo, but still want a heated outdoor dining experience, NKY has plenty.
Florence area
All three locations of the popular American Barleycorn's restaurants have heated patios with TV's and bars.
Buffalo Bob's Family Restaurant has a heated enclosure for enjoying their hearty burgers, sandwiches, and combo baskets.
Newport area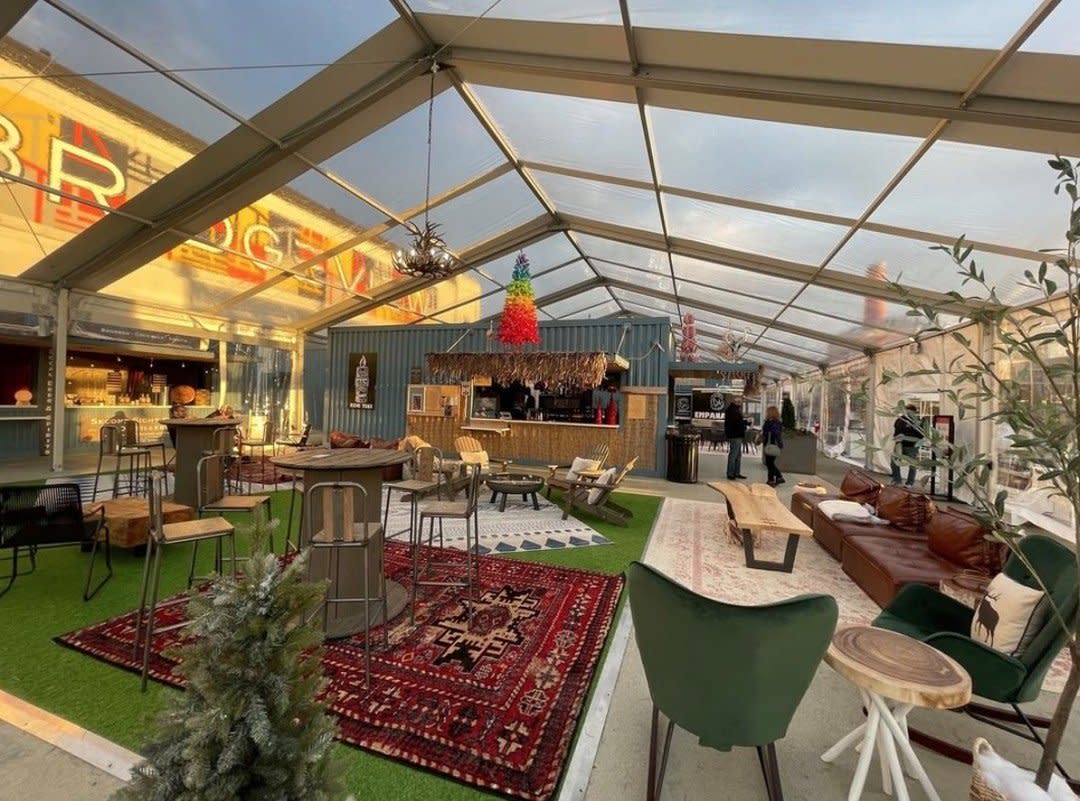 As mentioned above, Bridgeview Box Park at Newport on the Levee has enclosed, heated space to hang out and sample the dining and beverage options from the vendors.
On Friday and Saturday evenings, Hofbrauhaus Newport heats up their beer garden for cozy outdoor dining with a German flair.
Three Spirits Tavern, located in Bellevue, is putting the finishing touches on their outdoor dining area, which is open for service during the renovation. This somewhat rustic space is enclosed with vinyl walls and offers a fireplace and heaters. Visit the Three Spirits covered patio on Thursdays for their tasting events or any day for their specialty cocktails and gastro lounge-style food menu. Three Spirits is also a stop on NKY's bourbon trail, The B-Line, so make sure to get your Line Guide stamped when you go.
Covington area
Covington Yard, an open-air neighborhood gathering spot, has enclosed part of their space in a large, heated tent, which even has room for their live music stage. You'll find a variety of food and beverage options, along with a casual, welcoming vibe.
Camporosso is serving delicious, wood-fired pizza in their pleasant, heated enclosure in Fort Mitchell. Their artisan fare is so good, in fact, that it was named one of the top two pizzas in Kentucky by Food & Wine Magazine.
Also in Fort Mitchell, Behle Street by Sheli has an enclosed, heated patio and bar, where you can fill up from their menu of steak, fish, fajitas, pasta, and more.
So, don't let the weather keep you away from the excellent restaurants, bars, and craft breweries of Northern Kentucky!