We think it is always a good idea to make the heart of Bourbon Country part of your NKY Bourbon Experience. So if you are looking for a day adventure, head on down to Bardstown, the "Bourbon Capital of the World!" This easy 1.5 hour drive from NKY is a great day escape to the Kentucky countryside and I hope that you make Barton 1792 Distillery part of your visit.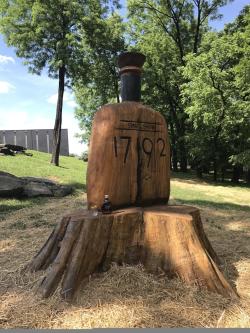 Barton 1792 is named for the year that our great Commonwealth became a state. (Happy 225 Kentucky!). The tours are excellent and I highly recommend the Barton Tradition Tour. It is an hour-long tour in which visitors get a look at the Distillery's daily processes and inside Warehouse H, a traditional barrel rickhouse built in the 1930s. Make sure you get to see the World's Largest Bourbon Barrel!!!
This is such a cool distillery that is an American family-owned company and is located on 196 acres where it includes 28 warehouses and 22 other buildings, the Morton Spring and the Tom Moore Spring (and you know it is all about the water!).
Walk-ins are welcome at the distillery and make sure to get on that tour before 3:00 p.m., the last time tours leave from the gift shop. Tours run Monday - Saturday from 9:00 a.m. until 4:30. And like all good distillery tours in the Commonwealth, this one also ends with a little tasting of their award winning Bourbon. Visit the Barton website for more information. 
And once you return to Northern Kentucky for the night, make sure to stop over at the Globe in Covington for a taste of their latest Bourbon inspirations. Their "Paper Plane" drink is out of this world! They just celebrated their first birthday and are on their way to making some noise in the NKY bar scene. 
However you enjoy your Bourbon, do it right and do it safe. Cheers!