The New Pike Street Restaurant Serves Diner-Inspired Breakfast and Lunch in Covington
Have you tried the new Pike Street restaurant in Covington? This diner-inspired breakfast and brunch spot is now open and, without a doubt, worth the visit.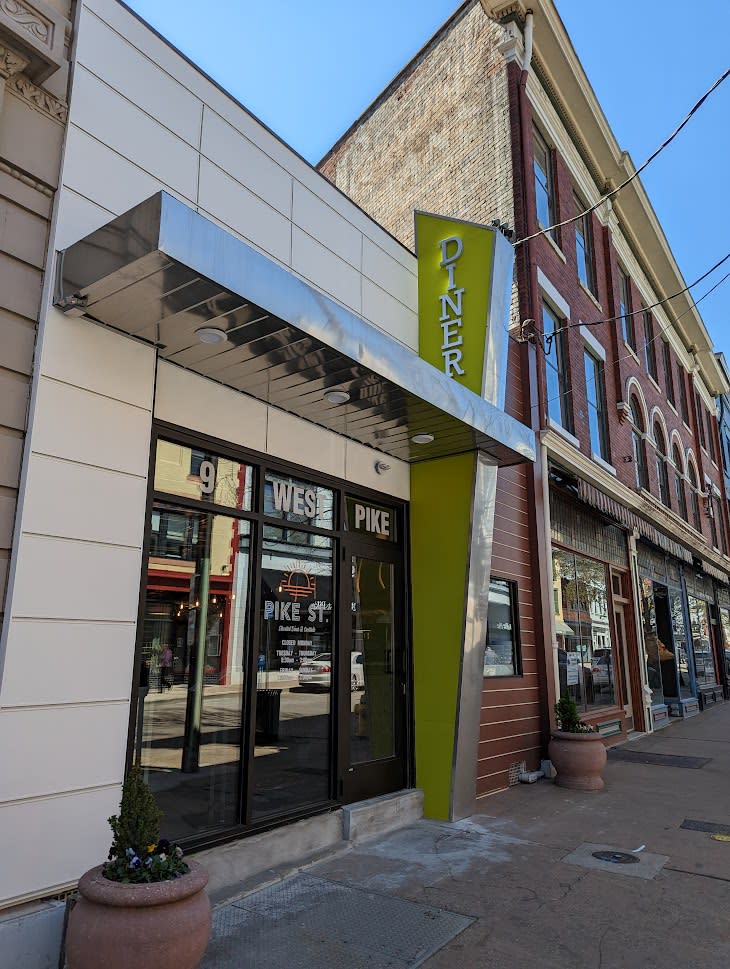 Not wanting to eat what I packed for lunch, Dot — colleague and fellow restaurant explorer — convinced me to abandon my meal to walk over to try Chef Jeremy Faeth's new spot, where everything on the menu is made from scratch! (Faeth co-owns Pike Street with his parents, Tony and Michelle, who also co-own local brunch spots Yuca and Cedar with him.)
Upon entering, we were greeted by Chef Jeremy throwing down on the grill in the open kitchen and friendly staff ready to seat us. The décor is very retro diner with a modern update. The colors and all-around vibe are warm and welcoming.
What We Ate

Apple Pie Waffle
BEST THING EVER! This Light and fluffy waffle is smothered in apple pie pieces, cinnamon sugar, a bourbon cream anglaise (yum!), apple syrup, and graham-cracker streusel.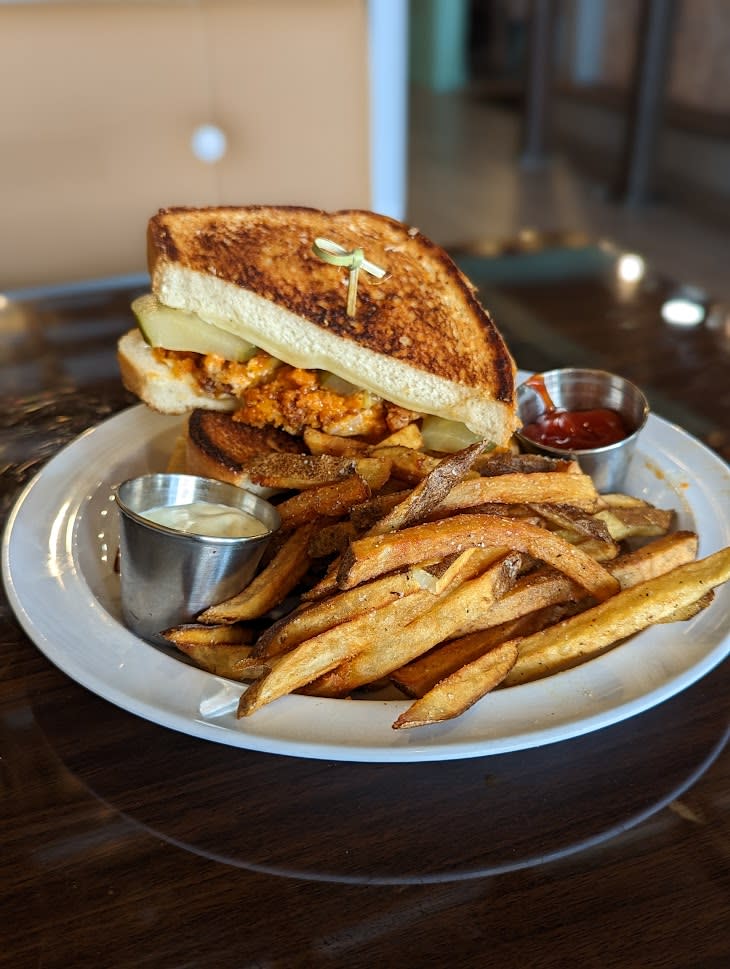 Fowl Play
If you like a great buffalo chicken sandwich, this one is a must try. This buffalo fried-chicken-thigh sandwich includes pickles and cheddar and Havarti cheeses, held together by toasted sourdough bread. Dip this in their house-made ranch dressing and all is right in the world. 
What We Drank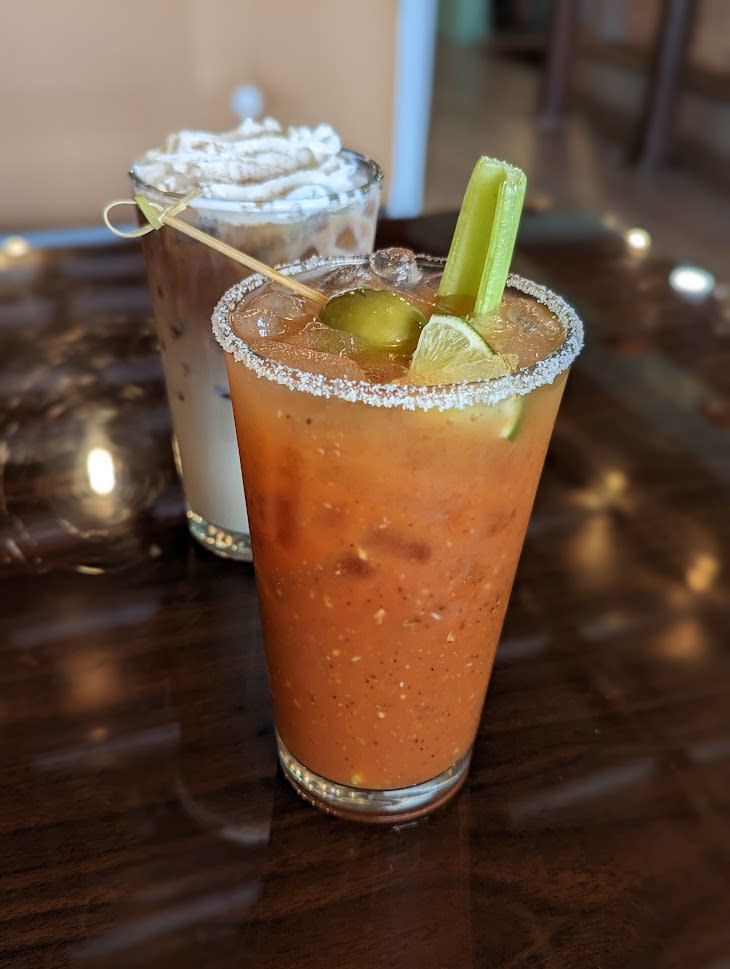 Pike St. Bloody Mary and Irish Cold Brew
The Bloody Mary at Pike Street, as well as those at Yuca and Cedar (owned by the same family), are some of the best in NKY. The Pike St. Bloody features house-made mix, Tito's vodka, and a salted rim. Delicious!
For those of us who are craving a boozy cold brew, this chilled version of an Irish Coffee is great. The house cold brew, infused with Five Farms Irish Cream and topped with whipped cream and nutmeg, is a great way to start off the morning.
Round 2
Having thoroughly enjoyed the atmosphere and food, that next Sunday I grabbed some girlfriends and headed back to Pike Street, where I sampled more of the menu.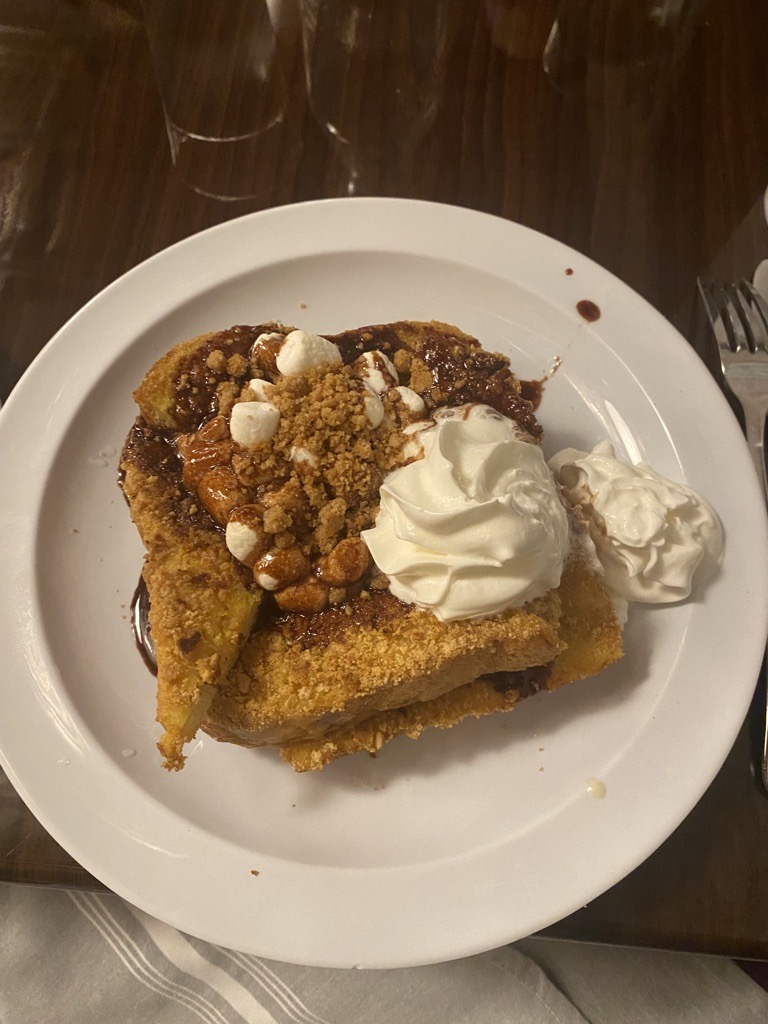 S'mores French Toast
Yes, please! If you like the flavors of the classic sweet treat s'mores, you will enjoy the s'mores-inspired French toast. The French toast is coated in crushed graham crackers — which adds a great crunch — as well as house-made chocolate sauce, a toasted marshmallow, and whipped cream. No syrup is needed in my opinion.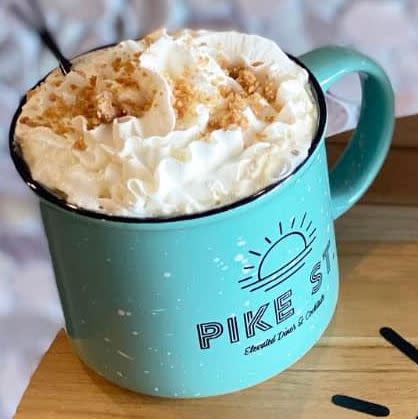 Cinnamon Roll Latte  
I didn't know I liked a little crunch in my drink, but I do now. This Jack Daniel's RumChata coffee with heavy cream is topped off with a generous amount of whipped cream and sprinkled with graham-cracker streusel bits. This drink gave me all kinds of fall vibes and I was here for it.
I hope you and your friends and family enjoy Pike Street as much as I did. For more breakfast and brunch spots, please be sure to check out our "Breakfast & Brunch" recommendations in Northern Kentucky.