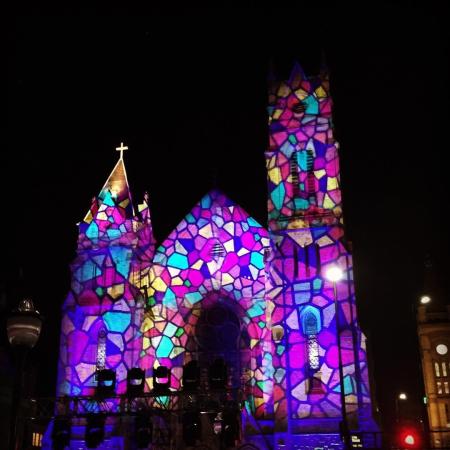 Mark your calendars to make sure you're in the Cincinnati and NKY area on October 10-13.  BLINK, one of the largest light/art/projection mapping events in the nation, not only returns to Cincinnati this fall, but expands to Northern Kentucky, too!
BLINK Adding Installations, Art, and Live Music in Northern Kentucky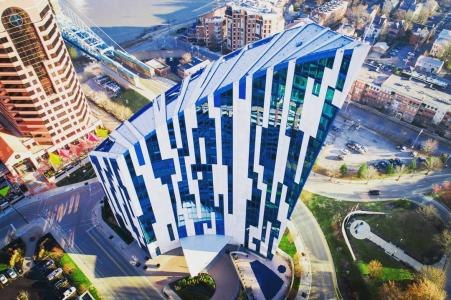 The Ascent will be illuminated with animated lights!
Covington will be one of BLINK'S most populated areas for art, light, music and food.  We can't wait to see local landmarks such as the Roebling Suspension Bridge and the Ascent building come to life in animated lights. More than 25 new light installations are planned for NKY, including one on the Ohio river itself! Also, one of our local gems, the Roebling Suspension Bridge will not only be illuminated but will also feature music composed for the event.  The photo below is not the final design, but an artist's concept of what bringing BLINK to the Roebling could look like.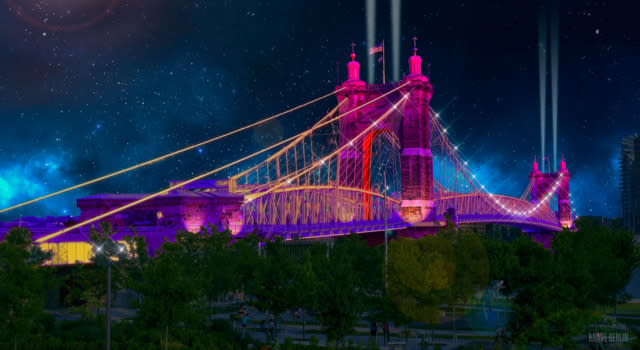 Photo: Cincinnati USA Regional Chamber
 Several new & existing murals and historic buildings will feature projection mapping.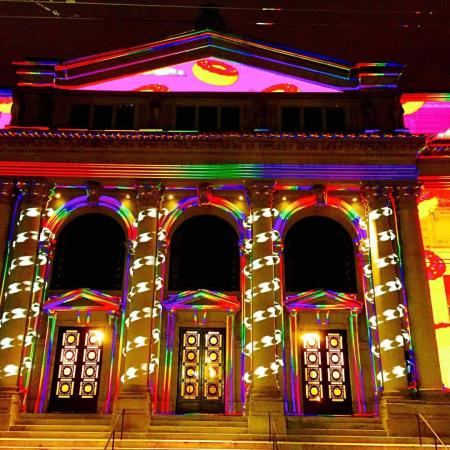 Don't miss the world's largest mobile disco ball, made in Kentucky, that will return to BLINK and be featured at a pop-up disco party in Covington!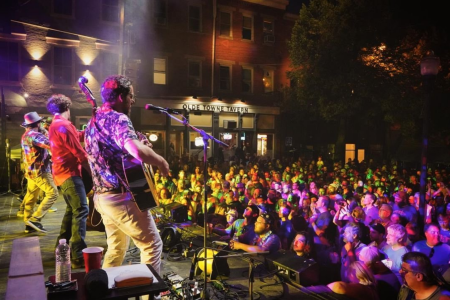 In addition to plans to make the "singing bridge" sing, there will be live concerts featured throughout the four-day festival. In Covington, a free concert by GroupLove is scheduled for Saturday evening, Oct. 12, in the Rivercenter parking lot.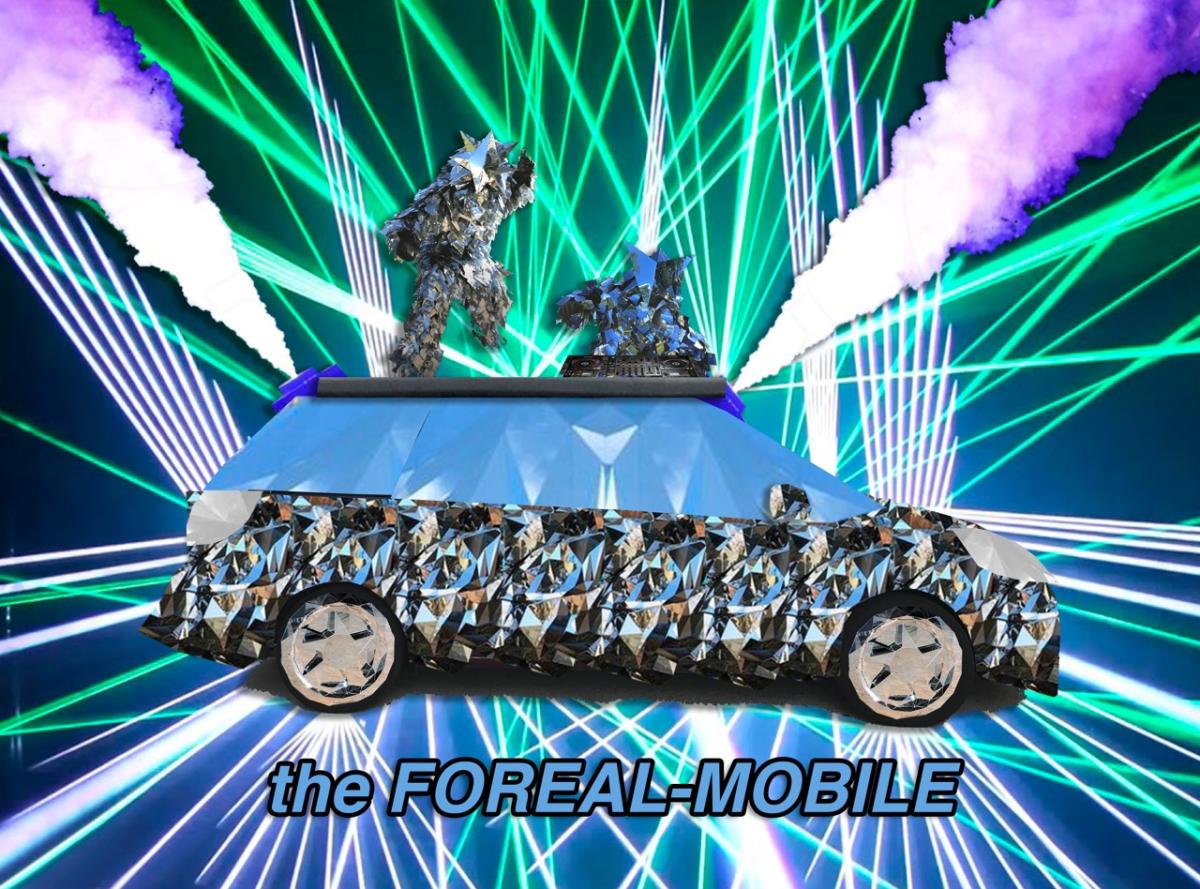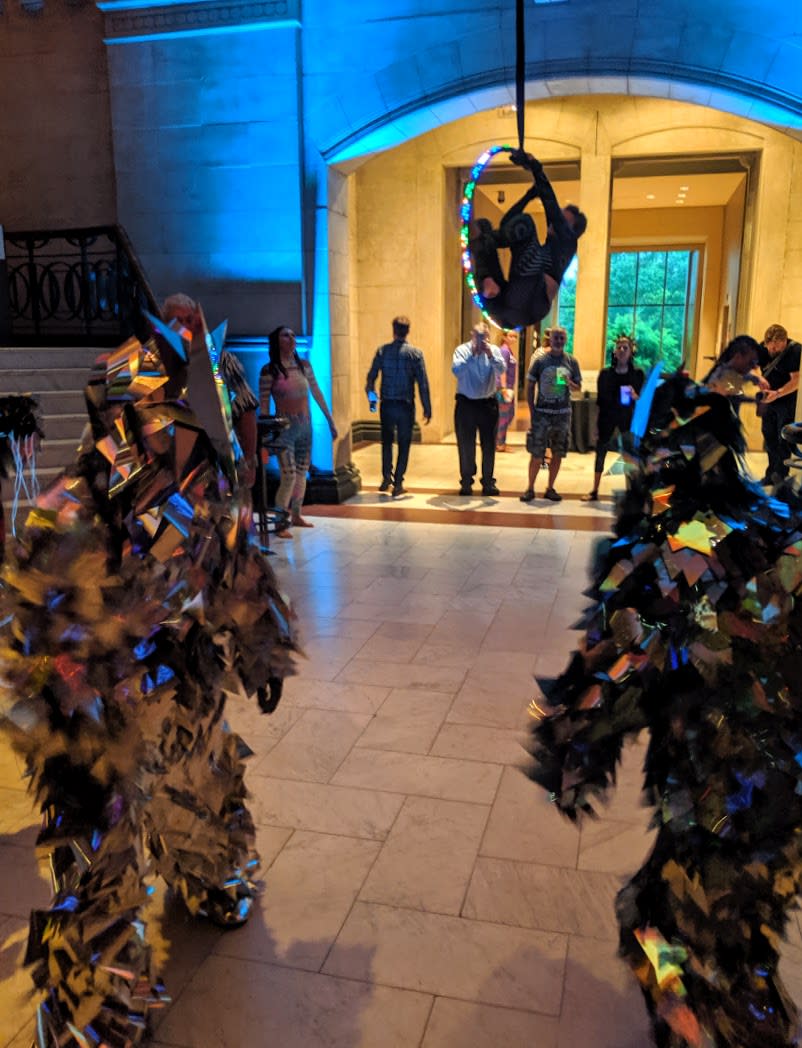 Forealism Tribe performing at the Cincinnati Art Museum
In addition to live music all over town, there will also be performances by a variety of artists, like Forealism Tribe. They will be bringing their energy to multiple locations across Blink with the Foreal Mobile. The Foreal Mobile is a moving party and art car armed with lights, lasers, and a wall of bass speakers. The car will match the look of the Forealism Tribe members' suits and carry the perfect rave, creating a DJ dance party festival experience. They are scheduled to perform in the BLINK Parade, as well as on West Pike Street in Covington.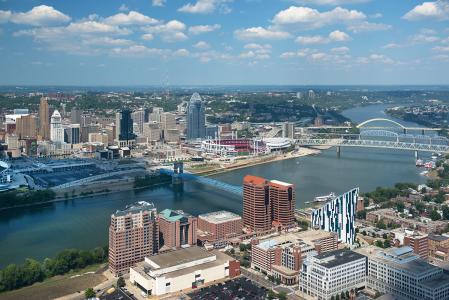 If you're looking for a place to stay right in the middle of all the action, be sure to check out any of our RiverCenter hotels, which provide awesome views (even when BLINK isn't happening) and are within walking distance to all BLINK festivities on both sides of the river.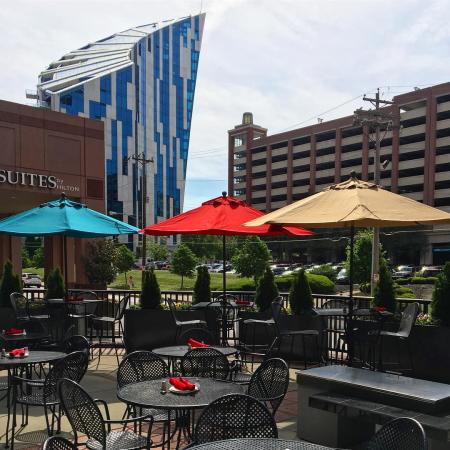 View of Ascent building from FIRE patio, located between the Embassy Suites RiverCenter and Marriott RiverCenter hotels.  

There will be food and drink available throughout the event, but if you decide to sit down and take in a full meal or relax over a drink, we recommend any of the awesome venues below, which are all on in the middle of the BLINK action. 

If you want to grab something slightly away from the hustle and bustle, check out all the options in Mainstrasse Village.

Whatever you do, make sure you come to BLINK and experience the sense of community and awe inspired by the beautiful art and light installations throughout the city. Remember, one of the best things about BLINK is that it's free and open to the public. We can't wait!