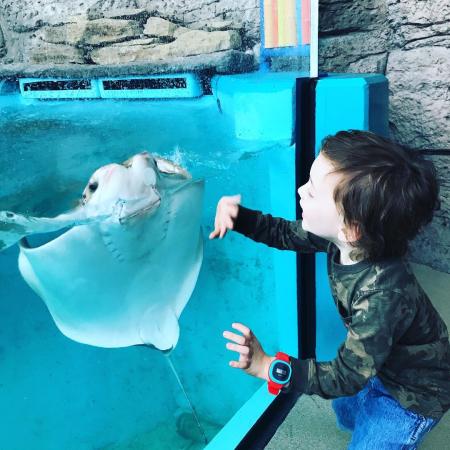 Everyone knows the Northern Kentucky/Cincinnati region is home to some of the area's top family-friendly attractions, including Newport Aquarium (featuring their new Freshwater Falls exhibit), Creation Museum (don't forget the Planetarium and petting zoo), Ark Encounter (hello zip lines!), and the Cincinnati Zoo (have you met Fiona?).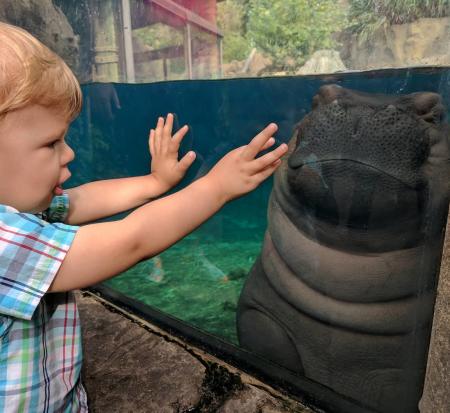 But when you plan this summer's long-weekend getaway to NKY, be sure to also include some of these lesser-known, best-kept-secret experiences on your family's itinerary.
Vent Haven Museum

If you're looking for unique experiences, look no further than Vent Haven, the world's only museum dedicated to ventriloquisum.  Located in Ft. Mitchell, Ky., the museum houses more than 900 dummies used by ventriloquists from the 19th, 20th, and 21st centuries.  It's open by appointment only May 1 through September 30 and is a must-see when in Northern Kentucky. 
Behringer-Crawford Museum & Devou Park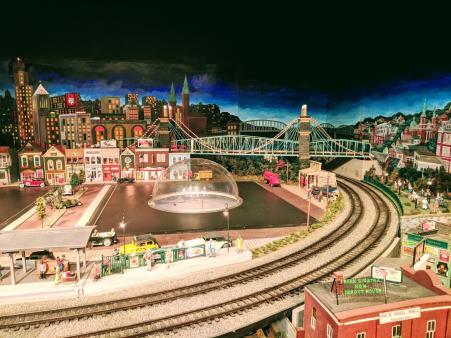 Nestled within Covington's scenic Devou Park, Behringer-Crawford Museum features history of the Civil War, American Indian artifacts, the iconic two-headed calf, and a theme of transportation that includes rivers, roads, rails, and runways. 
Next to the museum's parking lot is NaturePlay @BCM, a free green space where children can play, discover, and engage in heritage and natural history within kid-sized log cabins and caves, a replica of a flatboat, animal tracks, and gardens. 

While you're at Devou Park, be sure to drive or walk to the Drees Pavilion area to capture the scenic overlook of the Downtown Cincinnati skyline.
Big Bone Lick & Rabbit Hash

Big Bone Lick State Park is located in Union, Ky., and recently worked with the Cincinnati Museum Center to produce all new exhibits for the park's visitor center.  Plus, the kids will love checking out the live bison herd, which is a testament to the park's prehistoric past.  Admission is free to all visitors year-round.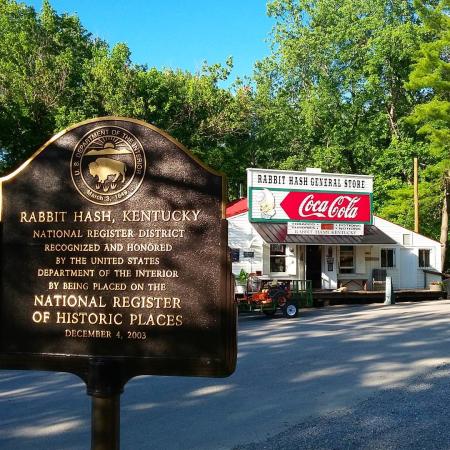 While you're in the neighborhood, be sure to drive a few miles down the road to check out Rabbit Hash, Ky.  In operation since 1831, The Rabbit Hash General Store is a true Americana experience featuring antiques, collectibles, hand-made soaps and more.  If your kids are anything like mine, they will enjoy sitting on the front porch sipping on a cold orange soda from a glass bottle--an experience they don't get to have too often.  Hop on the ferry for a ride across the river into Rising Sun, Indiana.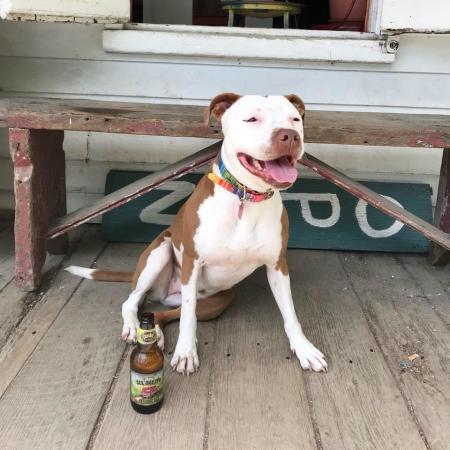 And if you're lucky, you'll run into the town's mayor, Brynneth Pawltro (Mayor Brynn on Facebook), the first American pit bull terrier to be mayor of the historically canine-run town.  If your family loves Rabbit Hash so much you don't want to leave, consider making reservations to stay at the rustic Old Hashienda.
American Sign Museum

The American Sign Museum displays nearly 100 years of signage to celebrate the history of American signage.  Whether you're a baby boomer or a baby, you'll be in awe of the lights and either rekindle some old memories or make new ones.  If you visit on a Wednesday through Friday, you'll have the opportunity to watch the owners of Neonworks create neon signs.
Historic Bellevue

In addition to unique shops and restaurants, Bellevue's Historic Fairfield Avenue (minutes from Newport on the Levee) is home of Schneider's Sweet Shop since 1939.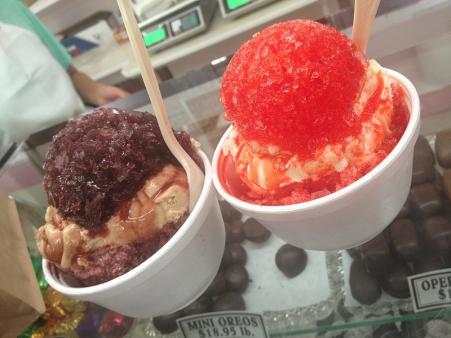 It's the corner ice cream and candy store you remember from years ago and they're famous for their Opera Creams, but your kids must have an ice ball while in NKY.  Enough said.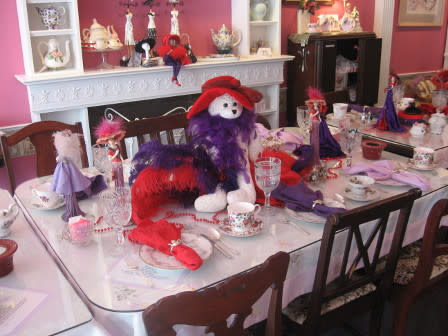 Also in Bellevue is Mrs. Teapot's Tea Room, the perfect experience for every child (and adult) with an affection for tea parties. 
Smale Park & Carol Ann's Carousel

We know... every city has parks.  But Smale Riverfront Park is truly spectacular and many locals (including myself) often take it for granted.  Located on the banks of the river, Smale has an incredible view of the NKY skyline and the Roebling Suspension Bridge.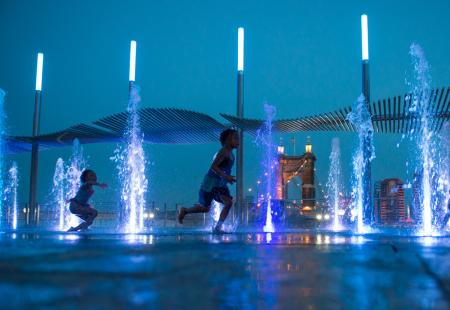 Complete with oversized swings, incredibly fun playgrounds, talking tubes, exercise pipes, a giant foot piano, picnic area, a flying pig, gardens, and water fountains galore, your family could be entertained for hours.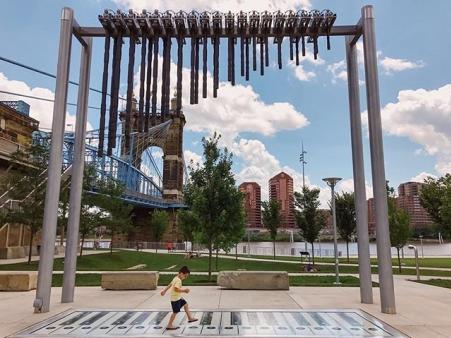 Don't miss Carol Ann's Carousel, which overlooks the park within a glass building and showcases animals iconic to Cincinnati history and culture.
Reds Hall of Fame & Museum

Whether or not the team is in town during your visit, you should plan a stop at the Reds Hall of Fame & Museum.  2019 marks the 150th year of both Major League Baseball and the Cincinnati Reds, so there's no better time to take in the history of America's favorite pastime.
Florence, Ky.

Before you leave NKY, be sure to make a stop in Florence.  From putt putt at World of Golf, indoor go-karting at Full Throttle, Florence Family Aquatic Center, and Florence Freedom baseball games, you might start planning an even longer stay!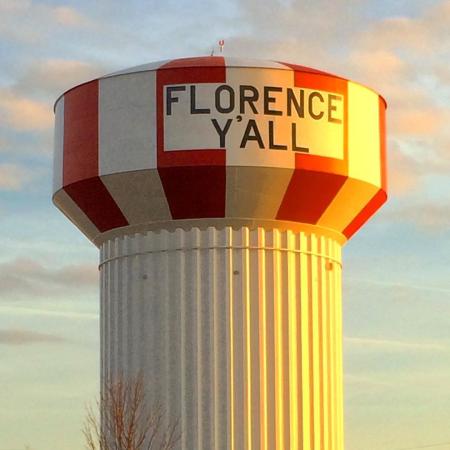 And while you're there, don't forget to snap a pic with the iconic Florence Y'all water tower!
BB Riverboats

What kid doesn't like riding on a boat!?  But BB Riverboats takes it to another level with their Superhero, Pirate, and Princess themed cruises planned specifically for kids.  If you aren't in town during one of those, check out their ice cream social cruise, which is also sure to be a hit with the kids.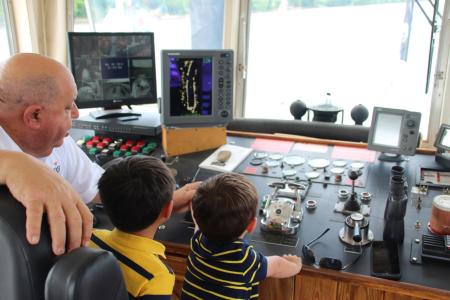 If you're extra lucky, your riverboat captain may let you take control of the vessel during your cruise.
Coney Island & Sunlite Pool

Coney Island is the 6th oldest amusement park in the U.S., but don't let that fool you--there are more than 50 classic amusement rides and attractions to keep the family busy.  Sunlite Pool at Coney Island is the world's largest recirculating swimming pool featuring more than 2 acres and 3 million gallons of water fun including flumes, slides, diving, and more.
Carew Tower Observation Deck

Take the family to the top of the second highest building in Cincinnati, just one and a half miles away from Newport on the Levee.
The open air Observation Deck at the top of Carew Tower serves up spectacular 360-degree views of the Cincinnati and Northern Kentucky skylines and the Ohio River. It's the perfect photo op for your vacation.
Purple People Bridge

Not to be confused with the Purple People Monster, the Purple People Bridge is a pedestrian-only bridge connecting Newport on the Levee with Cincinnati.  Kids will enjoy being in two states at once (even though the Ohio River is technically owned by the Commonwealth of Kentucky!).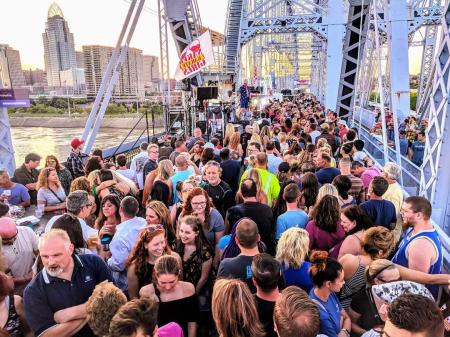 If you're in town on a Wednesday between May 1 and Aug. 7, be sure to check out Party on the Purple, a weekly party and concert series held on the bridge.
Cincinnati/Northern Kentucky Airport (CVG) Airplane Viewing Area

Locals love to take their kids to the airplane viewing area at CVG to eat a picnic and play on the airplanes while watching real ones take off and land.  No matter how many times you've experienced it, every little (and big) kid loves to watch airplanes. 
Oops; I think that's more than 10!  Shew, there are so many fun things for families to do in Northern Kentucky and Cincinnati.  So don't wait!  Book your reservation at the Embassy Suites RiverCenter (pull-out couches and free breakfast for the win!), Aloft Newport on the Levee (kids love the Minecraft-shaped lights), or any of our other incredible hotels and get excited about your visit.  Be sure to tag us in your Instagram photos by using #NKYhasthis and enjoy your trip!