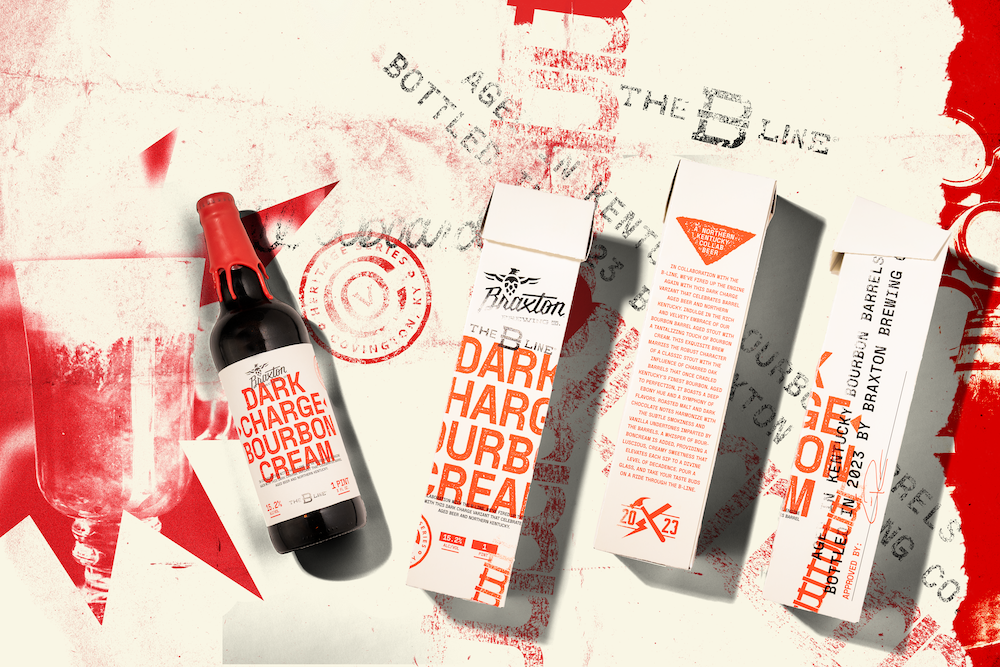 Braxton Brewing Co. Announces Details of Ninth Annual Dark Charge Winter Block Party
Showcasing community partnerships and new STAVE dinner: An immersive bourbon, beer and culinary experience
COVINGTON, Ky. (November 16, 2023) – meetNKY, the Northern Kentucky Convention and Visitors Bureau, and The B-Line®, a collection of Kentucky Bourbon Trail Craft Tour® distilleries and bourbon forward bars and restaurants in Northern Kentucky, have partnered with Braxton Brewing Co. for the brewery's famous Dark Charge event to celebrate the annual release of their Barrel-Aged Imperial Stout. The winter block party will take place from 11 a.m. – 11:00 p.m. Saturday, December 2, 2023.
For the past eight years, Braxton Brewing Co. has hosted this annual winter block party to celebrate the release of the brewery's barrel-aged imperial stout, Dark Charge. They also will launch several limited-edition Dark Charge variants, which will drop for online pre-sale beginning on Friday, November 17 at 12pm EST.
"Braxton takes great pride in being a Kentucky brewing company. Dark Charge, the company's Bourbon Barrel Aged Imperial Stout, is a love letter to Kentucky's unbridled spirit," said co-founder and CEO of Braxton, Jake Rouse. "That spirit is brewed into this massive dark Imperial Stout and crafted and aged in bourbon barrels, giving a lasting depth and character to the finish. This year, we are excited to partner with meetNKY and The B-Line on a one-of-a-kind seven-course dinner, STAVE, that will combine bourbon-infused dishes paired with New Riff bourbon and our variants."
New this year! STAVE: A Night in the Dark
On Friday, December 1 at 6 p.m., Braxton Brewing Co. and The B-Line® will host "STAVE: A Night in the Dark" to kick off the brewery's annual Dark Charge Winter Block Party. The 7-course, ticketed event celebrates the intersection of beer and bourbon by marrying the mastery of Braxton Brewing Company's Dark Charge Barrel Aged Imperial Stout and New Riff Distillery hand-crafted bourbon. STAVE is a celebration of the oak barrels that breathe life into the exceptional bourbon spirit. Attendees will indulge in seven courses from restaurants along The B-Line® including courses from Bouquet, Coppin's, Smoke Justis, Lisse, Rich's Proper and Pompilio's.
"This event is the perfect intersection of two of the many arts that our region has perfected – brewing beer and distilling bourbon," said meetNKY President and CEO, Julie Kirkpatrick. "The creativity of the business owners in our region is part of what continues to make the Northern Kentucky and Cincinnati region a top destination for visitors at a national level. Our team is excited to introduce fans of Dark Charge to the art of America's native spirit through this new, unique culinary experience highlighting some amazing stops along The B-Line. Plus! If you can't not join us for STAVE, we encourage event goers to stop by The B-Line® Bourbon Lounge Saturday!"
While the taproom will remain open, STAVE will take the place of the Block Party on Friday, December 1. Attendees of the inaugural event will be the first to taste the Dark Charge variants this year before they're released broadly to the public.
Each carefully crafted course will be paired with one of Braxton Brewing Company's Dark Charge Barrel Aged Imperial Stout variants and a signature New Riff Cocktail to elevate flavor profiles of each dish. Exclusive entertainment and behind the scenes offerings will be available to STAVE guests. Tickets are $195 and can be purchased here.
This Year's Dark Charge Variants
In 2023, Braxton plans to release seven variants of its beloved Dark Charge. So far, the brewery has announced and released for sale:
Cuvée - A Barrel Aged Dark Charge Imperial Stout, this is Braxton's base Dark Charge Imperial Stout features a blend of 2019, 2020, and 2022 vintages. Rich stone fruit aromas blend with coffee and roast notes. The bourbon barrel infusion adds smooth vanilla, toffee, and caramel, creating a harmonious, complex stout.
*FIRST EVER* Barleywine - A first of its kind, Dark Charge Barleywine embodies the essence of time-honored craftsmanship. Aged in freshly dumped New Riff bourbon barrels, this robust barleywine reveals a symphony of flavors from toffee to toasted coconut. A testament to patience and passion, it's a masterpiece of complexity and depth.
Bourbon Barrel-Aged Stout with Peanut Butter - For the first time, Dark Charge is infused with Peanut Butter! This Barrel-Aged Stout with Peanut Butter is a decadent delight, blending velvety stout aged in bourbon barrels with creamy peanut butter. This creates a dessert like experience that will leave you coming back for more.
Mole - Returning for the first time since 2019 and a fan favorite, this base barrel-aged stout gets a copious amount of cinnamon, ancho chilies, vanilla beans and cocoa nibs! These four ingredients pair together in perfect harmony with notes of freshly ground cinnamon, subtle heat from the chilies on the back palate, chocolate, and vanilla to round out notes of bourbon, oak, and the stouts roast.
Vino - Introducing Dark Charge Vino, our groundbreaking beer-wine hybrid. Marrying the richness of stout with California Cabernet Sauvignon, aged in Bourbon Barrels, it delivers a revelation of flavors. Malty sweetness meets fruity sophistication, harmonized by subtle bourbon undertones—an extraordinary blend for those seeking a unique drinking experience.
Donut Box - As exciting as the Sunday morning staple it received its namesake from, the 2023 Dark Charge Donut Box creates a nostalgic representation of your favorite donuts! Each Imperial Stout can is layered with flavors to mimic a Raspberry Jelly Filled, Boston Cream, and Chocolate Frosted donut!
*FIRST EVER* Bourbon Cream in Partnership with The B-Line® - Dark Charge Imperial Stout is blended with bourbon cream to create the perfect dessert stout. Aged for over a year, this stout boasts a deep dark hue and a symphony of flavors. Roasted malt and dark chocolate notes harmonize with the subtle smokiness and vanilla undertones imparted by the barrels. A whisper of bourbon cream adds a creamy sweetness that elevates each sip to decadence.
Entertainment Lineup
Dark Charge Winter Block Party not only offers a day of bourbon, beer but also live music featuring local touring artists. Guests should not miss headlining performances like Zeb South and the Ky Hotheads from 6 – 8 p.m. and Jeremy Short from 9 – 11 p.m. The full lineup includes:
DJ Jay Kay (Performing all day) DJ JK is an open-format DJ who has been playing to crowds for well over a decade now. With the help of his other DJs from JM Entertainment, he will be playing on the main stage in a special all-day set establishing a groove throughout Dark Charge Day.
Tracy Walker (3 – 5 p.m.) For more than 10 years, Tracy Walker has been at the forefront of Cincinnati's independent music scene. Walker's style sits at the crossroads of Folk, Rock, Country, Jazz and Blues. She released her first solo recording, NAKED to rave reviews.
Zeb South and the Ky Hotheads (6 – 8 p.m.) Zeb "Big Job" South, country singer-songwriter based in Lexington, Ky. pairs up with The Kentucky Hotheads to delight and entertain audiences.
Jeremy Short (9 – 11 p.m.) With an orange mustache, golden voice, and cherry red Gibson ES-335, Eastern Kentucky Space Funk artist, Jeremy Short, has quickly risen to the top shelf of must-hear players on the scene. Having garnered significant recognition for his masterful, yet seemingly effortless guitar playing Kentucky's Jeremy Short is one of the top 30 blues guitar players in the world.
Dark Charge-Infused Bites
To complement the theme of the event, Braxton worked with seven local food vendors to create food that leverages Dark Charge for attendees to enjoy. Food vendors include  Dewey's Pizza, The Well and Coppin's.
Dark Charge Winter Block Party takes place at Braxton's flagship location at 27 W 7th St in Covington, Ky. To learn more about the event visit: darkchargeday.com.
For more information on The B-Line® visit thebline.com. To learn more about meetNKY visit meetnky.com/.
# # #
About Braxton Brewing Company
Born in a garage, Braxton Brewing Co. has become an entrepreneurial obsession. Melding the age-old tradition of brewing beer and innovative new-age technology, dreams are born and fermented at Braxton Brewing Company. It is the hub where Jake and Evan Rouse showcase their passion for brewing beer. It's here, where the expert team holds every single pint of Braxton beer to the highest standard of excellence. And, like the garage of their past, the brewery is deeply rooted in the community of Covington, Kentucky. Braxton Brewing Company was also recently honored with Brewbound's prestigious Rising Star Award, and Braxton's own Evan Rouse was featured on Forbes 30 Under 30 Food & Drink list. Further amplifying Braxton's accomplishments, the brewery was highlighted on the 2020 Inc. 5000 list. 
About meetNKY
meetNKY drives quality of life and economic growth for Northern Kentucky through tourism marketing and destination development. Learn more at www.meetNKY.com.
About The B-Line®
First introduced in early 2018, The B-Line® was created to help capture the millions of bourbon-curious people who travel along I-75 or fly into CVG Airport annually to visit Kentucky's famed Kentucky Bourbon Trail®. As of 2023, the line is comprised of 7 craft distilleries, 9 bourbon bars, and 9 bourbon-centric restaurants. For more information on The B-Line® visit thebline.com.