Oh my goodness it is the most wonderful time of the year for Bourbon fans. Oh yeah, it means the Pappy is here. The Pappy is here!
What is this madness you ask? Well it is time for the annual release of one of the arguably most iconic brand names in Bourbon, Pappy Van Winkle. I am not gonna bog us down in the history of the brand because smarter people than me have done that over and over so if you are interested in learning about this gem, I am gonna ask you to scoot over here. Now every year folks lose their mind waiting and hoping and praying to be lucky enough to score a bottle from the yearly release. And folks that time is here. 
Don't get me wrong, this is some good stuff. A really fine wheated Bourbon but with a pretty pricey price tag. And that is even if you can find it. This is about as seriously hunted in this state as a NCAA Basketball Banner. It is not just about finding a store that has it....it is do you know the owner personally. Did you babysit for their children? Are you willing to lay out close to $500 for a bottle? 
I suggest you pass on Pappy hunting. Save yourself from the madness. Instead roll on up to one of our NKY Bourbon Bars like Prohibition or OKBB and plunk down the coin to try this monster of the industry. Owning a bottle of Pappy is the ultimate status symbol but I am pretty sure there are plenty of other great rides you can drink in NKY to get you to the finish line. 
One last thing before I go and this is probably one of the things I admire most about the Pappy brand.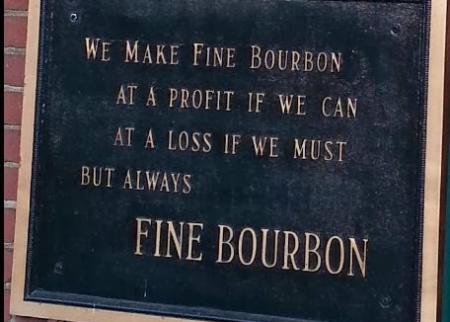 Check out this sign that used to hang at the distillery. I think it sums up all things awesome about Pappy. 
Happy Hunting, Happy Drinking and Happy Thanksgiving. Wherever you are enjoying, doing it like a Northern Kentuckian and be responsible. Cheers!