Discovering the Great Camp Sites of Northern Kentucky
Nestled in the heart of the Appalachian Mountains, Kentucky is a state of diverse natural beauty and rich history. From the rolling hills of the Bluegrass region to the rugged wilderness of the Daniel Boone National Forest, the state offers an array of unique and breathtaking landscapes that are perfect for camping. Northern Kentucky, in particular, is home to some truly unique and stunning camping spots. So, whether you're a fan of traditional tent camping, prefer the comfort of an RV, or want to try a more luxurious camping experience, NKY has something for everyone. From off-grid treehouses hidden deep in the forest to cozy lakeside cabins, we've rounded up the most unforgettable camping spots in Northern Kentucky. So, grab your camping gear, pack your bags, and get ready to explore the great outdoors in the Bluegrass State!
Searching for an adventurous camping experience? Look no further than EarthJOY Village's amazing treehouses. One of them was even featured on Animal Planet's show Treehouse Master. EarthJOY is nestled on 285 acres of lush land in Germantown, Kentucky, and offers three unique treehouse experiences, as well as a repurposed school bus for those seeking a different kind of adventure. The treehouses strike the perfect balance between glamorous and rustic, providing a true camping feel while still offering potable water and kitchenettes for cooking convenience. The Aliyah treehouse boasts a swinging bridge, a tree in the living room, a full kitchenette, and a patio with a roof. The Hickory offers sleeping space for two adults and up to four children, with a kitchenette, cooler, two-burner stove, and propane grill. Kids will love the slide and zipline! And if you're looking for even more excitement, you can add tree climbing classes to your stay! With options for beginners and aspiring instructors alike, there's something for everyone. Plus, there are over 20 miles of themed hiking trails to explore.
This unique camping location took the tenets of eco-friendly living to a new level. The Rustic Container is a shipping container turned glamping experience constructed entirely from reclaimed materials from the host's farm, making it an excellent choice for eco-conscious travelers. You'll have all the amenities you need for a comfortable stay, with a bathtub, sink, toilet, Wi-Fi, air conditioning, and even a fireplace. This cozy retreat is perfect for couples or small groups of up to three people. With 200 acres of land to explore, a creek for fishing, and a grill for cooking a delicious meal, you will surely have an unforgettable glamping adventure.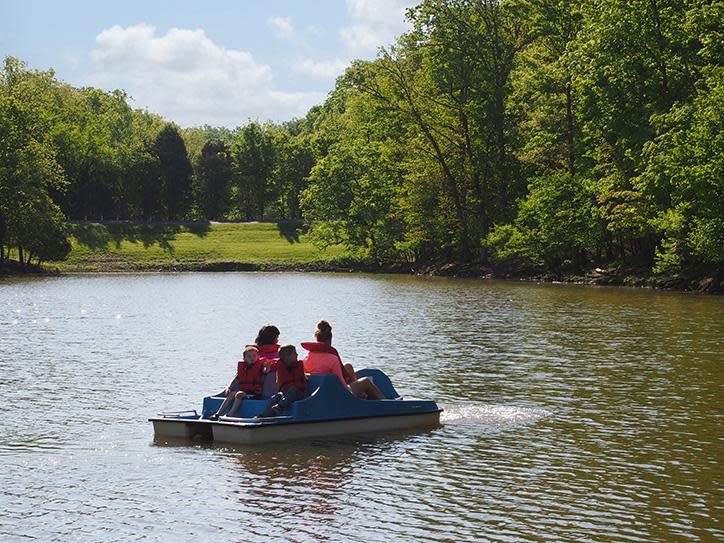 Kincaid Lake State Park offers a beautiful, family-friendly campsite just 50 minutes southeast of Cincinnati, complete with primitive camping and RV hookups. Each campsite is equipped with a picnic table, fire ring, and nearby restrooms with showers and laundry. Spend the day hiking on one of the park's two trails, or challenge friends and family to a lively game of mini golf. Pedal boats and kayaks are available to rent. The park's lake hosts a healthy population of largemouth bass, catfish, bluegill, sunfish, and crappie for those who want to cast a line. Campsites tend to fill up quickly, so it's best to call ahead and claim your spot before they fill up, especially during peak season!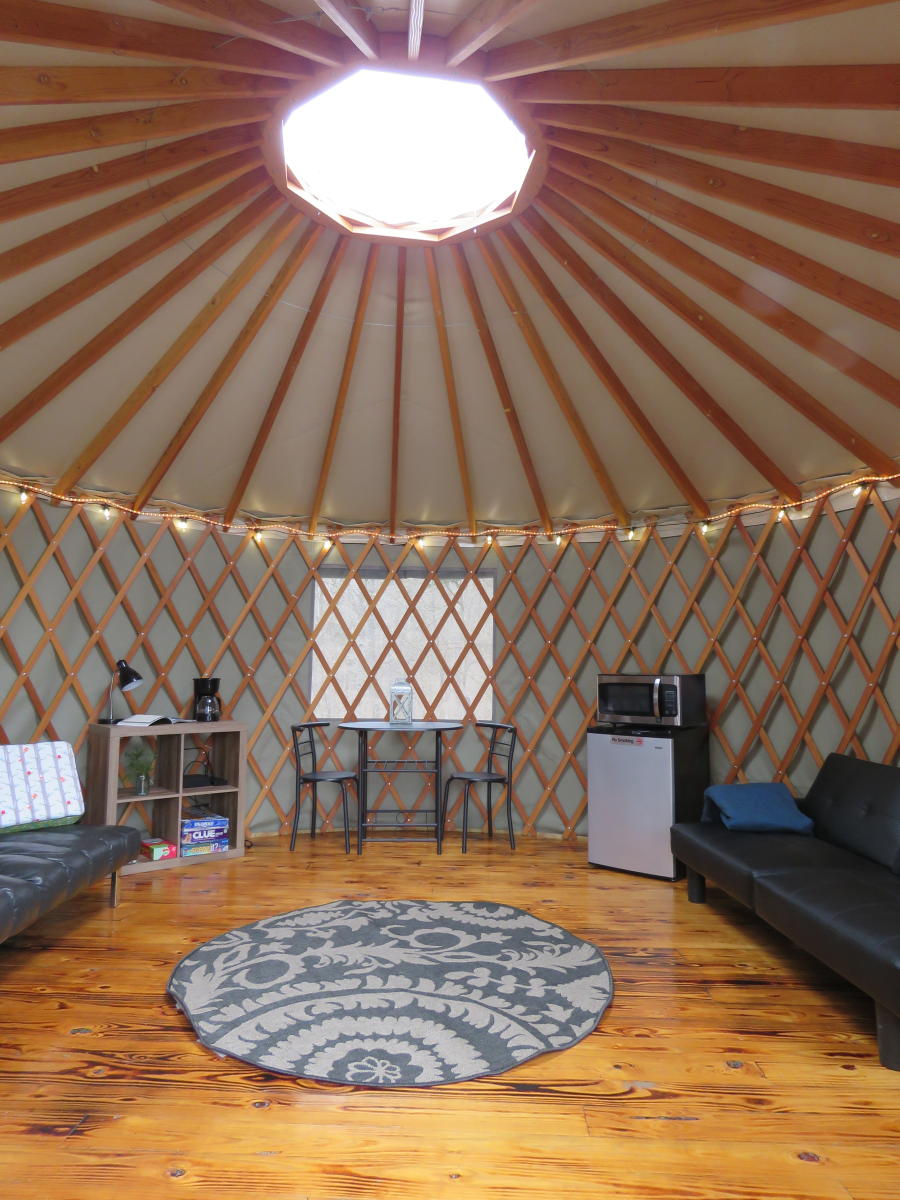 A.J. Jolly Park & Campground is an award-winning expansive 1000-acre park that boasts 89 camping spots and 5 cozy yurts for a comfortable outdoor experience. Many of the camping spots come equipped with water and electric hookups. The park features a stunning 200-acre fishing lake, perfect for anglers looking to reel in a big catch. For those who prefer to stay on land, there are horse and hiking trails to explore, as well as an 18-hole disc golf course and plenty of sports fields. Nature lovers will want to visit the Campbell County Environmental Education Center, located right in the park. This center lets visitors experience Kentucky's field, forest, and wetland habitats firsthand. The campgrounds are open from late March through the end of October, so there's plenty of time to enjoy all the park has to offer. And don't forget to check out the park's website for fun events happening throughout the summer, like dog shows, reptile zoos, movie nights, and more!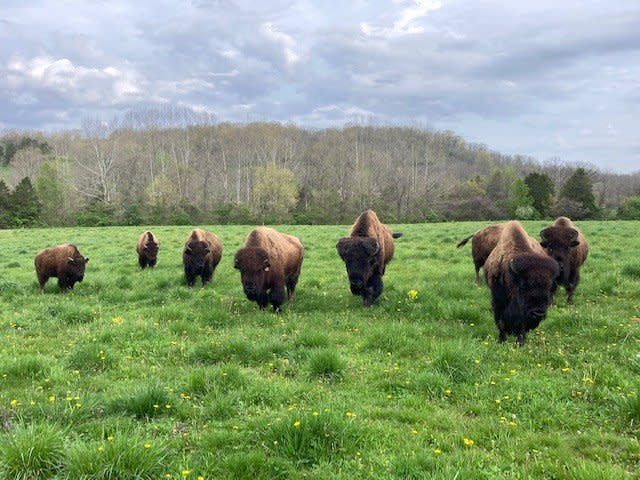 Enjoy a dose of history with your nature? Big Bone Lick State Park is recognized as the "Birthplace of American Vertebrate Paleontology." Scientists discovered the fossilized remains of giant mastodons, wooly mammoths, and ground sloths here in the mid-1700s. Now the park has an on-site museum displaying fossils and artifacts from the last 18,000 years. Meet the live buffalo herd during your visit or enjoy fishing in the 7.5-acre lake. The campground offers 62 campsites with utility hookups, grills, a playground, showers, restrooms, and laundry facilities. You can also enjoy special events from Memorial Day to Labor Day, including the annual Salt Festival.
Nestled in a serene pine grove beside the tranquil Winton Woods Lake, the Winton Woods Campground offers over 100 campsites with RV hookups and eight rustic cabins. Spread over 2,555 acres, this picturesque park has something for everyone. Enjoy an 18-hole disc golf course, horse trails, 2.6 miles of paved trails, and 1.1 miles of hiking trails. The campground is just a 30-minute drive to Kings Island amusement park, making it the perfect location for a day trip during your camping adventure. Make use of the reservable picnic areas and shelters, which offer Great Parks Catering for those hosting larger gatherings.
If you're looking to spend some quality time in the great outdoors this summer but camping isn't quite your thing, Northern Kentucky's parks have you covered. With a plethora of biking and hiking trails to explore, Devou Park offers a beautiful urban forest oasis just south of the Ohio River, complete with stunning views of Downtown Cincinnati, a golf course, and the Behringer-Crawford Museum. For even more adventure, check out England Idlewood Park, which boasts over six miles of mountain bike trails and offers plenty of family-friendly amenities like picnic tables, playgrounds, and soccer fields. And for those searching for the perfect venue for a nature-centered event, the Florence Nature Center is a must-see, surrounded by breathtaking trees and wildlife. So get out there and explore all that Northern Kentucky's parks have to offer.