How to Plan a Girls' Trip to NKY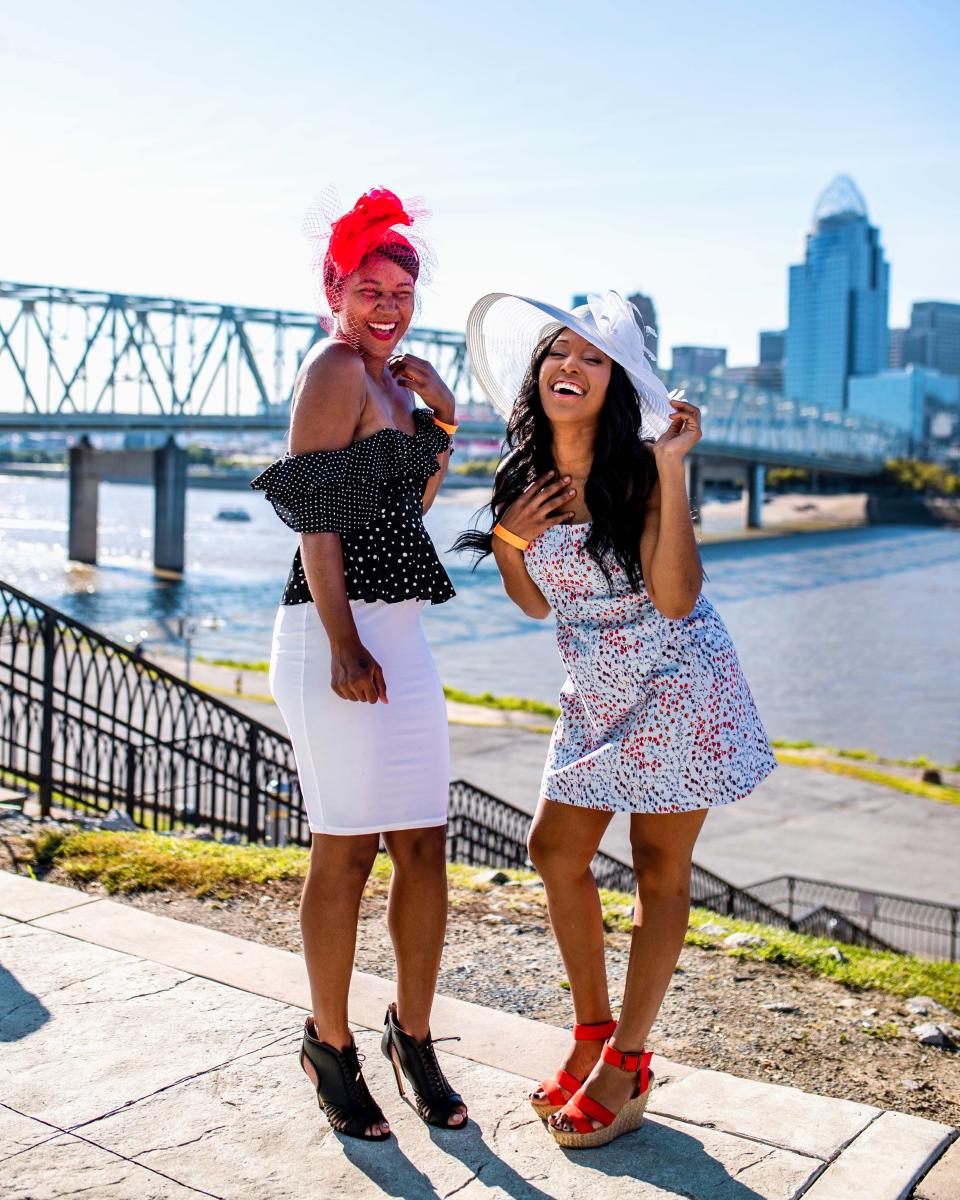 The view of the Cincy skyline as seen from Newport on the Levee. Photo: IG kaitskravings
Looking for an off-the-beaten-path location for your next Girls' Trip? Northern Kentucky has got you! Here's a helpful list:
Unique shopping? NKY has that.
Some of the best restaurants in the U.S.? NKY has that.
A fun, self-guided bourbon tour? NKY has that.
Gasp-worthy street art perfect for selfies? NKY has that.
Delicious brunches in lovely, local-favorite restaurants? NKY has that too.
Cincinnati skyline with BB Riverboats in Newport, Ky.
Plus, we have all the cultural attractions of Cincinnati, Ohio just a bridge-walk away across the Ohio river. And we're affordable and still under the radar enough so you can plan a trip knowing you won't be crushed by crowds!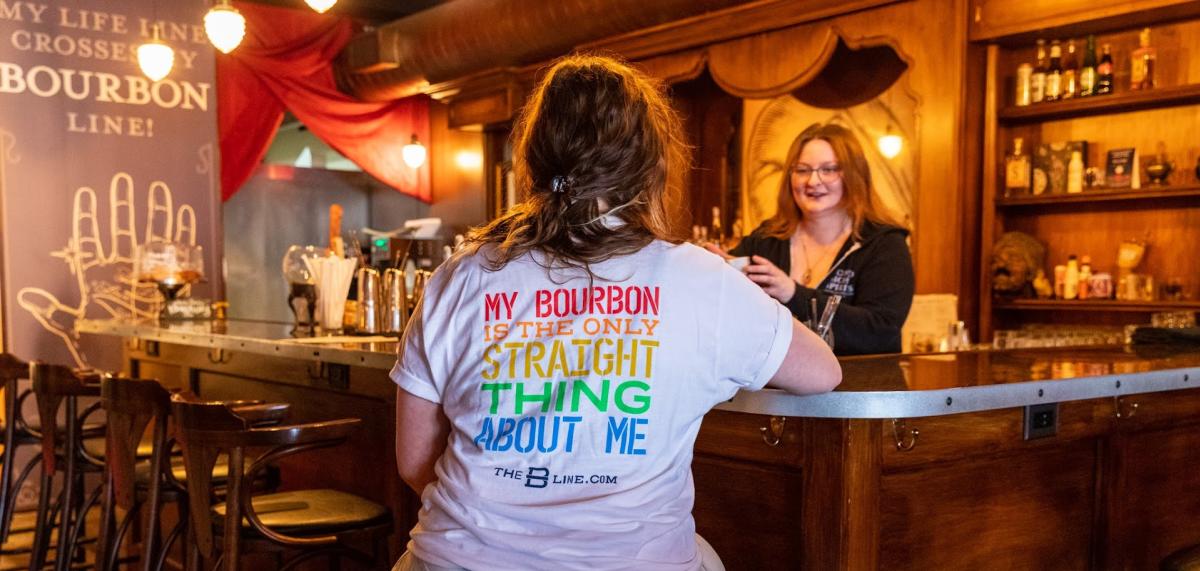 The bar at Second Sight Spirits in Ludlow, Ky. - One of the distillery stops on The B-Line
The B-Line® – NKY's Bourbon Tour
Northern Kentucky is not only an Official Gateway to the Kentucky Bourbon Trail, we also have our own self-guided bourbon tour – The B-Line. Consisting of restaurants, bars, and distilleries, The B-Line has something for everyone. If you visit two locations from each category and get your B-Line Line Guide filled out we will send you a free gift of your choosing, like a shirt, hat, or engraved whiskey glass. You don't even have to drink bourbon to do The B-Line, but it's worth a tasting.
Not only does NKY have world renowned bourbon, but our cocktail culture is also top notch. Locations like Juniper's Gin Bar and the bohemian Second Story offer a touch of elegance to your happy hour. For something a little more relaxed Nomad offers extravagantly topped milkshakes with or without a boozy kick and Frosthaus offers 9 different flavors of slushies with a variety of liquors. Mix and match to make your favorite!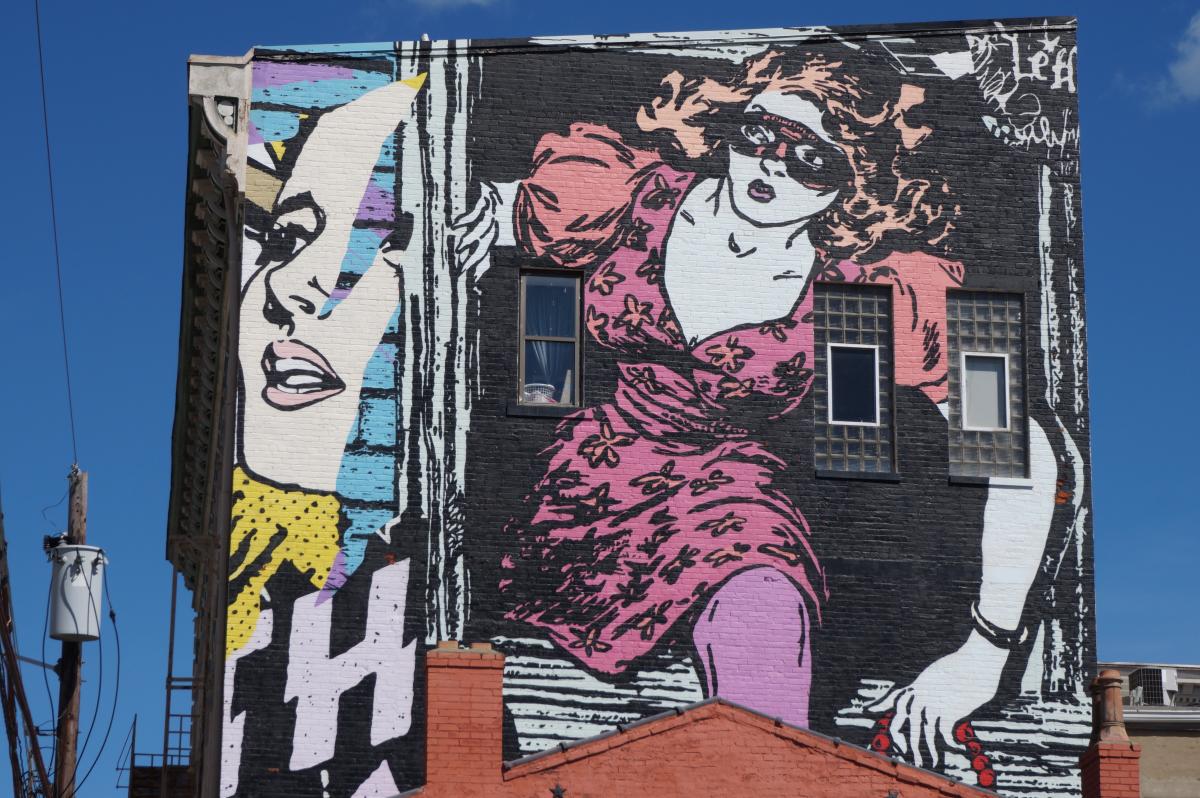 One of two street art murals by Faile - located on 6th St. near Madison Ave. in Covington, Ky.
Street Art in NKY
Northern Kentucky is home to many fun and exciting pieces of street art. NKY Art Tours has put together several self-guided walking tours such as the Riverfront Floodwall Mural Tour and the Covington Black History Tour. The Geocaching Adventure Lab app allows for self-guided scavenger hunts and tours, including the Mainstrasse Village Art Adventure. From entire building sides to small, hidden images, and underpass walls, there is something exciting and vibrant to see every block.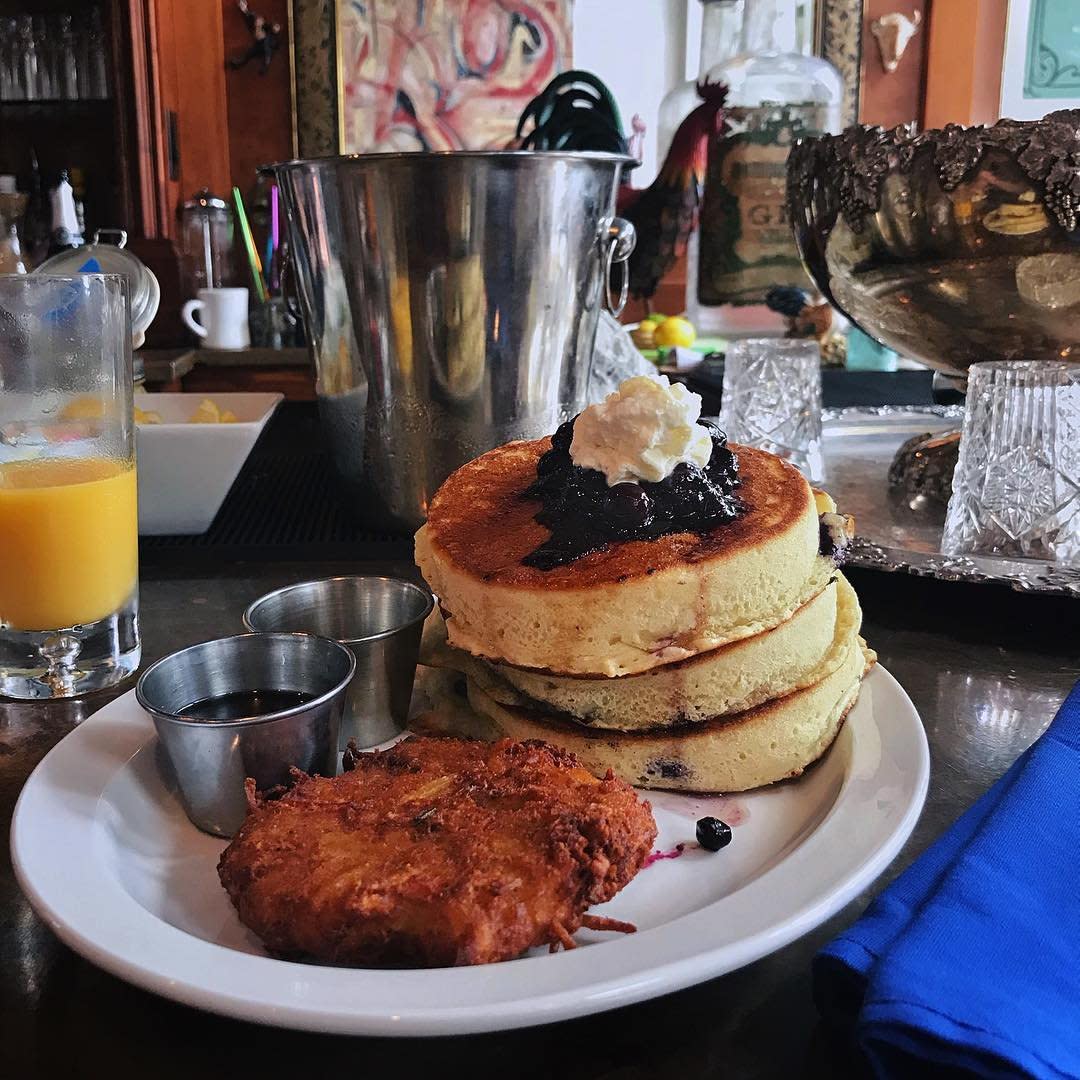 The lemon ricotta blueberry pancakes on the brunch menu at Otto's restaurant in Mainstrasse Village in Covington, Ky.
Local Brunch Faves in NKY
Start your day right with a delicious breakfast or brunch to fuel your girl's trip good times. We'll name just a handful of options. Yuca in Bellevue is a scratch kitchen offering upscale comfort food, or as they call it "one hour vacations", with a Latin twist. Otto's in Covington offers tantalizing treats like their lemon blueberry pancakes or the BLFGT (bacon, lettuce, fried green tomato) on croissant. Taste of Belgium in the Crestview Hills Town Center is known for their liege style waffles, but there are plenty other options, both sweet and savory, to fill your brunch plate. Pensive Distilling Co. offers a Sunday brunch including a bourbon vanilla french toast and a brunch bourbon cream iced coffee.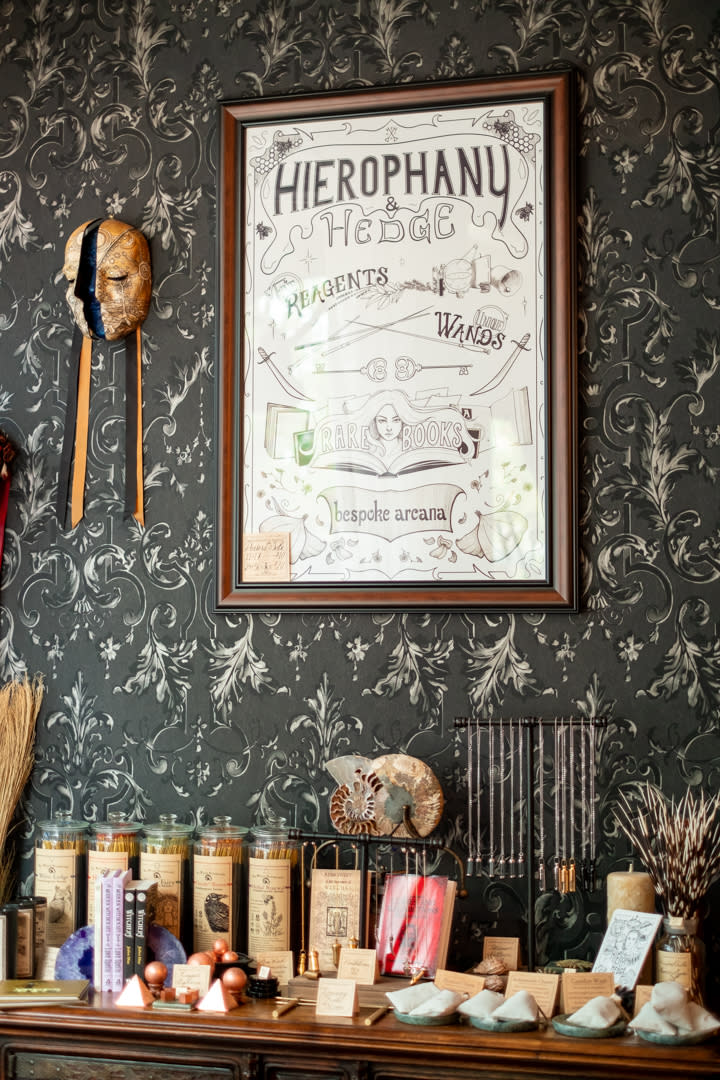 Inside Hierophany and Hedge, purveyors of bespoke arcana. Photo: IG readytostare
Unique Shopping in NKY
Are you the kind of traveler who hunts for unique spots treasured by the locals? If so, we have what you're looking for in Northern Kentucky. From the magic shop Hierophany and Hedge, pictured above, to soHza sister fair trade boutique, a women-owned business that partners with co-ops that help empower women in over 11 countries to art-filled shops like women owned Purple Paisley, Local Artisan Shop. The store is filled with a curated selection of local artists' work in a variety of mediums including fiber arts, photography, jewelry, ceramics, and so much more. Keeping with the artistic theme is Creative House of Art and Design, or CHAD, in Covington's Mainstrasse Village. Here you can find handcrafted earrings, laser cut plant stakes, magnets, cutting boards, coloring books, art supplies, and even a Secret Bar is in the back. For the nerd girls there's Earth to Kentucky, a "Y'allternative toy store and pop culture emporium." 
There are definitely too many cool, unique shops in NKY to list here. Check out our Northern Kentucky shopping page for more.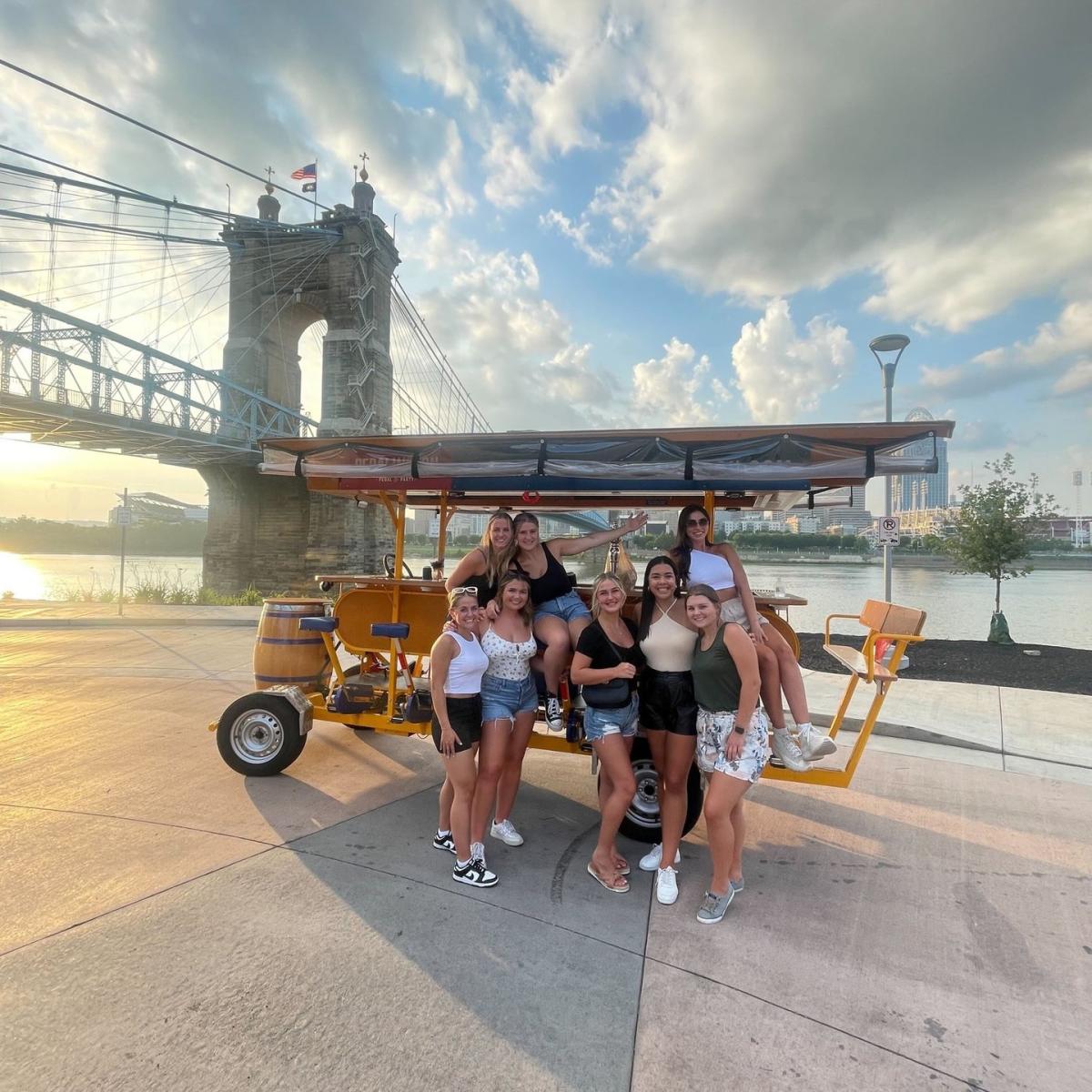 The Covington Pedal Wagon in front of the Roebling Suspension Bridge that connects NKY to Cincy
Bachelorette Parties in NKY
If you are getting all your girls together for 'one last fling before the ring' let Northern Kentucky be the destination for fun. A Pedal Wagon tour can seat up to 15 for a two-hour tour through Covington. These rolling celebrations offer tours around bourbon, a weekend brunch adventure, or work with them to create your own route. Other tour options include Riverside Food Tours' Mainstrasse Village Food Tour, or the self-guided NKY Art Tours. The Stained Glass Theater in Newport or the Carnegie Theater in Covington both provide opportunities for live theater in beautiful surroundings. If you want a more hands on activity then Flying Axes in Covington is a unique, affordable way to spend 1 or 2 hours. You can cap off your time by heading upstairs to Second Story, a funky, bohemian inspired cocktail bar.
Another unique local option is Hofbrauhaus Newport - the first Hofbrauhaus built in the U.S. authorized by the one in Munich, Germany. Hofbrauhaus offers German cuisine, beer brewed on-site that adheres to the Munich standards, live entertainment, and dancing on the tables.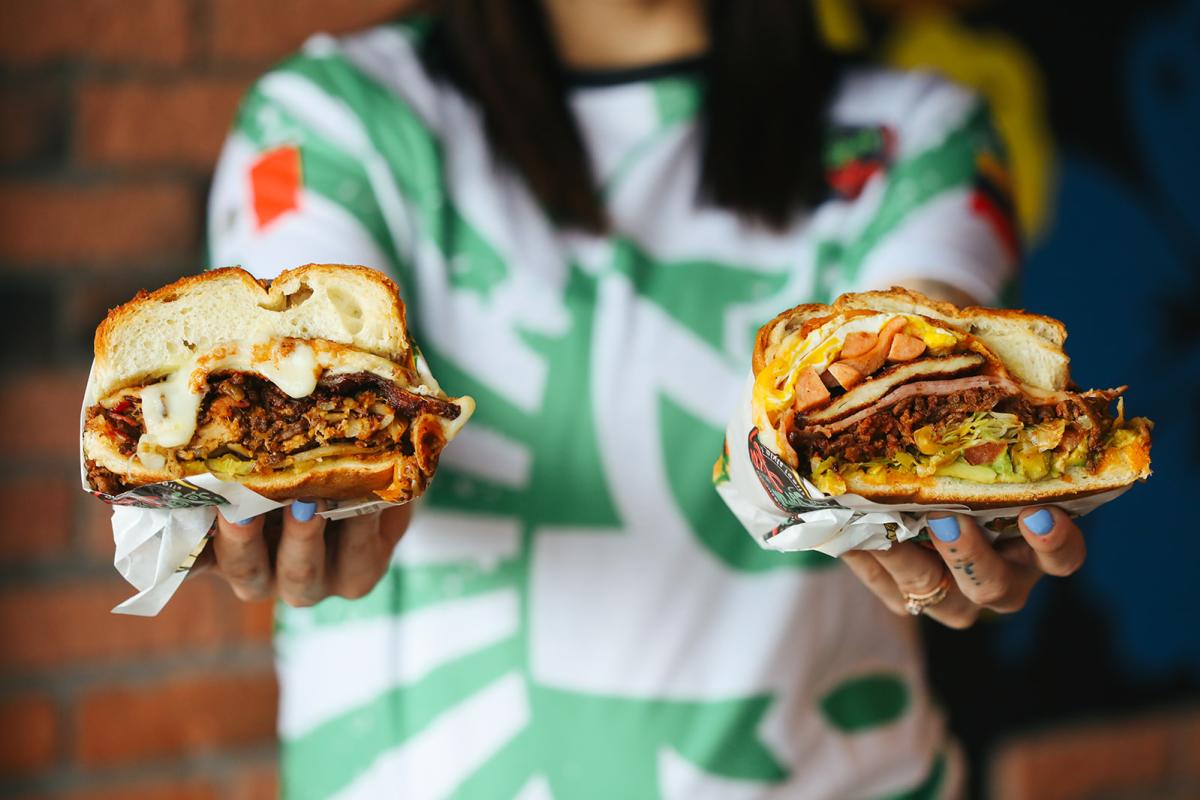 Tortas offered at La Torta Loca in Florence, Ky.
Restaurants in NKY – Hidden Gems 
Many visitors to Northern Kentucky are surprised to learn of the wide variety of award-winning cuisine available here—much of it locally owned. In fact, Covington, Ky. has the highest density of small business restaurants—owned and operated by a local family—in the Cincy Region. When you "eat local" in NKY you are truly experiencing unique plates unavailable anywhere else. To learn more about our amazing restaurants in Florence, Newport, and Covington, Ky.,  please visit our Restaurants Page.
With everything NKY has to offer, planning your next girls trip will be a breeze. Affordable or extravagant, food & drink or shopping & art, non-stop or easy like Sunday morning - NKY has it all available for you. Next, explore our lodging options to discover the perfect home base for your girls trip!