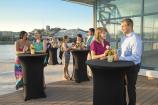 A recent article on meetingsnet.com focused on how to create and host more "purposeful meetings" by planning with solid outcomes in mind. That means meetings and events created with deeper meaning, innovation, and insight—from the very start. The article was very informative, suggesting that there are 5 areas where planners, event designers, and event marketers can focus their efforts to become more purposeful and to demonstrate competitive edge:
a better understanding of behavioral science
meeting and event design
creating CSR and legacy opportunities
building in health and well-being
leveraging technology
One thing I would add to this list is utilizing a great business partner. By this I mean someone you can work closely with who will assist you in making necessary connections, building the perfect itinerary, and even saving you money.
At meetNKY, we would love to be your business partner. I invite you to connect with our team and see how we can make your meeting more purposeful!
Have other ideas? Please share them in the comments section below – we would love to hear from you!