The weather has finally turned to spring in NKY and it's time to visit all the great local outdoor dining spots that have been on my to-dine list all winter long!  I grabbed a couple of coworkers and we headed across the bridge.  First up, Yard House.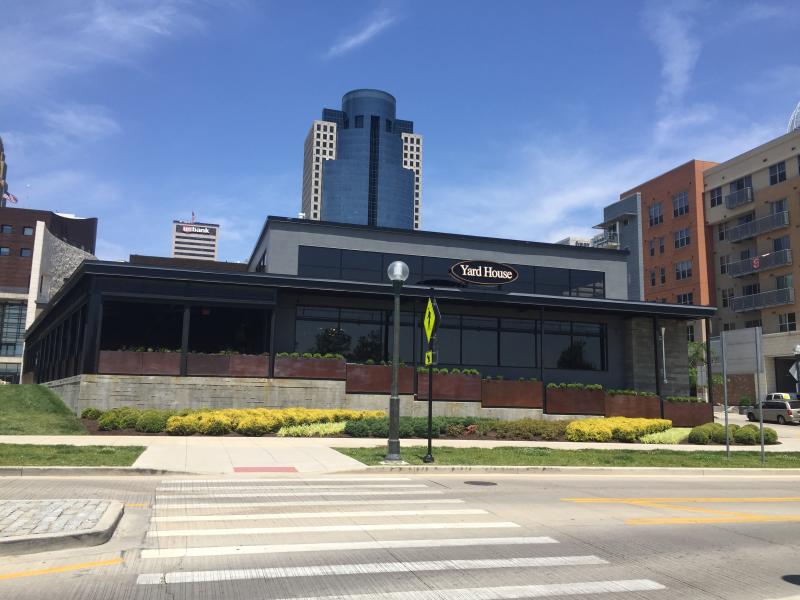 An anchor of The Banks and situated at the Cincinnati foot of the Roebling Bridge, Yard House is a super-quick, easy walk from the Northern Kentucky Convention Center, Marriott RiverCenter or Embassy Suites RiverCenter.  It's literally as close to Kentucky as you can get, plus you get to take in the beautiful scenery and learn a little history (check out the Roebling Murals) along the way.
We were promtly greeted by a couple of very welcoming, bubbly people at the hostess stand and were seated right away.  We decided we wanted to sit closer to the windows, so we asked to be moved and it was no problem.  Their outdoor patio has awesome views of the NKY skyline, the bridge, Carol Ann's Carousel and some great people-watching at Smale Park.  Plus, the patio is covered and has removable windows, so the view can be enjoyed year-round.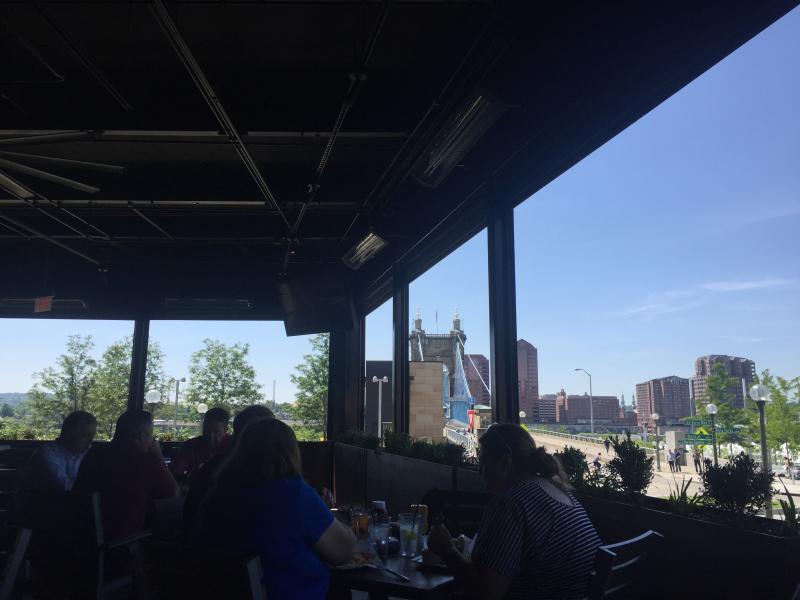 This was my first visit to Yard House, so I checked out the Yelp reviews before we left the office.  According to one Yelp reviewer, Yard House's truffle fries are "the best in the city," so we had to try them.  Although I haven't tried all the truffle fries the city has to offer, I will say these were very tasty!  The menu says they include parmesan and herbs.  I don't recall the herbs being so flavorful in other versions I've had, but the herbs in this version did a great job of accenting the parmesan without being too overpowering.  The flavors, mixed with the light truffle oil, were very complimentary.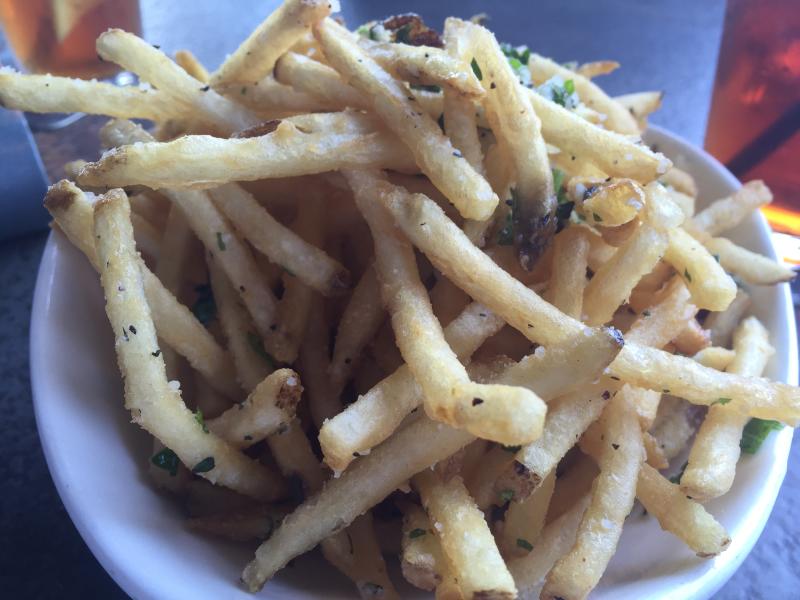 Moving on to entrees, our awesome waitress was very patient with us as we scoured the HUGE menu.  Not kidding when I say huge — they claim to have 100 items made from scratch daily and I believe it!  Our waitress recommended some personal favorites and was able to answer all of our questions while making us feel comfortable and treating us like we were her only table.  Since it was such a tough decision, the three of us all got meals from different categories of the menu and agreed to share so we could all try a little bit of everything.  Here are our selections: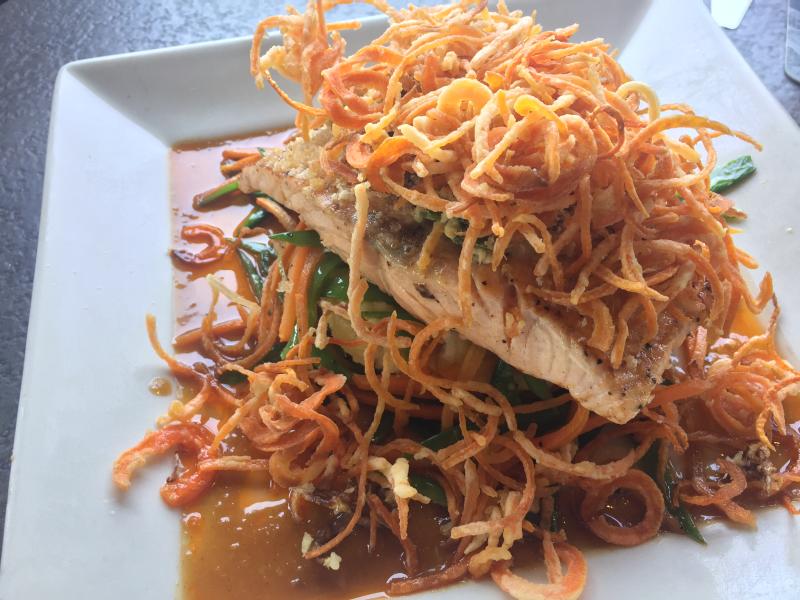 Ginger Crusted Norwegian Salmon with wasabi mashed potatoes, snow peas, carrots & spicy peanut vinaigrette.  Not my pick as I'm typically not a salmon eater, but I actually ate three bites, which means it was great!  The salmon was cooked perfectly — flaky & moist.  Mixed with the spicy peanut vinaigrette, it makes the tastebuds sing!  Going into it, we weren't too sure about the wasabi mashed potatoes, but they ended up being delicious.  The wasabi & ginger are well-balanced and give the mashed potatoes just enough kick and flavor to be memorable, but don't ruin the appeal of traditional mashed potatoes.  The snow peas and carrots added a nice crunch to this delicious dish.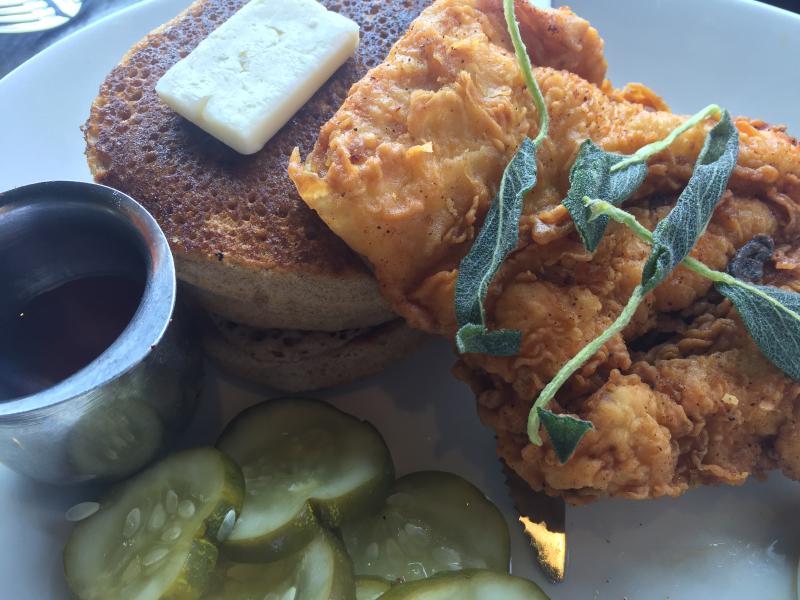 Nashville Hot Chicken with fried sage, sweet potato pancakes, pickles, ranch dressing & honey hot sauce.  With all the fad Nashville Hot Chicken restaurants popping up, we had to see what this hot chicken thing was all about.  I haven't had any other versions to compare it to, but this one was really good, though not as "hot" as I had expected... Perhaps some people use the honey hot sauce to spice up the chicken instead of using it on the pancakes.  Either way, the honey hot sauce had some kick and the chicken was definitely a bit more spicy than a traditional fried chicken batter, but I was actually surprised that it wasn't hotter.  It was, however, cooked to perfection and very tender & moist — just as chicken should be!  The sweet potato pancakes were honestly one of my favorite parts of the entire meal.  Almost crisp on the outside and moist and fluffy on the inside, the pancakes reminded me of fall and I think they'd also be great with some marshmallow creme drizzled on top.  Nashville's take on the chicken and waffle gets one word: yum!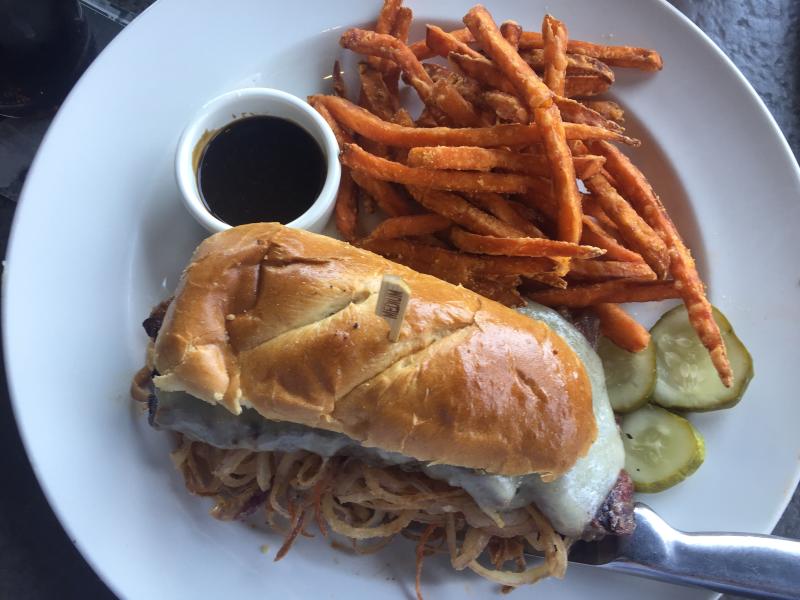 New York Steak Sandwich with swiss, fried onions, tomatoes, garlic aïoli, brioche & sweet potato fries.  Yum — this was cooked exactly to order, and the flavors all complimented each other nicely.  The portion was very generous and I enjoyed the sweet potato fries as much as the truffle fries.  I've found that sweet potato fries can be hit-or-miss, but these tasted very fresh (as opposed to frozen) and maintained the sweet potato flavor.  The brioche bun was perfect for this sandwich — not too hard, chewy or dry.  As for the cheese, I was so happy to see the generous portion as I'm a cheese lover!  This slice wrapped around the entire piece of meat.. toss some fried onions and garlic aïoli on top and you've got a party!  I ended up removing the tomatoes from the bottom half of the sandwich as a personal preference, but they were grilled and looked like good, quality tomatoes.  I am happy to report that the cut of meat on the sandwich was exactly how I like it —not too thick, not too thin and no gristles.  I've often seen restaurants use a less-than-perfect cut and cover it up in a sandwich, but that's not the case at Yard House.  The sandwich was also served with their house-made steak sauce, which was bold and flavorful and really enhanced the flavor of the steak.
With such a huge menu, there are tons of things I'd love to go back and try.  One thing in particular is Gardein, which is a chicken substitute made from soy, wheat, pea proteins, vegetables and ancient grains, meaning it's vegetarian and vegan-friendly.  They had 12 menu items listed in the Gardein section, including BBQ Chicken Pizza, wings, Blackened Chicken Torta, BBQ Chicken Salad and more.  If someone in your group is vegetarian or vegan, I think Yard House would be a great place to eat to give them as many options as possible.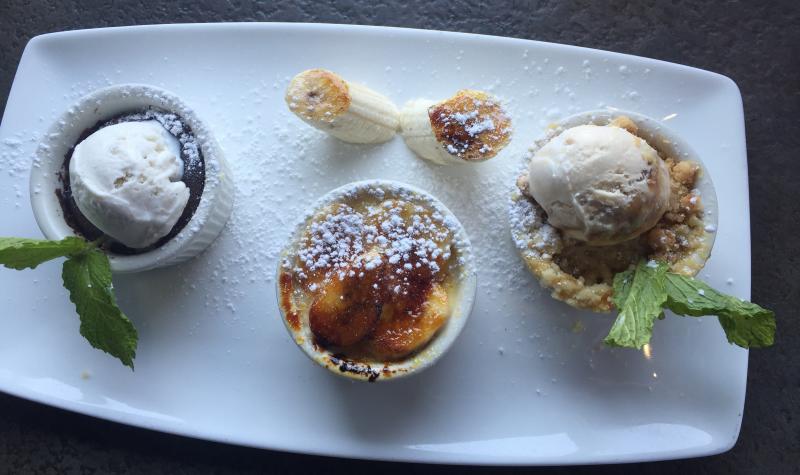 Since there were three of us, we decided on the Mini Trio Sampler for dessert.  It comes complete with crème brûlée, peach apple cobbler and chocolate soufflé cake.  What's not to like there?!  The portion was perfect to finish our meal and to share.  The chocolate soufflé cake was dense, rich and served warm with vanilla ice cream on top.  The crème brûlée's vanilla bean custard was topped with caramelized bananas that had a perfect crunch.  We were surprised that the bottom layer was a nest of chocolate chips — mixed with the other ingredients, it reminded me of a banana split!  The peach apple cobbler with caramel ice cream was the star of the trio.  Served warm with generous chunks of fruit and a nice buttery crumble... let's just say there wasn't a crumb left!
Our first Yard House experience was awesome — complete with excellent service and perfect al fresco dining.  It was just the ambiance we were seeking for a late spring day on the Ohio River. 
The inside of the restaurant also looked cool and the bar was stocked with TONS of selection.  Seriously, the drink menu is multiple pages and they have more than 100 beers on tap!  Their happy hour specials also looked great —awesome deals on both drinks and food — and they can accommodate groups of 30 or more, so I'm sure we will return soon.