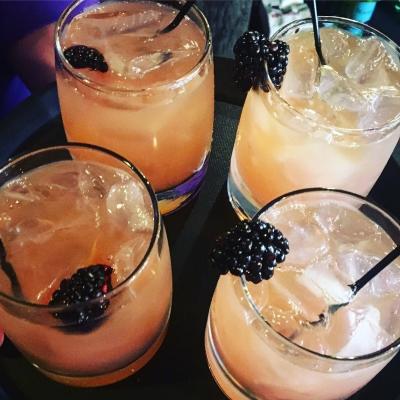 Without a doubt, summer is the perfect time to enjoy a Bourbon cocktail or any kind of cocktail in Northern Kentucky on our B-Line or at some other amazing NKY bars and restaurants.
Now a lot of you may be thinking Bourbon is a fall drink and I could not be happier to tell you that Bourbon should be enjoyed year round. Take a little trip along with me and let me show you some can't miss options in our amazing region.
Let's start at Wiseguy's Lounge, a super speakeasy in the heart of Covington's MainStrasse Village. This amazing Bourbon Peach Margarita will be super to cool you down while it wakes up your taste buds. And if you visit Wiseguy's, make sure you grab a piece of their amazing New York style pizza...best in the city.
Maybe an adult version of Iced Coffee is more your thing. Then slide on over to the Coppin's Bar at the Hotel Covington for their Bluegrass Iced Latte! This delicious bourbon coffee confection will sure get you in the mood to explore our amazing region and its bourbon history or maybe kick back on their outside courtyard and just soak up some sun.
Finally, I know there are some of you that have not yet made bourbon part of your go to drink experience and believe me I understand. There are plenty of options in plenty of places in Northern Kentucky for you to enjoy as well.
This lovely gem is part of the Sunday brunch offerings at Bouquet Restaurant in Covington. I cannot wait to enjoy this fresh cocktail and get the best day of the weekend started right, Sunday Funday!
Make sure to tag us at #meetnky or #thebline as you venture out to enjoy all these amazing cocktails so we can see what's new and exciting. And of course as always, enjoy your cocktails like a true Kentuckian, responsibly! Cheers.