I think it's safe to say that the coronavirus pandemic has disrupted life as we know it.  COVID-19 was a term many of us hadn't heard of until a few weeks ago, but it has suddenly restricted our jobs, our schools, our travel, our social lives, and our eating. 
Thankfully, many of our restaurants are still able to offer carryout, delivery, or curbside pickup meals so we don't have to go long without satisfying our tastebuds with something other than our usual rotation of home-cooked meals.  If you're looking for a full list of local restaurants and what they have to offer during this time, check out our list here.  And if you're like me and feeding a family of several hungry mouths, keep reading to check out some of the local family-style meal options.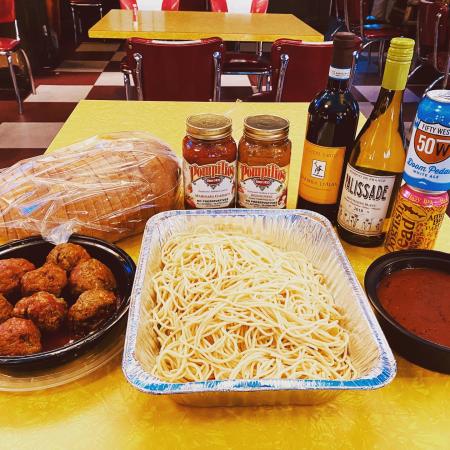 During uncertain times it's good to have a go-to like Pompilio's that's a sure, familiar win for dinner.  Their family meal deal includes a choice of pasta (spaghetti, penne, rigatoni or fettuccine), choice of sauce (marinara, meat sauce or alfredo), choice of protein (six meatballs or chicken for four), salad with Italian dressing for four, and two cannoli -- all for only $30!  Plus, they have other menu items available and other specials depending on the day of the week.  Be sure to check out their facebook page for the most up-to-date information.
Lou Lou's, located in Alexandria, is fairly new to the restaurant scene, so I'm sure they could use a little extra love during this tough time.  And they're offering some amazing family meals available for carryout--all which have gotten rave reviews from diners on their facebook page.  I cannot wait to try them out!  Some of their family-style meal offerings have included chicken salad, meatloaf and all the fixin's, in-house made soups, chicken parmesan, and more, plus family breakfast specials.  Their menu changes daily, so be sure to check their facebook page for the features.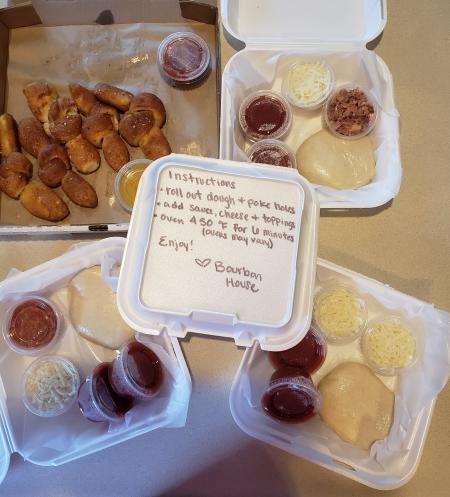 Pizza is always a family meal, right?  But Bourbon House Pizza has taken it to the next level by offering make-your-own pizza kits!  An activity for the kids to do and dinner in one awesome package.  Each pizza kit comes with one small pizza dough.  Cheese pizzas are $6 and additional toppings may be added for an additional $1 each. Be sure to check facebook for other deals at Bourbon House Pizza.
Guys, Mackenzie River's "Quarantine Kits" are genius.  The meal itself changes daily, so check facebook for updates, but today's example is 1.5 pounds of pulled pork, four Brioche buns, potato salad or mashed potatoes, slaw with dressing, BBQ sauce, pickles, two house salads with choice of dressing--all for $30.  They also give you the option to add a 6-pack of beer for $8, two Mack Lovins for $8, or two cheesecakes with strawberry sauce for $9.  Other $30 kits have included a Taco Tuesday deal, burgers and fixin's for four, meatloaf, pastas, and more.  And if that deal isn't enough, they're also running BOGO free pizza deals!

Southern comfort food may be just what your family needs during this uncertain time.  So check out the family style fried chicken at Libbys:  eight pieces of chicken, six sides, and biscuits all for $26.95.  They also have fish and chips on Fridays during Lent and don't forget the incredible oatmeal cream pies!  We've blogged about Libby's before in case you need more menu inspiration!  Check their facebook page for the most up-to-date information.
Colonial Cottage
Again, it's comforting to have a familiar meal during uncertain times, so don't forget to check out the family meal deals at Colonial Cottage.  Check their facebook page since the menu changes daily, but right now they have a 4 for $40 Family Deal, which includes meatloaf, green beans, mashed potatoes, and choice of rolls, biscuits, or cornbread.  If you're not in the mood for the daily family deal, they have some other specials including $5 cheeseburgers or $8 ribeye steak sandwiches.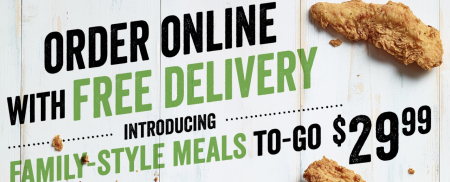 O'Charley's
If you live near an O'Charleys, definitely check out their $29.99 meal deal offerings, which are designed to serve six people.  Some examples of the options include 24 chicken tenders and two family-size side dishes, chicken alfredo pasta with salad and rolls, chicken parmesan with salad and rolls, southern fried chicken with two side dishes, and more.  Visit their website for more information. 
Now enjoy eating some tasty family meals and stay healthy at home!