2019 marks the 43rd year of this free Cincinnati and Northern Kentucky festival that bids farewell to another fun summer. We celebrate on Labor Day weekend, which falls on Sunday, Sept. 1, with great music—both live and on WEBN, of course!—family fun, friends hanging out on the scenic banks of the Ohio river, and the world-famous Rozzi fireworks display. The fireworks at Riverfest are scheduled to begin at 9:07 pm.
When to Head to Riverfest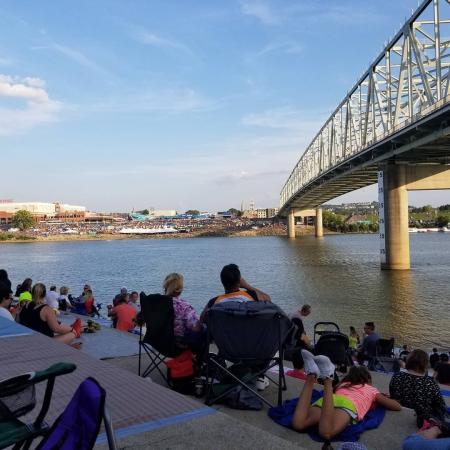 On Sunday, Sept. 1, live entertainment starts at noon on both sides of the Ohio River and you can find a variety of yummy food and drink available. There are many parking lots, as well as some street parking, but this is an extremely popular event, drawing more than 200,000 people, so it's a good idea to arrive on the early side.
If the thought of driving amidst more than 200,000 of your closest friends has you second-guessing your plans, don't fear!  We suggest checking out the TANK park & ride service available.  Park your car at NKU and hop on a TANK bus for only $6 round trip.  You'll be dropped off in the center of the action at the Newport flood wall.  With shuttles running every 10-15 minutes, TANK is a great efficient option to get downtown without having to worry about parking.  More info about TANK's Riverfest service can be found here.
Special Viewing for the Fireworks
If you'd rather not join the happy throngs along the riverbanks, there are ticketed viewings available. You can still get tix to the Purple People Bridge's fundraiser VIP event, Boom on the Bridge!  It features one of the best views on the Ohio river--you'll get to see the fireworks up close, from the Kentucky side of the bridge. It is a once-in-a-lifetime chance to truly enjoy the display up close and personal.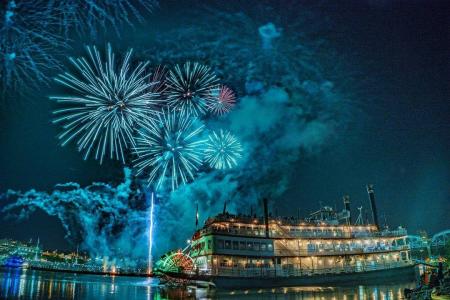 Photo: Dave.Film on Instagram
Another popular option is to take in the show from the river itself, on one of the riverboats from BB Riverboats or Celebration Riverboats.
This year there is an exciting addition to the BB Riverboats Fireworks offerings. The new riverside event center, River's Edge, is offering a VIP experience for the 2019 Boom on the River. Enjoy a first class viewing party including hors d'ouvres, dinner buffet and gourmet dessert offerings when the fire works start. The experience is from 5 p.m. - 10 p.m. and the tickets are $140 per person and will go fast. Get your tickets here!
Have fun choosing how to view the jaw-dropping fireworks (tag your pics #NKYhasthis on insta!) and enjoy one more summertime festival in Cincinnati and NKY!  Head on over to the hotel section of our website to make reservations and join us for the best Labor Day weekend party!