meetNKY, AlloyFX and the City of Covington Partner on "Out of This World" Art Installation to Kickoff National Travel and Tourism Week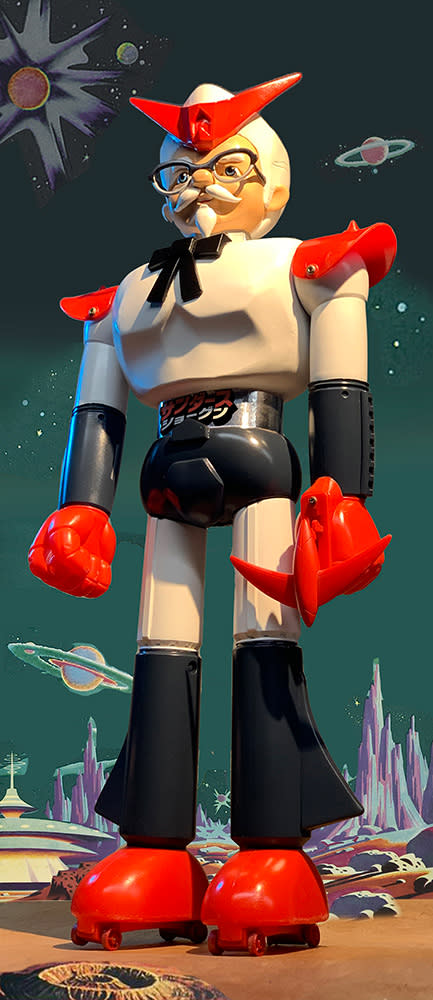 COVINGTON, Ky. (May 9, 2023) – Attention all art lovers: meetNKY and the City of Covington are joining creative forces to bring a very unique art installation to Covington this summer.
Just in time to kick off National Travel and Tourism Week's 40th anniversary (May 7–May 13), meetNKY announces the impending arrival of "Clive", an "out-of-this-world" experience, unlike anything Northern Kentucky has seen before. "Clive" is just one of a dozen unique art installations born out of Covington's Quality of Place grant program, which seeks to "creatively enhance the physical appearance of the city's business districts" via public art and other creative elements that enhance fixtures such as benches, bike racks, etc.
"As events like BLINK have recently shown, our region has attracted attention as a key player in creating innovative artistic expressions and immersive experiences for visitors," says meetNKY President and CEO Julie Kirkpatrick. "Clive's arrival, which we're keeping a bit of a secret for now, and the projects that follow him are destined to turn that attention into foot traffic for other businesses in Northern Kentucky. Covington's investment in the arts encourages local talent to pursue their craft here and also showcases the prowess of our arts scene to those outside of the region."
Created by Covington's own AlloyFX, "Clive" is a fiberglass and Styrofoam sculpture that will occupy the Midtown Parking Garage at Fifth and Scott Streets. meetNKY partnered with the organization to provide additional funding specifically for the "Clive" installation.
Also joining him on display this year will be "Shogun Sanders," a mural inspired by Japanese culture and the Commonwealth's most famous chicken mogul at Earth to Kentucky's home at 863 Main Street. A mural with 3D elements will constitute "Immersion Alley" on either side of Tobacco Alley, while "Go with Glow" will activate the intersection at Greenup and Third Street with benches, planters and more in a highlight of all things bicycles as envisioned by "Go with Glo", a group of local bike advocates, in partnership with The Center for Great Neighborhoods.
Each grant recipient was able to request $1,000–$30,000 for their project, the totality of which comes from an allocation of $125,000 for the program from the City of Covington's General Fund. Due to the number and quality of applications received, an additional amount of money close to $100k was set aside from American Rescue Plan Act (ARPA) funds for the project.
Each of the twelve installations will be installed beginning this spring with all to be completed by the end of this year. Travel serves as a key economic driving force in the Northern Kentucky and Greater Cincinnati region, powering some 12,000 jobs locally in 2022. The installations are primed to bring curiosity and capital to Covington and surrounding communities.
City of Covington Economic Development Director, Tom West, says the project has the potential to create new landmarks and serve as a catalyst for more cultural investments to come.
"Covington continues to attract new companies, residents and visitors to Northern Kentucky, in large part because of the economic investments being made at local, state and federal levels," says West. "We are embracing the qualities that make this the 'bold side of the river,' and these art installations will serve as a canvas for our artists to showcase their creativity while inspiring visitors to our city."
To learn more about meetNKY, visit meetnky.com.
Photo credit: A concept rendering of "Shogun Sanders," a mural to be painted at Earth to Kentucky by Kentucky-born artist Jonathan Queen. Queen's public murals and work, which include "Fresh Harvest," "Carol Ann's Carousel" and "Cincinnati Toy Heritage," are featured prominently throughout downtown Cincinnati.
# # #
About meetNKY:  
meetNKY drives quality of life and economic growth for Northern Kentucky through tourism marketing and destination development. Learn more at www.meetNKY.com.
About City of Covington:
The City of Covington, the "bold side of the river," offers small-city charm and big-city benefits. Learn more at www.covingtonky.gov.