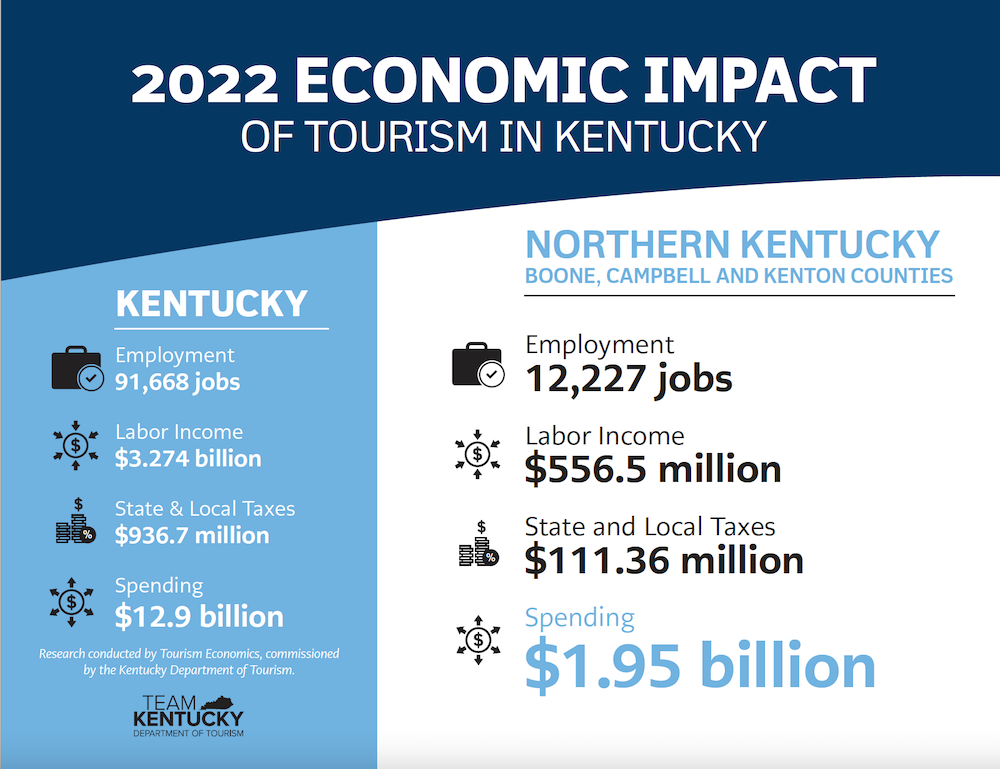 Gov. Beshear: Tourism Industry Celebrates 2022 As Best Year On Record For Economic Impact
Kentucky Tourism generated $12.9 billion in economic impact and 91,668 jobs in 2022
LEXINGTON, Ky. (Aug. 8, 2023) – Gov. Andy Beshear today announced that 2022 was the best year on record for Kentucky tourism, with $12.9 billion generated in economic impact and 91,668 jobs. The Governor joined state tourism leaders at Lexington's Crank & Broom Craft Ice Cream in the city's Distillery District to celebrate the record-breaking year, which saw visitation surpass pre-pandemic volumes.
"Tourism is essential to Kentucky and that is why I have made it a priority to support this industry. It's thrilling to see our hard work pay off in such a historic way," said Gov. Beshear. "From horse country and outdoor adventure to history, arts, culture and our world-famous bourbon, Kentucky has a little something for every traveler – but what really sets us apart is the hospitality and kindness of the hardworking Kentuckians in this industry."
In 2022, 75.9 million travelers visited Kentucky, spending $8.9 billion across the commonwealth, according to a study by Tourism Economics. More than $937 million in state and local taxes were generated, equating to a $536 tax savings for every Kentucky household. Total visitation reached 103% of 2019 volumes, and visitor spending reached 112%.
"What an incredible achievement for our tourism industry: record-breaking numbers of visitors, jobs and tax revenue in 2022," said Tourism, Arts & Heritage Cabinet Secretary Lindy Casebier. "These numbers underscore the economic benefits of tourism and the importance of investing in our local communities. The investments made by Gov. Beshear have paid off and will continue to pay dividends across the commonwealth. Every community in Kentucky offers a unique experience for travelers, and we are proud to support them in their efforts."
"We are thrilled to see such a strong return to travel in 2022," said Mike Mangeot, commissioner of the Kentucky Department of Tourism. "We look forward to building on this momentum as we begin putting the American Rescue Plan Act (ARPA) funding to work in communities across the state and truly making the most of this opportunity, reaching more prospective visitors than ever before."
The 2022 numbers surpassed the previous highest record of $11.8 billion in economic impact in 2019, and 91,668 jobs.
Communities across Kentucky saw historic numbers, including Fayette County which reached $1.5 billion in total economic impact, generating 11,209 jobs.
"Travel and tourism in Lexington is booming, in part due to the tremendous support of Gov. Beshear," said Mary Quinn Ramer, president of VisitLex. "Tourism not only provides meaningful employment to more than 11,000 locals, but it also drives strong quality of life for our locals and adds economic vitality to our city. We are pleased to celebrate such strong post-pandemic tourism numbers for our city."
Crank & Boom, an award-winning Lexington business specializing in craft ice cream, has experienced ongoing growth and CEO Toa Green credits Kentucky's strong tourism industry.
"We are so thrilled about the record growth in tourism for Kentucky and especially Lexington! It has been a difficult few years for our industry and to see it come back with a bang is exciting but not a surprise," Green said. "People are traveling in droves and we're excited that they are choosing our hometown to visit. We are grateful for Gov. Beshear and his administration's efforts to help small businesses through times of crisis and celebrate our comeback in times of growth."
To see the full study from Tourism Economics, click here.
Kentucky's impressive economic recovery over the last three years is a direct reflection of the Beshear administration's continued investments in the tourism industry. Last July, Gov. Beshear announced $75 million in ARPA funding to boost the state's tourism industry and economy following the decline in visitors brought on by the pandemic.
Throughout the pandemic, the commonwealth has invested more than $13 million in the tourism industry to strengthen promotional and advertising efforts and to encourage safe travel to Kentucky through the development of new marketing campaigns.
Previously, the Governor dedicated $5.3 million in federal funding to 103 tourism and destination marketing organizations in 88 Kentucky counties.
Gov. Beshear recently announced that his administration secured the largest General Fund budget surplus and Rainy Day Fund, as well as the most jobs filled in state history.
The General Fund budget surplus at the end of fiscal year 2023 was more than $1.55 billion. Nearly all of the $1.55 billion surplus will go into the commonwealth's Rainy Day Fund, bringing the fund to a record balance of $3.7 billion – a 2,700% increase since Gov. Beshear took office in 2019.
Gov. Beshear also announced an increase of 6,400 jobs filled, bringing the commonwealth to 2,015,600 filled jobs in June. That is a record number of nearly 60,000 more jobs filled than before the pandemic.
This year, the Governor announced that Kentucky set the record for the longest period with the lowest unemployment rates in state history. On May 18, Gov. Beshear announced that Kentucky set a new historic low unemployment rate of 3.7%, which is the lowest rate ever recorded in the commonwealth.
Since the beginning of his administration, Gov. Beshear has announced more than 870 private-sector new-location and expansion projects totaling approximately $26.8 billion in announced investments.
The robust job creation has been accompanied by rising wages across the commonwealth. The average incentivized hourly wage in 2022 was $26.78 before benefits, the second-highest mark since 2010 and an 11.5% increase over the previous year.
The Governor also secured the best two-year period in state history for economic growth and announced the two largest economic development projects in state history. In September 2021, Gov. Beshear and leaders from Ford Motor Co. and SK On celebrated a transformative $5.8 billion investment that will create 5,000 jobs in Hardin County. In April 2022, the Governor was joined by leadership at AESC to announce a $2 billion investment that will create 2,000 jobs in Warren County. These announcements solidify Kentucky as the EV battery production capital of the United States.
Over a two-month period this year, Kentucky secured two credit rating increases from major agencies. On May 12, Gov. Beshear announced that his administration obtained the first state-level credit rating upgrade in 13 years and the first-ever upgrade from Fitch Ratings. On June 29, Gov. Beshear announced the commonwealth received its first-ever rating increase from S&P Global Ratings.
Site Selection magazine recently placed Kentucky first in the South Central region and top-5 nationally in its 2023 Prosperity Cup ranking, which recognizes state-level economic development agencies for their success in landing capital investment projects. The publication also placed Kentucky second nationwide and first in the South Central region for its annual Governor's Cup ranking for 2022, which recognizes state-level economic success based on capital investments.
For more information and to view the full economic impact report, please visit: kentuckytourism.com/industry.
For the latest Tourism, Arts and Heritage Cabinet updates, follow the cabinet on Facebook, Twitter, Instagram or LinkedIn. To learn more about tourism and arts in Kentucky, visit tah.ky.gov.