Northern Kentucky is the perfect place to start any Kentucky Bourbon adventure. Comprised of the 3 major city areas of Florence, Newport, and Covington, Ky., NKY is strategically situated at the top of the state with a heavy dose of our own sassy bourbon culture. Our NKY region is a gem on the Ohio River, across from Cincinnati, and is a perfect starting place to experience Kentucky and the world famous, Kentucky Bourbon Trail. It's also home to its own NKY Bourbon Tour-- The B-Line. 
Getting to Northern Kentucky
First things, first. Let's get you to Northern Kentucky! If you are driving down to visit with us, it is an easy drive down I-75 or I-71 from north of Kentucky or a straight shot up I-75 from the south!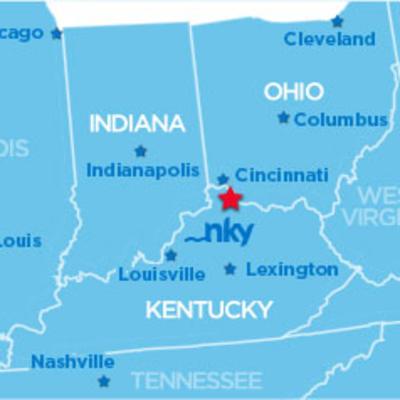 It is even easier to fly and see us. CVG Airport is a quick flight from many cities and with great service from Delta, Frontier, Allegiant and Southwest Airlines. However you get here, plane, train, car or bike, we know it is an easy trip to spend some time with us!
Staying Here
Once you find yourself in Florence, Newport, or Covington, aka Northern Kentucky, we recommend that you make one of our bourbon hotels your base of operations. The Hotel Covington is a a true design boutique hotel that would be ideal to spend some time in downtown Covington. 
Another wonderful option in NKY is the Aloft at Newport Levee. This ultra hip hotel is located at the Newport Levee, a hub for dining and entertainment options when you are not enjoying all the bourbon distilleries and venue in region.
Savoring Here
Above all, you are here to enjoy some bourbon, right? Scoot on over to our Bourbon Bars & Distilleries page to learn all about the delicious bourbon experiences you can enjoy in Northern Kentucky.
But did we mention how close you are to the official Kentucky Bourbon Trail? So close in fact, we're an Official Gateway to the Kentucky Bourbon Trail®! It is an easy hour drive to four of the major distilleries on the Trail and makes a great day trip into the heart of Kentucky before you return back to Northern Kentucky to spend your evening. There are nine stops in all on the world famous Kentucky Bourbon Trail and it is very easy to knock out four in your first short weekend stop-over. Come on, you know you want that T-Shirt!
Before you head back to your neck of the woods, make sure to stop in at Northern Kentucky's Party Source. Known as America's largest liquor store, this is a super place to find your own piece of Kentucky's amber gem to take home. 
So get ready and make some plans to head on over to Kentucky. A perfect start to a long weekend and an experience that will stay with you.
Hope to see you soon and make sure to enjoy responsibly! Cheers!