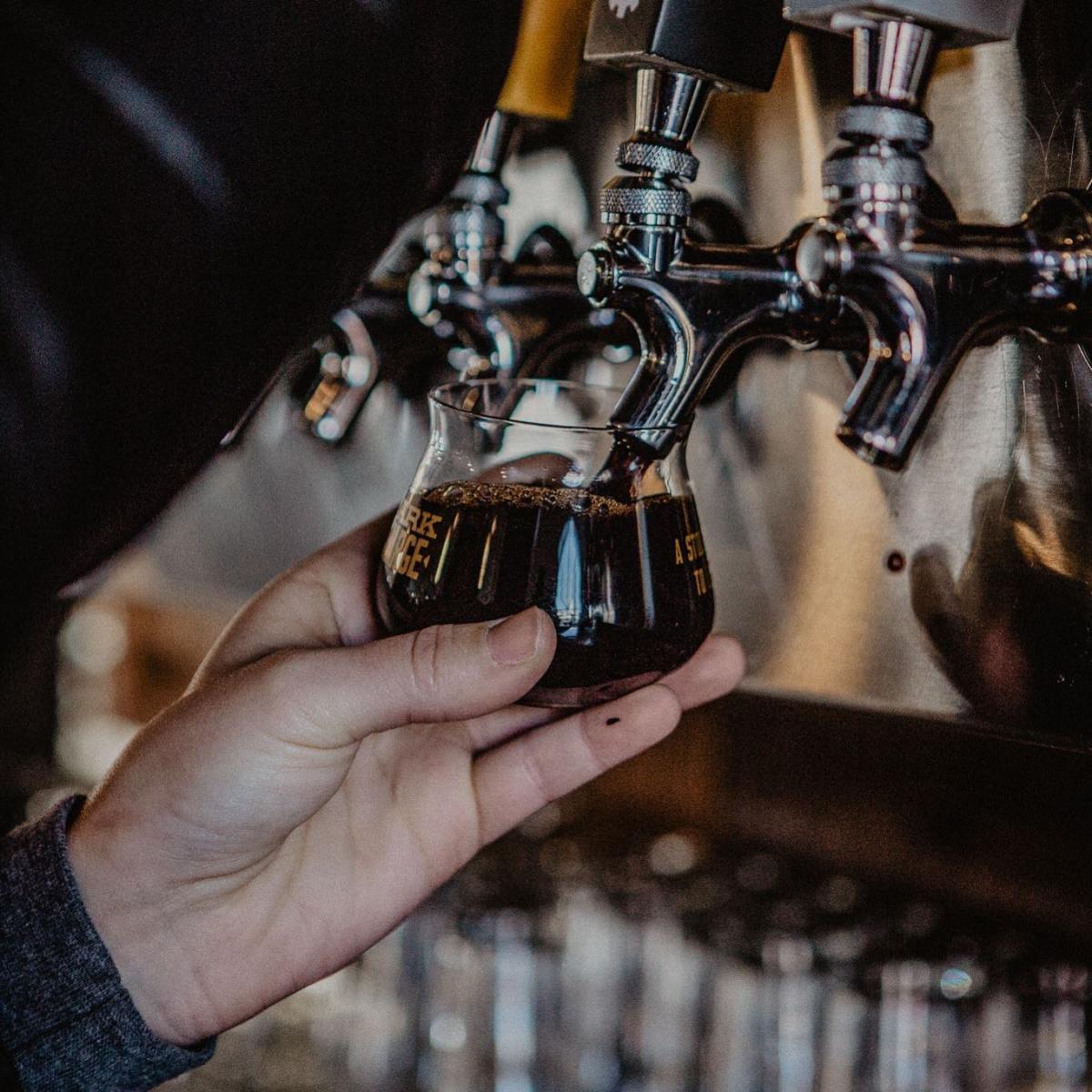 Darker days are coming, and Covington, Ky. is throwing a party! Braxton Brewing Company's Dark Charge Day is December 4th, so mark your calendar for this annual event. Come to Covington and enjoy a special hotel rate, VIP Experience, Dark Charge Day menus from local favorite restaurants, and one of the biggest Cincy region parties of the holiday season! 
About Braxton's Dark Charge
Seven years ago, Braxton Brewing Company created a new beer to celebrate their Kentucky heritage. Called Dark Charge, it's an imperial stout that is aged in bourbon barrels, for a deep, complex flavor. As a finishing touch, each capped bottle is dipped in wax, in a nod to Maker's Mark bourbon.
2021 Dark Charge Variants
This year, four Dark Charge variants are being released. The 2021 Dark Charge is a blend of multiple vintages. The stout's strong character is nicely balanced by hints of bourbon and oak.
The second variant, aged for 10 months in Buffalo Trace bourbon barrels, is Chocolate Hazelnut Coffee. The flavorful beer weaves in the taste of cacao nibs and hazelnut extract, resulting in a rich, coffee-like experience.
Perfect as a slow-sipping dessert drink, Dark Charge's Coconut Cream Puff combines barrel-aged beer with milk sugar for a creamy concoction. Notes of coconut, vanilla bean and cinnamon call to mind freshly baked pastries.
The fourth Dark Charge variant is aged in two types of barrels. The beer begins the aging process by spending 12 months inside a bourbon barrel, then finishes with 60 days in an orange liqueur cask from Toledo Spirits. During this final aging, the beer picks up citrus flavors, giving Dark Charge Orange Curacao a completely original taste.
Dark Charge Distillers Select Box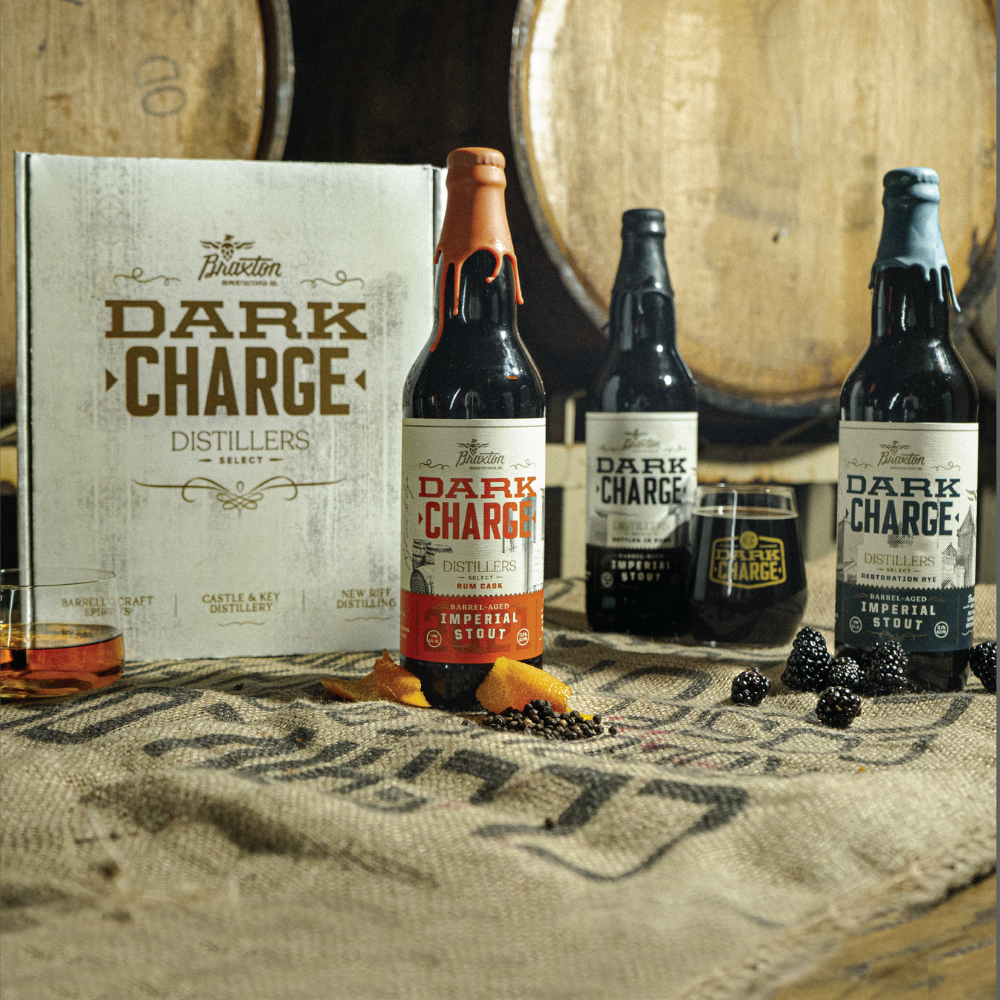 For 2021, Braxton is offering an extra special Distillers Box. For the first time, they partnered with three Kentucky Bourbon Distilleries - Castle and Key, New Riff, and Barrell Craft -  to create unique Dark Charge variants. 
Dark Charge Day Food and Lodging Specials in Covington, Ky.
Braxton and Covington are pulling out all the stops to make Dark Charge Day something to remember. Nearby Marriott River Center is offering a special Dark Charge room package that includes a special rate and a gift from Braxton.
Chefs at seven local restaurants have created one-day-only menus that feature the flavors of Dark Charge. Parlor on 7th, Rich's Proper Food and Drink, Agave & Rye, LaRosa's, Smoke Justis, Coppin's and City Goat are looking forward to tempting your taste buds on December 4th.
Dark Charge Day VIP Experience
Over the years, this event has grown in popularity, with craft beer aficionados traveling to Covington for the beers' release. Often, the first batch of Dark Charge sells out the first day.
For their true fans, Braxton has created a VIP experience. In addition to delicious food and incredible beer in an exclusive gathering space, VIP's have early access to Dark Charge bottle sales, as well as receiving a limited-edition art print and commemorative taster.
Braxton Partners with Graeter's for a Dark Charge Variant in 2021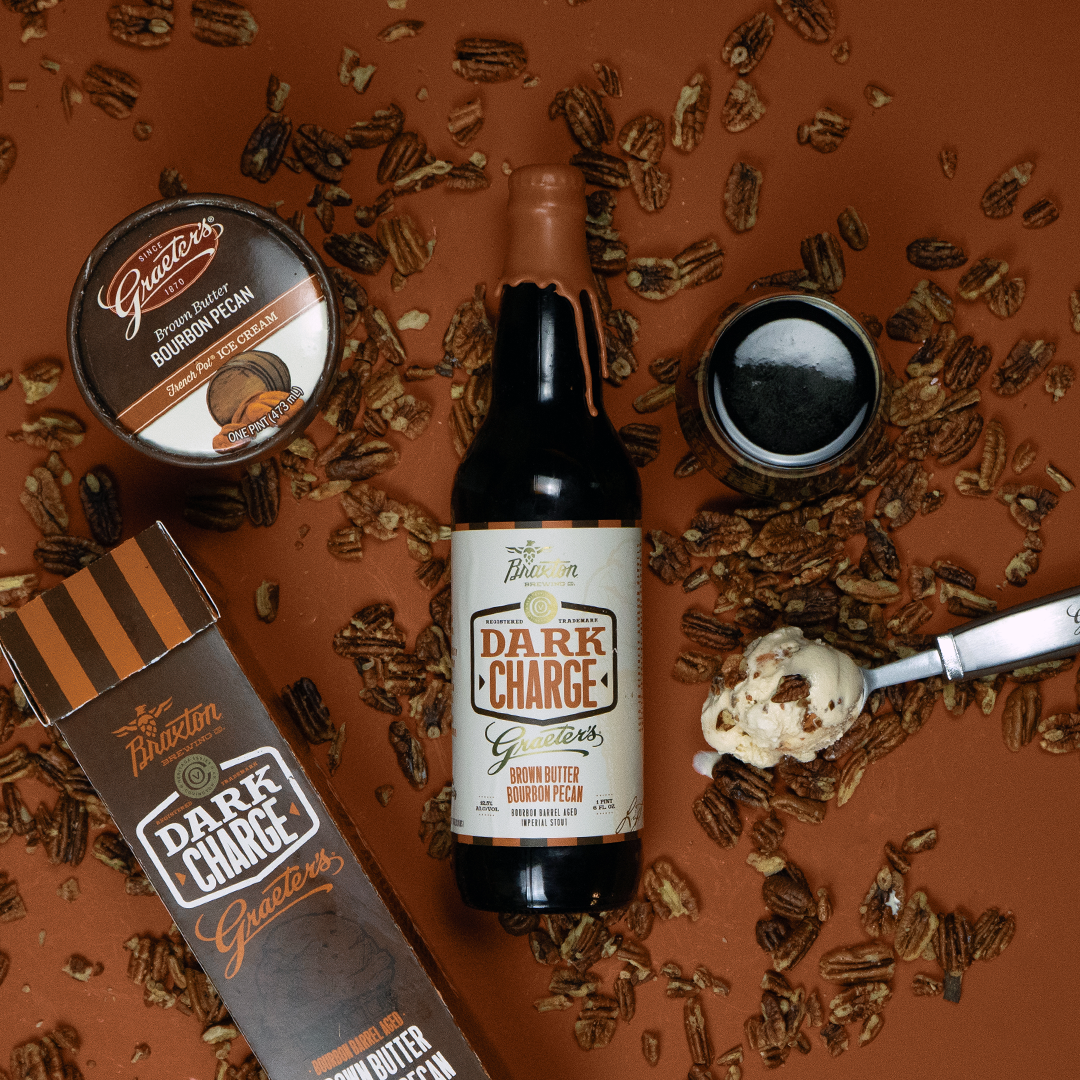 Another first for Dark Charge Day 2021 - Braxton paired with their longstanding partner, Graeter's Ice Cream, to create a tasty Dark Charge variant - Brown Butter Bourbon Pecan!
Dark Charge Day is a local tradition that appeals to bourbon lovers, craft beer enthusiasts and anyone who loves a good party. For more information and updates check out Braxton's Dark Charge Day Website.